School systems in Calhoun County will start their summer feeding programs in the first week of June, hoping to keep students under 18 fed and healthy while also hoping for a return to classes in the fall. 
Mary Stonebreaker, director of the child nutrition program for Calhoun County Schools, said Wednesday that there are children in every community who experience "food insecurity" — they have nothing to eat, or nothing they can cook on their own — but every week through the summer, families can pick up enough food to last kids for five days of meals both from county and municipal school systems, as part of the U.S. Department of Agriculture's Summer Food Service Program. The meals are the same as what they'd get at school: pizza slices, barbecue sandwiches, pancakes and sausage, fruit, milk, chips and other cafeteria favorites, all with heating instructions included. 
"It's vital in every community," Stonebreaker said. "We see a need in these communities that's still there."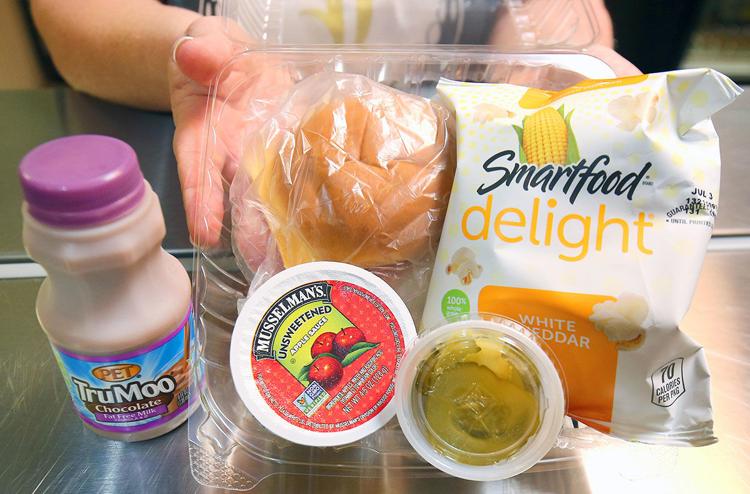 Meal pickup programs start June 1 for Anniston and Piedmont city school systems, June 2 for Calhoun County Schools and June 4 for Jacksonville City Schools, according to school officials (see accompanying box). Oxford City Schools had made no apparent announcements on their website or social media; attempts to reach administrators by phone and email were unsuccessful Wednesday.
Unlike food distribution events during the school year — which has been technically ongoing in spite of closures due to the COVID-19 pandemic — the summer program won't be restricted to families enrolled in free or reduced-cost meal programs. Officials from each school system confirmed Wednesday that their programs are open to any child 18 and under through the USDA program, which reimburses the cost of feeding local kids. It's not a new development for the COVID-19 pandemic, Stonebreaker explained, though it might mean more this year than before. 
"There are a lot of families that don't qualify through the school year, but through COVID you run into families with one or both parents unemployed," Stonebreaker said. "We want our kids to eat." 
Maudine Holloway has been director of Anniston nonprofit Community Enabler Developer for more than 50 years, making sure that people in the community in need get food and clothing, and help paying their utility bills. When she talks about children going hungry, there's fire in her voice. She cares about this stuff, and the rest of the community should too, she said; kids who don't get enough food to eat are learning the wrong lessons from the world, the kind that can cause problems later. 
"Most of us, we can go to a warm bed and lay down, wake up and eat just about anything we want in the morning," Holloway said. "But here are some kids who grow up and may or may not have anything." 
She said children sometimes go door to door, hoping for merciful neighbors who can offer something to eat. Sometimes they get support from the wrong people, she said, and start to emulate them.
"And then we ask, 'Why are there problems, why are they mad?'" Holloway said. "Did you ever think about how they come up?" 
Some local indicators suggest the problem exists in Calhoun County, as well. Stonebreaker said 58 percent of students in the county school system are enrolled in free and reduced-cost meal programs this year; the USDA program requires at least 50 percent student enrollment for participation. 
Last week, Anniston City Schools distributed food to 653 students at the middle and high schools, according to Ashley Alexander, director of the system's child nutrition program, a number that's likely to go up when the program opens to all children, even those not enrolled in reduced-cost programs. But the program is simple with Anniston, she said; people who arrive to pick up food don't need to fill out forms or even show proof that they live in the school district. The important thing is that kids get to eat, she said. 
"You don't have to worry, because the food is right there," Alexander said. "Just heat it up and eat it."