A group representing Alabama public school superintendents advised its members to refuse to sign forms to allow their students to enroll in private schools under Alabama's school choice law, according to the group's director.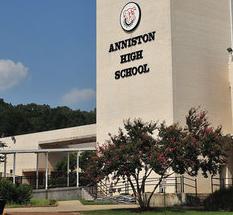 So far, the Anniston City Schools, led by superintendent Darren Douthitt, may be the only system following that advice. The forms are required by the Alabama Accountability Act, which uses tax credits to fund private school scholarships for children zoned for low-performing public schools, and they ask that school administrators verify the primary addresses of students who wish to leave their districts.
Douthitt and Eric Mackey, director of School Superintendents of Alabama, both said that administrators can't know for sure where their students live.
"How do I confirm that?" Douthitt said. "How do I confirm that you actually live there? That gets to the core of the problem. I would have to come and check and see, somehow or some way."
The law only requires that school administrators verify that an address lies within their school district, not that a student resides at a particular address. Because of this, Mackey suggests that each superintendent defer to the attorney of their school board.
"By signing the form, you're verifying that their address is the correct address, and you don't know if that's true or not," Mackey said.
Anniston resident Destin Harris said Douthitt's reluctance could prevent her 5-year-old son, Grayson, from attending kindergarten at Sacred Heart of Jesus Catholic School next year. She said she spoke with Douthitt in person and he would not sign the form.
"He said that he has never signed anything for the scholarship program and he's not going to start now," Harris said.
Keith Murgatroyd said he, his wife April and his stepson Dylan Blair also met with Douthitt in person, and he similarly refused.
"That's the only thing stopping us from getting that scholarship, the Anniston school system refusing to say that we're in the school district," Murgatroyd said.
Ryan Cantrell is the regional advocacy and political director of the American Federation for Children, an organization that supports the growth of private school choice in the U.S. He said that he reads the forms as simply asking for an address to be confirmed to be within the school district.
Cantrell said that scholarship-granting organizations, or SGOs, faced opposition over having to verify addresses from school boards and superintendents on the belief that taking these students out of public schools further hurts struggling school districts.
"I think what might would be helpful would be if the Department of Revenue had some sort of operating standards common among SGOs," Cantrell said. "I think there might need to be a little more guidance there to limit ambiguity."
According to the Alabama Opportunity Scholarship Fund's form, Baldwin, Mobile and Montgomery Counties, as well as Birmingham and Huntsville, have websites where the assigned school district for an address can be ascertained without requiring involvement from the school board or superintendent. Mackey said that, while he still encourages each superintendent to consult the school board attorney, he's open to the idea.
"It sounds like it would be a good idea to move towards a registry that would make it easier for everybody where school administrators wouldn't have to verify where everybody lives," he said.
Douthitt also said that, while he is not comfortable attesting to the actual residence of his students, the information the SGOs seek is publicly available.
"Our district attendance zones are available to anyone who would desire to confirm their address.
"In my case, I'm not ever trying to stop anyone from going to any school district or school they choose."