Anniston city leaders last week discovered that the Anniston City School district was short all of its state-mandated one-month reserve fund.
But what exactly is that fund and why's it  important?
In 2006, state lawmakers passed the School Fiscal Accountability Act. The law required each public school district to have at least one month's worth of operating expenses. The measure was a response to years of proration in state education funds, which left school systems cutting wherever  possible to make up funding levels below what was estimated.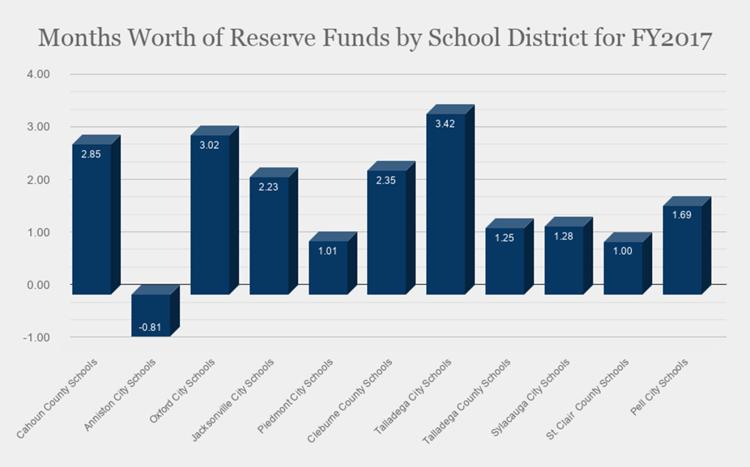 "It helps to have a buffer there to not have to have a line of credit to make monthly payroll and other expenses," said Sally Smith, executive director of the Alabama Association of School Boards. "It also gives the school capacity to handle unanticipated expenses."
Jon Paul Campbell, a former Jacksonville schools superintendent, said that when the state started requiring the one-month reserve, some districts could meet that benchmark with no problem, but others struggled.
Several education officials interviewed by The Star said that among those systems that struggle to build reserves, most of the difficulties stem from a lack of local funding and/or declining enrollment. Anniston City Schools grapples with both.
Smith said that as enrollment declines, school administrators must make appropriate cuts to keep in line with the decreased revenue.  
In July, the Anniston school board voted to cut two staff positions. That follows a decision last year to lay off at least six employees. Both measures were in line with a plan the state Department of Education put the district on to bring up the reserve.
Anniston Superintendent Darren Douthitt said that aside from a few possible cuts to the central office, school leaders are limited in other ways to save money.
When it came time to cut staffing, several board members said the layoffs should affect central office as much as teachers.
In the joint council/school board meeting last week, Anniston City Councilman Jay Jenkins pointed to the amount of administrative costs compared to the rest of the budget. He said Anniston ranked sixth among more than 130 school districts in the percentage of funds  used for administration.
Another option for cutting costs is consolidating the district's facilities. Anniston closed Constantine and Cobb elementary schools in an effort to save money. But the board repurposed Cobb for a pre-K academy and chose to keep ownership of Constantine. So savings were not as much as leaders had initially expected.
Speaking after the joint meeting held recently, board member and former Anniston schools superintendent Joan Frazier said the board has to look at facilities.
Though all districts in the area are dealing with declining enrollment, Anniston stands out in terms of local support, particularly in property tax revenue. According to the Alabama Department of Revenue, Anniston received 13.5 mills of property tax in 2017 while Oxford and Jacksonville got 18.5 each and Piedmont received 20.
Campbell said that when he was at Jacksonville, the system struggled to reach the one-month reserve. But then the Calhoun County Commission passed a 1-cent sales tax increase. After that, he said, Jacksonville City Schools was able to save up to three months' worth of reserves in some years.
Campbell said districts with low local funds are also strained because of a kind of local match needed to pull down state funds.
School districts have to pledge the equivalent of 10 mills in local funds toward what's called state foundation funding, which goes mostly toward teacher salaries. For Anniston, that number was $2.7 million in 2016 — almost a third of its total local funding. Oxford had to kick in about the same amount, but its match represented about one-eighth of the district's local funding.
Douthitt said the Anniston district also had to put in $400,000 of local funds this year for transportation costs to bridge the financial gap caused by inadequate state funding.
There's no set policy that triggers state intervention of a district struggling with the one-month reserve requirement.
Sonja Peaspanen, financial administrator with the state Department of Education, said that when state officials do intervene in a school systems, finances are usually just one piece to the problem.
Peaspanen said when the department works with a district to draft a plan for building a reserve, the main thing it wants to see is that the district's finances are improving.
"We want to give the individual school system every opportunity to correct the situation on their own," she  said.