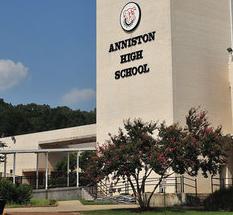 Anniston High School students will soon have the option to enter into a certified nurse aide program that will allow them to immediately jump into the healthcare field upon graduation, the Anniston City Board of Education learned during a meeting Thursday night.
"The Department of Labor produced a report on the hot 40 jobs for young people in Alabama and the largest group of jobs were either healthcare or technology related," Cynthia McCarty, a state board of education member, said during the meeting at South Highland Community Center.
Superintendent Darren Douthitt said during the meeting that although the system asked for $600,000 it was awarded $200,000 for the program.
"We would have liked to have gotten the full amount, but that is quite alright. I won't complain," he said.
In a partnership with the Alabama Department of Health, Anniston High School will take students to NHC Healthcare, a local nursing center, to train under registered nurses and licensed practical nurses, Anniston High School assistant principal Edward Sturkie said. Once finished with the training, students will take a written and skills assessment test.  
"We are really going to kick off the program in the fall, but we are going to start with 12 students in the spring," Sturkie said.
McCarty also announced that Anniston was awarded an Exploring Computer Science grant.
"Originally this grant was meant for schools in the Black Belt region, but I asked if they'd consider expanding the pool," McCarty said. "I was so excited to learn Anniston was selected."
McCarty said teachers will see a total of 14 days of professional development and receive classroom sets of robots. They also will get a $200 stipend each day, a laptop, and lodging and travel are all reimbursed, according to McCarty.
Many members on the board clapped with excitement.
"This will allow us to bring technology to our kids," McCarty continued. "It's where the jobs are. I can't wait to see the children working with those robots."
McCarty also applauded the leadership within Anniston City Schools for working with JSU in a pilot math program.
"JSU got a grant that allows us to use a program called Ed Ready Math in whatever way we want," she said. "We use it to assess which level of math class students should take as they enter college."
McCarty said the university wanted to test a summer program involving high school students who struggled with Algebra 1.
"Teachers were a little suspicious if the program was a little worthwhile, but those students scored in the 90th percentile in the final exam," McCarty said. "You were the first school to jump on this."
Many of the board members thanked McCarty for her communication with Douthitt and school officials about the initiatives.
The board shifted to talk about school security in the wake of a shooting at a high school in Parkland, Fla, which killed 17 people.
Board member Joan Frazier took time in her comments to ask if the schools have done any kind of active shooter training.
"Never in my wildest dreams did I think I'd ever think I'd have to be involved in a discussion like this, but we have our reality and I want to make sure we're training our students and our staff in the most modern-day techniques we have," she said.
Charles Gregory, Anniston High School's principal, said students and teachers regularly go through lockdown drills.
"I am looking to coordinate with local police to get more realistic training," Gregory said. "There are things we can do to prepare ourselves better in the event of an unfortunate circumstance."
Douthitt said in the past Anniston police officers have used the building for training.
"They've used our facilities to get their bearings so they know ahead of time if they should have to enter our buildings," the superintendent said.
"We do need to try to get a team from our police department to the table and provide realistic training," Gregory said.
Frazier reminded the room that it's important to include all the schools in the training classes.
"I don't want to just zero in on the high school," she said. "It's a grim situation, but this can happen at the elementary school too."
In other business, the board:
- Presented Brenda Anderson, the child nutrition manager, an award in a Thanksgiving cornbread and stuffing competition.
- Approved a motion to hire Lori Mount to teach fourth- and fifth-grade math at Randolph Park Elementary School.
- Approved a request by the Calhoun County Chamber of Commerce Foundation to use the Anniston High School Performing Arts Center and waive the rental fee.