Emily Tarver tries not to think of what happened on the night of Oct. 5, 2015, she testified Tuesday, when she and three of her co-workers were robbed at gunpoint at the pharmacy where they worked.
Tarver and those co-workers gave emotional testimonies against Marco Dane Acoff, 29, of Bessemer, charged in 2015 with first-degree pharmacy robbery and first-degree robbery. Acoff's trial began Monday.
The four victims each testified that Acoff had come into the pharmacy around four times that day, each time complaining that his daughter had recently undergone open-heart surgery and was suffering from an allergic reaction on the incision.
They said they suggested that he either buy Benadryl for her or take her to the emergency room.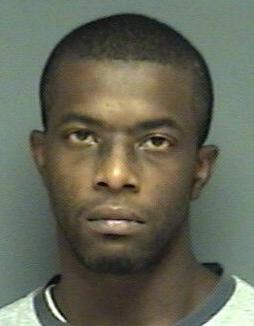 The last time, they said, he told them he thought he would get the Benadryl before pulling out a gun, pointing it at an employee and announcing that this was a robbery.
Savannah Cash, who now works at another pharmacy, said she didn't initially see the gun pointed at her head. 
According to Cash, she turned her back to him to ring up the Benadryl at the drive-through cash register and felt someone grab her clothes. When she turned around, she said, she saw Acoff pointing a pistol at her face.
At the same time, they said, Corey Curry jumped over the counter and ordered everyone to get on the ground.
"I just kind of blinked and he was on the other side of the counter," Tarver said. 
Tarver said she jumped from the chair she was sitting on to the ground. She said Curry tried to zip-tie her hands behind her back, but the zip-ties were too small, so he told her to keep her hands behind her back.
Brooke Rizzo, another employee, said she also hit the floor. Rizzo said Curry also tried to zip-tie her hands, but couldn't.
Leigh Gardner, the supervising pharmacist, said she tried to reach for the "panic button" under the counter, but Curry dragged her away by her leg and ordered her to stay down.
Cash said Acoff ordered her to open a safe in the back of the pharmacy and get a trash can, which he then made her fill with medications.
Cash said Acoff then forced her to the cash register at the drive-through. Cash said she tried to open it, but had only been employed at the pharmacy for a week and couldn't figure out how.
Gardner said she asked if she could open the register, since she knew more about the pharmacy, but the two men said no.
Tarver said she couldn't see the exchange between Cash and Acoff, but heard him threaten to "put a bullet through her head," if she didn't get it open.
Cash said Acoff then forced her into a bathroom in the back of the pharmacy. She said she begged him not to kill her, and he responded that he wouldn't if she followed his orders.
Tarver, Gardner and Rizzo said Curry ushered them into the bathroom and threatened to kill them if they came out.
The four said they stayed in the bathroom for what felt like hours and prayed for their survival.
Nearly 25 minutes later, Gardner said, she peeked outside, saw Acoff and Curry were gone and called 911.
When police showed Cash a photo lineup, she said, she was able to identify Acoff by his facial tattoos — two on one side and one on the other — and a scar on his cheek.
David Alexander, one of Acoff's defense attorneys, asked Rizzo if she had described Acoff as "a ghetto black man," after one of the four times he had come in.
Rizzo said she didn't remember saying that, but said in court she felt that his facial tattoos made him look "sketchy."
Alexander also asked Cash about when she commented "I'm not racist" to officers when describing Acoff's nose after the robbery. Cash responded that her comment was not racially motivated.
"I've never been afraid of any color before this," Cash said. 
The four said Acoff and Curry may not have harmed them physically, but they made them believe they were going to die that night.
Tarver and Gardner, who both still work at the pharmacy, said they get nervous when someone who isn't a regular customer comes in — especially close to closing time. All four said they were still plagued by nightmares. 
"I never had anxiety before Marco Acoff," Cash said.
Acoff remained on Wednesday in the Calhoun County Jail with no bond set.