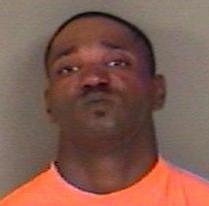 A man charged with attempted murder after he allegedly led police on a car chase from Heflin to Oxford while naked and attempted to run over several people waived his preliminary hearing Monday.
The case against William Deon Threatt, 26, of Calvert, near Mobile, is bound over to a Calhoun County grand jury, according to court documents.
Police told The Star in October that Heflin officers were called to a convenience store near Exit 199 off Interstate 20, and discovered Threatt at the store. Heflin police said Threatt was found without clothes on and was acting nervously.
When asked to show his identification, police said, Threatt tried to run over the officers with his car. Police said the officers got out of the way, but Threatt circled the store two or three times and tried to hit a man and his son in the parking lot.
Police said Threatt left the store, drove north on Alabama 9, got onto I-20 and then left the interstate at exit 188.
Threatt then drove into the parking lot of a Waffle House, police said, where he attempted to hit Oxford officers who had been waiting for him. Oxford police said the officers suffered minor injuries.
According to police, Threatt was chased to a strip mall on U.S. 78, where officers forced his car into some utility poles and broke the car's windows to get Threatt out and arrest him.
Because Threatt was fighting officers during the arrest, police said, officers fired a stun gun at him.
Threatt was charged by Heflin police with three counts of first-degree attempted assault, one count of reckless endangerment, one count of attempting to elude law enforcement, one count of obstructing government operations, one count of resisting arrest, one count of reckless driving and one count of driving with an open container of alcohol.
Oxford police later charged Threatt with attempted murder.
Threat was initially booked into the Cleburne County Jail. He was later booked into the Calhoun County Jail with bond set at $25,000 for the attempted murder charge. He was released from jail in November.
Threatt's attorney, Leroy Maxwell Jr., said his decision to waive his preliminary hearing will speed up the indictment process. Once Threatt's case is reviewed by the grand jury, Maxwell said, he hopes it will be dismissed.
If Threatt is indicted, Maxwell said, the case should be tried sooner.
"Mr. Threatt is innocent, and we intend to prove that and we don't want to waste any time," Maxwell said.
Attempted murder is a Class A felony. According to state law, Threatt could face a maximum sentence of life in prison and owe up to $60,000 in fines if convicted.