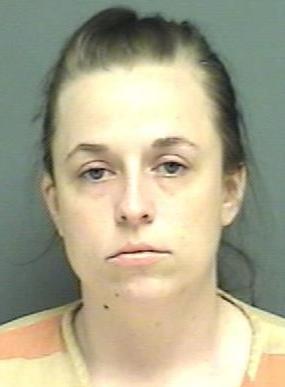 A week after a Weaver High School teacher was sent back to jail for violating her bond, a judge ordered her release from Calhoun County Jail, officials said.
Pruett was released from Calhoun County Jail on a $15,000 bond March 9, the day after her arrest, according to court records. A week after her release, school administrators notified Brandon Harris, a deputy assigned to Weaver High School, that Pruett was in contact with the student, a violation of her bond.
District Judge Chris McIntyre revoked Pruett's bond on March 22 after Harris spoke about messages he found on the student's phone that purportedly came from Pruett. Pruett's attorney, Justin Wilson, argued the messages could have come from someone pretending to be the teacher.
On the day McIntyre revoked Pruett's bond, Wilson filed a motion after the hearing to reinstate her bond.
"Since this alleged conversation, the Defendant has secured a new cell phone with a  new phone number, deleted all social media profiles and applications on her devices, and has eliminated all possible ways for the alleged victim to reach out to her or vice versa," Wilson wrote in his motion.
Wilson also filed a motion to dismiss the case, calling the statute unconstitutional. The Alabama Court of Criminal Appeals is currently reviewing two cases in which a circuit judge in Morgan County dismissed charges against two teachers, calling the statute overbroad. Prosecutors in those cases appealed that decision.
McIntyre granted Wilson's motion on Thursday, citing the cases before the appeals court as a deciding factor.
"That decision by the Circuit Court needs to be given great weight in this case as well as any other similar case in the State of Alabama when it comes to the ability to bond and incarceration prior to conviction," McIntyre wrote. "The Defendant should not take this decision to mean that future contact with the minor will be tolerated by this Court while this case is pending. Future infractions may result in permanent revocation of bond by this Court or the Circuit Court if she is indicted by the grand jury in this case."
Wilson declined to comment on the case.
According to court records, McIntyre filed a response on Monday to Wilson's bond motion asking prosecutors to respond by Thursday. Calhoun County Assistant District Attorney Tim Burgess said on Friday that he'd not received word of that request and the district attorney's office had given no input to the judge.
Burgess, who was not in the office on Friday, said he asked others in the district attorney's office to check for the order at his computer.
"They're not seeing one," he said. "That's not to say it's not there, but I never saw one while I was in the office this week."
Despite the mixup, Burgess said, his position on Pruett's bond would not have changed from the March 22 hearing.
"Our position was clear at the hearing and that has not changed," he said. "Our position is that she should be revoked."
Burgess said motions in cases like Pruett's cannot be decided by what is happening at the appeals court.
"If I put everything on hold that's on appeal, I wouldn't try anything," Burgess said. "What we said in court is our position. It's a very straightforward matter. The judge granted our motion, then changed his mind. I don't quite understand it, but that's his call."
Pruett was released Thursday on the condition she be on GPS monitoring, according to court records.