A Calhoun County sheriff's deputy was treated at a local hospital Monday morning and an Ohatchee man was charged with two counts of attempted murder after allegedly running over the lawman with a truck.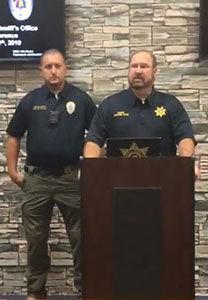 The man, Fred Barksdale, 35, was treated Monday for gunshot wounds at UAB Hospital in Birmingham, according to Sheriff Matthew Wade. Barksdale was booked on Tuesday into the Calhoun County Jail with bond set at $103,000.
Wade said two deputies and an Ohatchee police officer arrived around 4:30 a.m. Monday at Barksdale's home on Mudd Street to serve several warrants, but were unable to find him at the house.
Wade said the deputies and officer encountered a dog, who led them down a wooded trail behind the house, where they found Barksdale sitting in his truck. 
When they tried to arrest Barksdale, Wade said, he started his truck and ran over one of the deputies, dragging him under the truck and injuring his foot, leg and back.
"He had on a bullet-resistant vest and still got hit hard enough that it impacted him through the vest and still left marks on his skin," Wade said at a press conference Monday afternoon.
According to Wade, the deputies and the Ohatchee officer fired shots at Barksdale. Wade said Barksdale was struck, but did not know how many times.
Wade said the injured deputy was taken to a nearby hospital, while Barksdale was taken to UAB Hospital in Birmingham.
Wade said a woman sitting in the passenger seat of the truck was unhurt.
"It's just really a miracle that the female subject inside wasn't injured, and we amount that to good training," Wade said.
Because the woman had previously filed a protection order against Barksdale, Wade said, deputies are also looking to charge him with violating that order. Wade said the woman was with Barksdale willingly.
According to Wade, the incident was upsetting for the officers involved.
"It's not something that happens everyday. It's not something these people take lightly," Wade said. "It's disturbing that they had to do it in the first place."
Ohatchee police Chief Jason Oden, who also was at the press conference, said this is the first time he can remember something like this happening in his jurisdiction.
"It's normally a quiet town," Oden said. "This is one of those mornings where the officers were going to serve a routine warrant ... that turned into a disaster."
Wade said Tuesday via text message that the deputy was released around 2 p.m. that day from the hospital. 
"He is sore and has some injuries to his back but generally ok," Wade wrote.
Wade also said Barksdale was being booked around 4 p.m. Tuesday into the Calhoun County Jail. 
Wade said Monday the incident is under investigation by deputies, Ohatchee police, the Center for Applied Forensics at Jacksonville State University and Oxford police.