Anniston police have charged a man with attempted murder and aggravated assault after a struggle with officers Thursday night in which, the police chief said, the man fired a gun.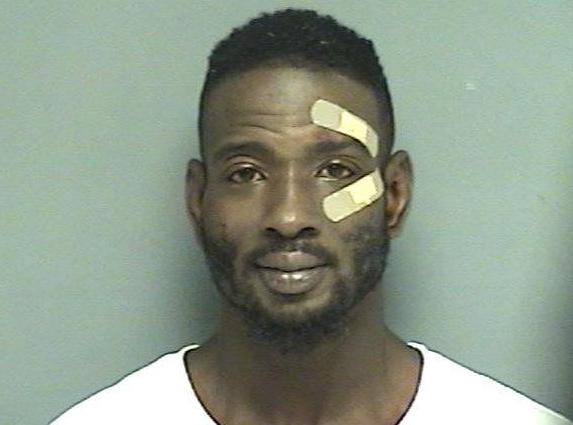 No one was seriously hurt in the incident, Chief Shane Denham said at a news conference Friday morning in his department's briefing room. The two officers were treated for some injuries, but are expected to recover, Denham said. The suspect, 40-year-old Kajuan Wilneal Reed, refused medical treatment, the chief said.
Denham told reporters the officers, members of the department's street crimes unit, were driving down a narrow street in southern Anniston near Reed's home Thursday around 7:45 p.m. when they passed Reed driving a car in the other direction. The windows in both vehicles were down, the chief said, and the officers smelled marijuana. The officers turned around to pursue and caught up with Reed in the yard of his Grant Street home.
Anniston police showed reporters footage from a camera worn by one of the officers. The video begins with officers questioning a man, apparently Reed, about marijuana. An officer then searches the man, and pulls a pistol from the man's pocket. The man can then be seen struggling with another officer, and with the officer wearing the camera. Then the camera is obscured; Denham said it fell during the struggle.
In a slowed-down version of the video, Denham highlighted a bag he said police believe fell to the ground from Reed's pocket as the pistol was pulled out. Police believe the bag contained crack cocaine, the chief said.
Denham said the pistol was a .22-caliber North American Arms five-shot derringer. He said Reed grabbed the pistol back from the officer who'd taken it, cocked its hammer and fired it. No one was struck by the fired shot, Denham said.
"They were basically having a street brawl," he said. "This guy was very motivated. He did not want to go to jail."
Police did not play audio of the handgun firing, though Denham said the audio continued after the video was obscured.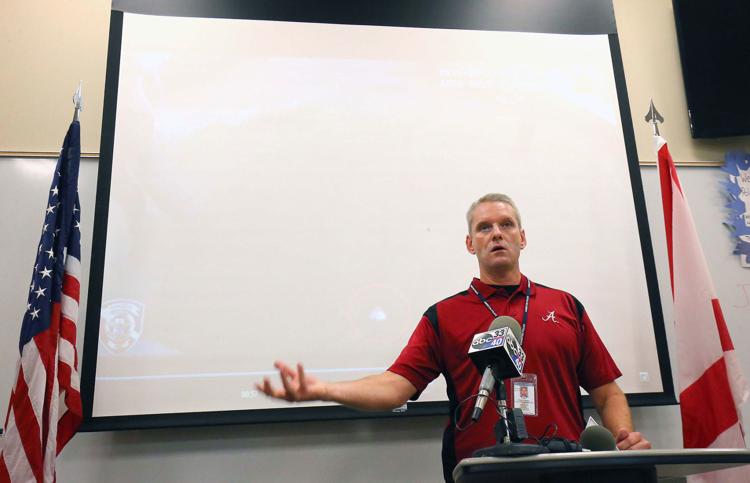 Denham said officers used a Taser on Reed, but that after it had delivered its charge, he jerked its probes from his body and tried to flee. Officers chased Reed and the struggle continued, with officers taking control of him in a drainage culvert beside his home into which he'd fallen, the chief said.
Denham said Reed also recovered the bag that had fallen to the ground and ate its contents.
"He's trying to eat the drugs because obviously he doesn't want to be charged with them," Denham said. "We see this; it's pretty common."
Denham said officers later found "a large bag of marijuana" in Reed's car.
Reed remained at the Calhoun County Jail on Friday, charged with two counts of attempted murder, two counts of aggravated assault, plus criminal tampering, second-degree marijuana possession, being an ex-felon in possession of a firearm, resisting arrest and eluding or attempting to elude police. No information about bond was yet available early Friday afternoon.
Denham said it's possible Reed will face federal charges because of his possession of a firearm as a felon. Reed years ago pleaded guilty to a 1998 assault in which he was accused of shooting a man in the face. Denham said Reed admitted to owning the gun used in Thursday's incident.
Denham said he asked reporters to the news conference to view the video to highlight what he said are the regular dangers of police work.
"This is not an unusual event for us. This is something that happens on a pretty regular basis," he said. "The only thing unusual here is a shot was fired."
He said the officers could have used deadly force once the fight had begun, but chose not to.
Denham declined to named the officers, but said their membership on the street crimes unit was evidence of their experience and skill.
One of the officers has stitches and a leg brace on his knee, Denham said, and is likely to be out of work for several weeks. The other officer, he said, was bitten on the hand by Reed and injured his knee, but is expected to return to work soon.