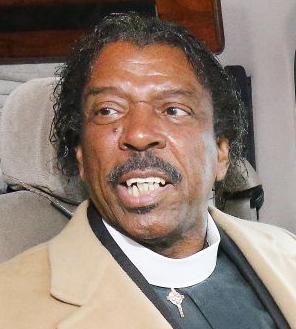 A judge found an Anniston minister and nonprofit leader guilty Friday morning of taking his 2-year-old daughter out of state in July, sparking an Amber Alert, after he had been notified of an order to remove her from his custody.
Cleburne County District Judge Melody Walker found Freddy Victory Rimpsey Sr., 76, guilty of obstructing government operations. Walker sentenced Rimpsey to two years of supervised probation and ordered him to pay a $1,000 fine after a bench trial in the Calhoun County Courthouse. If Rimpsey violates the terms of his probation, he could be sentenced to serve a year in the Calhoun County Jail.
Prosecutor Jana Roberts said numerous witnesses at the trial had confirmed that Rimpsey had known before leaving the state with his daughter that an order had been filed to place her with her mother.
Rimpsey maintained his innocence and claimed he hadn't seen the order before he left. Rimpsey said he had received a call from someone claiming to be with the Calhoun County Department of Human Resources, telling him she was coming to take his child, but he did not believe the caller.
Rimpsey said he told the caller he was going to the DHR office to "straighten it out."
Rimpsey said the child's mother hadn't consistently been in her life since she was 2 months old, and claimed the mother had previously had another child placed into a relative's custody.
Rimpsey asked the judge to dismiss his case.
Rimpsey told The Star in July that he had already planned a trip to take the girl to Chicago and Louisville to visit family.
Rimpsey pleaded not guilty before the start of the trial and opted to waive his right to an attorney.
"I don't need an attorney," Rimpsey said. "I've done no wrong."
Cherelle George, the DHR worker who went to Rimpsey's home that day, said she had been ordered by a judge to take the child after the child's mother had filed a protection from abuse order against him.
George said she arrived around 11 a.m. with Anniston police, who left after they were unable to retrieve the child.
Because Rimpsey's front door was chained up, George said, she tried to speak with him through the back door of the house. 
George said she saw Rimpsey through his back door, showed him her badge and told him that she had been ordered to take the child and told him Calhoun County sheriff's deputies were en route to serve the order to him. 
George said Rimpsey told her he wouldn't allow her to take his daughter and claimed he planned to discuss the matter at the courthouse.
George said Rimpsey seemed aggressive, causing her to fear for her safety, so she left and called deputies. When she returned to Rimpsey's house with deputies, George said, his vehicle was gone and his door had been left open.
During cross examination, Rimpsey denied speaking with George that day and claimed he first saw her at a hearing on July 22. 
Rimpsey asked George if she usually took custody of children without any paperwork. George said she usually does, and is not required to have any paperwork with her when she does. Normally, George said, people turn their children over to her. George said she did not have the power to officially serve the order to him herself.
Rimpsey asked if George had to adhere to a professional dress code while at work, to which she responded yes. Rimpsey then asked her step off the witness stand and show her outfit to the judge and implied she was not dressed professionally because she was not wearing stockings or high heels.
Rimpsey asked George numerous times why she was lying. George responded each time that she was not lying.
The first witness, Calhoun County sheriff's Deputy Falon Hurst, said he was called after a DHR worker was called to Rimpsey's home to retrieve the child, but was unsuccessful. Hurst said he was told Rimpsey had departed out the back door with the child.
When Rimpsey arrived back in town from Kentucky, Hurst said, he called Rimpsey to notify him that a warrant for his arrest had been issued.
Sheriff Matthew Wade said on the witness stand he had called Rimpsey around midnight while Rimpsey was in Kentucky. Wade said his call with Rimpsey's had been civil. Wade said Rimpsey was upset about the order and the Amber Alert, claiming the child's mother was an unfit parent, and asked if he could take the child back to Calhoun County the next morning.
Wade said he had called Louisville police to alert them to the situation.
Rimpsey said while questioning Wade that authorities in Kentucky had come to his son's home with guns drawn and tracked mud on the home's carpet while taking the child.
When Rimpsey was notified of the warrant, Wade said, Rimpsey turned himself in.
Rimpsey after the trial expressed his displeasure with the judge's decision.
"I thought the judge that came over that would hear the evidence and do the right thing, but the judge here today is just as lowdown and dirty and rotten as the rest of them," Rimpsey said. "She's worse, because there's no way I could be guilty of something I haven't done."
Rimpsey said he believes the judge's decision was racially motivated, and that the judge believed the testimony of George over his. 
"This is a case of a black man making a statement and a white woman making a statement and them believing her over me," Rimpsey said
During the trial, Rimpsey asked George what her race was, as well as her religious beliefs and her marital status, but Walker said the question was irrelevant before George answered.
Rimpsey also said he planned to file an appeal and involve activists in his case.
"I'm not paying anything for something I didn't do," Rimpsey said. "At first, I wasn't going to involve all the black organizations, but I will now. I've seen that you're not going to get no kind of trust with the people here in this town."