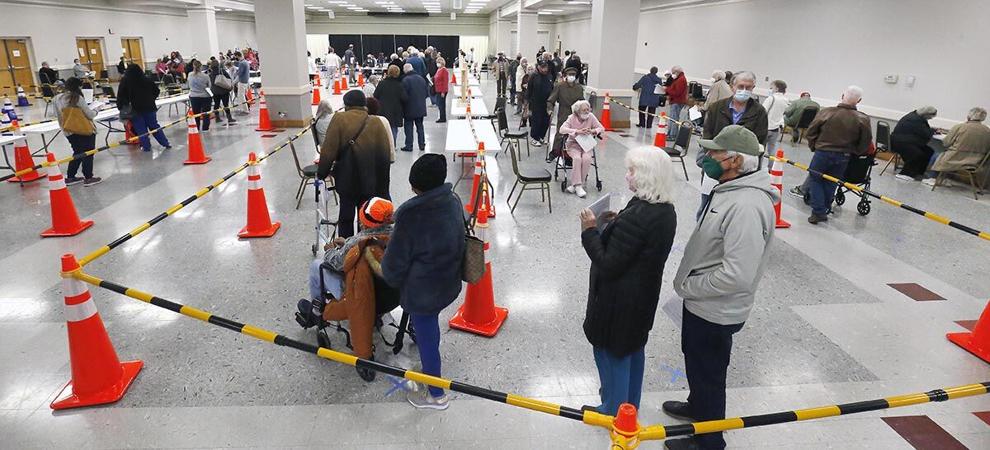 Starting Feb. 8, Alabama will offer COVID-19 vaccine to people 65 and up, as well as to essential workers including teachers, grocery store employees and corrections officers, state health officer Scott Harris announced Friday.
The Alabama Department of Public Health also plans to open drive-through vaccination sites Feb. 8 in eight cities around the state, including Anniston, Harris said in a telephone press conference. Details should be announced in a few days, Harris added.
The expanded vaccination campaign comes as Alabama continues to struggle with a limited supply of shots, a quandary for health officials who want to vaccinate more people, and faster.
"We've been giving mixed signals in a way," Harris acknowledged. "We've been telling these groups that they're eligible, but at the same time we're telling them there's not enough vaccine to go around."
According to a press release from the ADHP, starting Feb. 8 as vaccine supply is available, vaccinations will be opened to the following groups:
— First responders
— Corrections officers
— Food and agriculture workers
— U.S. Postal Service workers
— Manufacturing workers
— Grocery store workers
— Public transit workers
— People who work in the education sector (teachers, support staff, community college and higher education)
— Childcare workers
— Judiciary (including but not limited to) circuit judges, district judges and district attorneys
Harris said the state will also make vaccines available Feb. 8 to state lawmakers and other constitutional officers — a total of about 200 people. The Alabama Legislature convenes in early February, and Harris said high-level officials will be vaccinated because they have "constitutional duties they have to perform." He said eligibility wouldn't extend to staffers who work for those state officials.
Plans for mass vaccinations
So far, health workers have put 323,875 shots in arms in Alabama, Harris said. Those numbers include some patients who have had a required second dose. To date, the vaccine has been offered only to health care workers, first responders and people aged 75 and up.
Harris said the state soon expects to get larger shipments of vaccine and will open drive-through sites to get those shots to more people. Harris said the exact location of the proposed Anniston drive-through site would be announced in a few days.
Officials at Talladega Superspeedway earlier this week offered the Lincoln racetrack as a mass-vaccination site. Harris said the state appreciated the offer but does not need the site yet.
"Frankly we don't necessarily need a site that can accommodate 100,000 people because we don't have the product," he said.
Harris said that because supplies of vaccine remain limited, health officials are asking younger and healthier people in eligible groups to consider waiting until older people have had their shots.
"We have all been frustrated that the supply of vaccine coming from the federal government hasn't kept up with the demand," Kay Ivey was quoted as saying in a Friday press release. "To be blunt, we simply haven't gotten the vaccine that we've been promised, and this has created a major backlog of aggravation."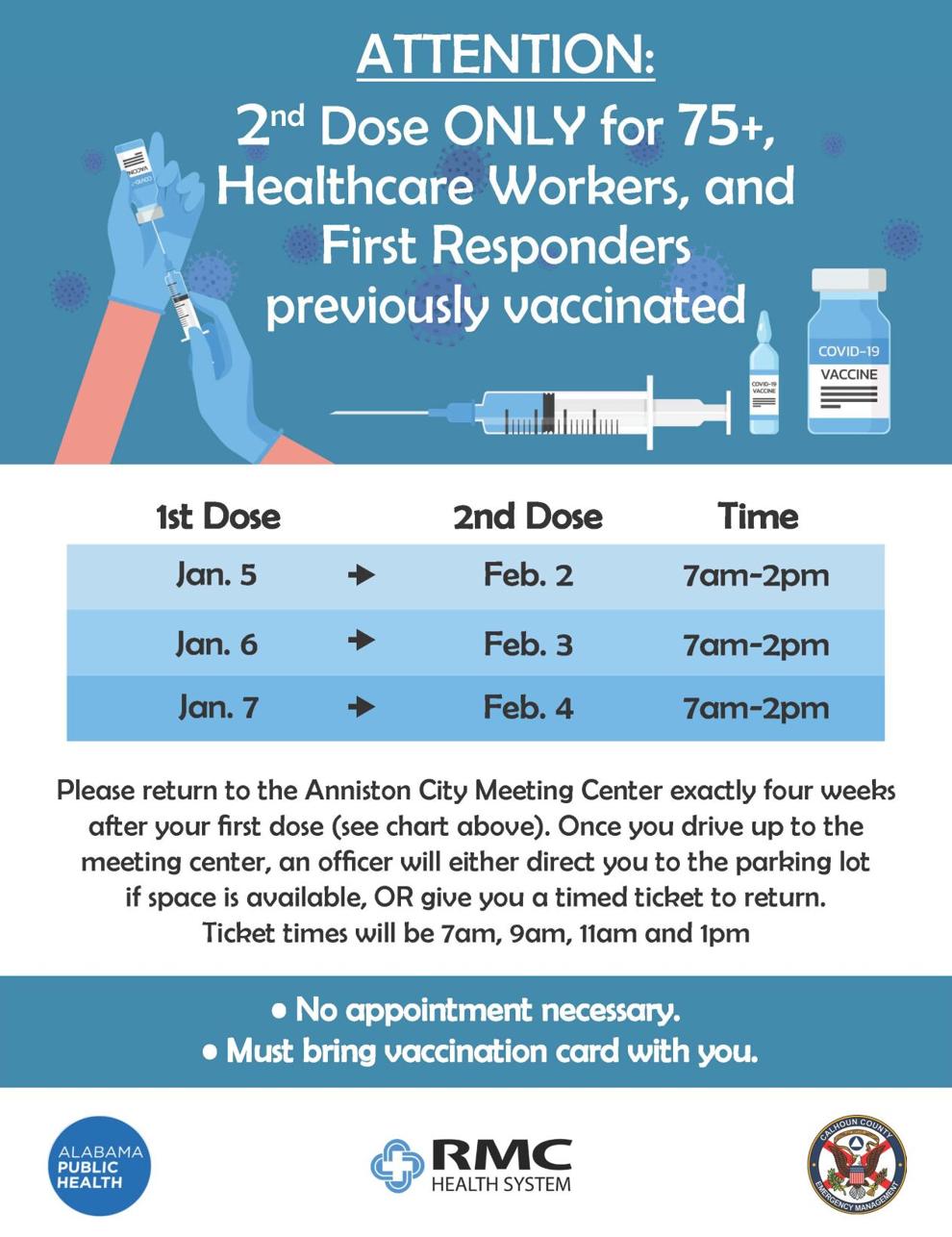 In Anniston, health officials expect to begin a new round of shots Feb. 2 — the second dose for people 75 and up who got their initial shot earlier this month at the Anniston City Meeting Center. Regional Medical Center CEO Louis Bass said the last staffers at the hospital who needed a second dose got it Friday.
COVID hospitalizations down
The new vaccine plan comes as Alabama seems to be in recovery from a winter wave of coronavirus cases. Statewide, around 2,000 people were hospitalized with the virus as of Friday morning, compared to more than 3,000 people earlier in the month. Bass said there were 44 coronavirus patients at RMC Friday. The patient count peaked earlier in January at more than 80 patients.
Bass said the lower patient numbers have allowed the hospital to shut down part of one of its COVID wards and to again perform a few surgeries on non-COVID patients.
Bass, like other health officials, said he doubts the drop in new cases is due to vaccination. He said it's likely the end of a holiday surge.
"We've gotten past Thanksgiving and Christmas and New Years and the Alabama national championship," he said.
New vaccine in the pipeline
The emergence of new variants of the virus remains a threat on the horizon. Harris said three cases of the UK stain have been discovered in Alabama, two of them in Montgomery County and one in Jefferson County.
There is no evidence the UK strain is more deadly to people who catch it, though the likelihood that it spreads faster than the current strain is cause for concern, Harris said.
Harris said the state would welcome the arrival of the Johnson & Johnson vaccine, if Alabama gets it. The new vaccine is effective against the virus only about two-thirds of the time, Harris said, less than the current vaccines, though it requires only one shot.
Harris said the efficacy rate is comparable to some childhood vaccines most people have been given, and its single-dose nature makes it easier to administer.
"If we get 68 percent protection for a large number of people in our state, that's a win, hands down," he said.
Johnson & Johnson has said it is planning to apply for emergency authorization from the Food and Drug Administration as early as next week.
Statewide, the virus has killed 7,566 people, according to ADPH. In Calhoun County, 232 have died from COVID-19.