Earlier this month, Ruby Bentley lay in Regional Medical Center's COVID-19 unit, afraid the virus would kill her.
But the 41-year-old was very much alive Tuesday afternoon as she rode a wheelchair out of the hospital, wearing a shirt that said "I survived RMC & COVID-19" in bright pink and green letters. 
As Bentley left, a nurse handed her balloons and flowers, and medical staff lined the sides of the hospital's doors, clapping and cheering for her as she rolled by.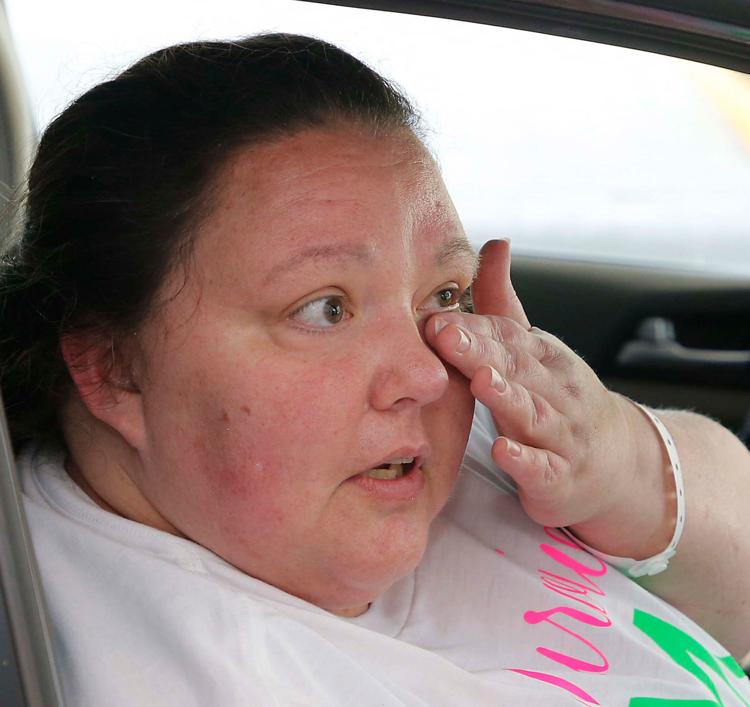 Before she stepped into a dark gray SUV, she embraced hospital staffers and family members who were waiting for her.
Bentley is one of 6,687 patients in Alabama diagnosed with the COVID-19 coronavirus as of Tuesday afternoon, and one of 15 treated for the disease at RMC in special wards set up for their care.
Two locals so far have died at the hospital and another died elsewhere, among 242 statewide.
But Bentley was one of the lucky seven sent home from RMC after recovering from the disease, and the first to do so after being put into a medically induced coma with a long tube inserted in her windpipe to keep her breathing.
"I'm the first one to come off the ventilator," she said from the passenger seat.
'I was really sick'
It was a Thursday, Bentley said, when she tested positive for the virus. She said she had initially planned to stay at her Alexandria home, where she lives with her father, brother and daughter. She said her brother and daughter both have special needs, and she'd spent most of her time caring for them before she caught the virus.
"I was really sick," she said. "I had a headache, fever, the works."
Her best friend, Amy Cook of Saks, said the two had joked over the phone about her having the disease that day, but she didn't think Bentley actually had it.
"We were just joking, but it wasn't a joke," Cook said.
But Bentley did, and that fact became real to her the following Saturday, when she had so much trouble breathing that her daughter called an ambulance. It was unlike anything she'd ever experienced.
The ambulance took her to RMC, where the staff had been working for weeks to care for a relative handful of COVID-19 patients and those awaiting test results who've needed hospitalization. While there, her breathing continued to become more difficult, until the medical staff realized she'd need a ventilator's help if she were to survive.
Before she had to go on a ventilator, she said, she was well taken care of by RMC staff.
"I don't recall having a bad doctor, a bad nurse, a bad lab tech, a bad nothing," Bentley said. "My experience was amazing."
Cook said she'd spoken to Bentley every day until she went on the ventilator and every day after she resumed breathing on her own 15 days later. During the time Bentley was on the ventilator, she was scared.
On Tuesday, Cook said she was so excited that Bentley was going home.
"That's my woman right there," Cook said of Bentley.
'Please don't let me die'
Bentley wasn't sure how long she was on the ventilator. She looked to intensive care unit nurse Cheyne Smith, who told her it was a little over two weeks.
"All I remember was holding Cheyne's hand, patting his arm and saying, 'Please don't let me die like this,'" Bentley said, tearing up.
Smith remembers vividly the afternoon when Bentley started "crashing." He didn't remember the exact date, but he knew she was supposed to go home that morning. He said she was "scared to death," and struggling to breathe. As staff set up the ventilator, he said, he tried to calm her down and taught her breathing exercises.
"I've run a lot of emergency calls through the hospital anyways, and it's not often you somebody that's scared like that,"
It was then, he said, he promised her that he wouldn't let her die.
"That's a hard promise to make, and one I don't make often, but I did for her," Smith said. "I was very connected through her treatment the whole time."
'She got better'
Smith said he and his colleagues have been called heroes, but he was just doing his job. Seeing Bentley recover and go home was all the reward Smith needed, he said.
"I don't deserve anything more than the fact that she got better," Smith said. "That's what we fight for as nurses and doctors and health care professionals is to get better. A lot of times, it doesn't work out for the best, so when it does, that's a reward in itself."
But to ICU medical director Dr. Rohit Patel, Smith, and anyone from the janitors to the doctors that have worked in the COVID-19 unit, was a hero. And Bentley's recovery showed that.
"Everyone is working deliberately hard and everyone is working with a good attitude every morning and night," Patel said. "They're looking forward to working with these people, knowing they're going to be exposed."
Smith said Bentley came off the ventilator at the beginning of last week.
Bentley said she was grateful to be alive. She hadn't seen her children in over a month, and looked forward to seeing them at home.
Now, she said, she was afraid to catch the virus again, and planned to stay home until the pandemic ended.
"Nobody's coming in. Nobody's going out," Bentley said. "I'm terrified of catching that again."