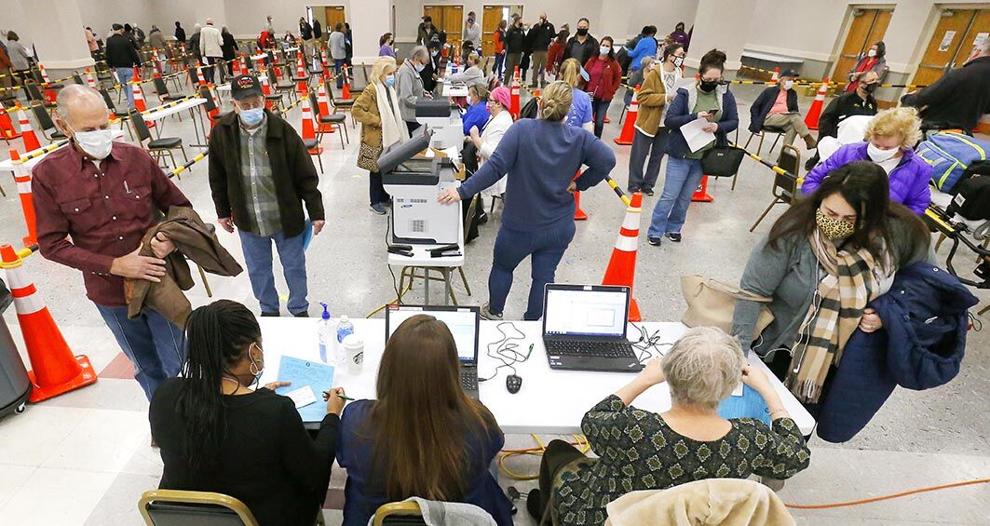 More than 4,000 appointments for COVID-19 vaccinations in Calhoun County were taken within 75 minutes of becoming available online, local officials said Thursday morning. 
But would-be vaccine patients will have a chance to try again Friday. 
"We're going to reopen the system in the morning," said Louis Bass, CEO of Regional Medical Center in Anniston. 
RMC opened a portal on its website at 7 a.m. Thursday to allow people to register for appointments to get the vaccine in Calhoun County next week. 
Local officials expect to give out 5,000 doses of the Moderna vaccine at a rate of 1,000 doses per day, starting Monday. Those shots will be given at a mass-vaccination site in Oxford on Monday and Tuesday, in Anniston on Wednesday and in Jacksonville on Thursday and Friday. 
It's part of a larger state effort to ramp up the pace of shots, through eight mass-vaccination sites around the state. On Monday, state health officials also plan to expand eligibility for vaccines to people age 65 and up and workers in some essential professions. 
RMC made appointments for the shots available at its website, rmccares.org at 7 a.m. Thursday. By 8:15 a.m., all the appointments available through that site were taken.
But there were still some slots held in reserve. Bass said the hospital held back some of its appointments for clients who registered through the hospital's telephone system — a nod to local residents who don't have Internet access or don't regularly make appointments online. 
Appointments by phone didn't work quite as planned.
"Our phone systems were overwhelmed over there," Bass said. He said the hospital had to shut down phone registration before making all the remaining appointments. He said the hospital will move the leftover appointments to the online system and reopen registration for online appointments sometime Friday.
State health officials announced the 1,000-shot-per-day plan last week, with little comment on how long each site would be able to keep up the 1,000-shot pace. 
Local officials know only that they'll have 5,000 doses on hand for use next week.
Bass said the hospital has yet to get word on the size and timing of future vaccine shipments.