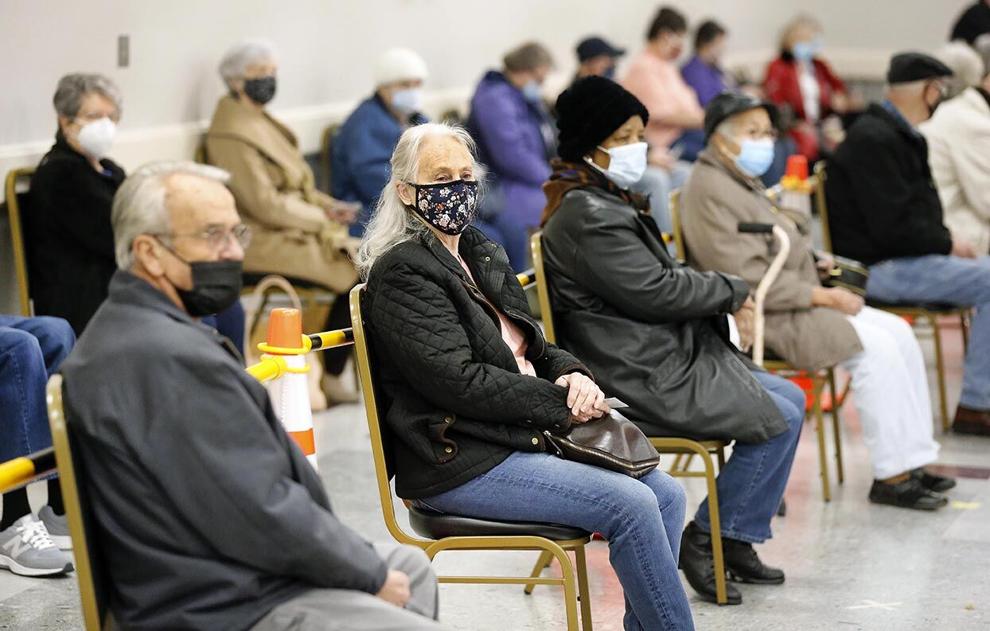 The mass-vaccination sites planned for Calhoun County and seven other locations across Alabama aren't expected to stay in operation after next week, state health officer Scott Harris said in a conference call with reporters Monday.
"We would like to have larger clinics going all the time but we just don't have the supplies," Harris said. 
Health workers in Calhoun County are gearing up to give 1,000 COVID-19 vaccination shots per day next week, Monday through Friday, at three locations in the county.
There will be vaccine clinics in Oxford on Monday and Tuesday, Anniston on Wednesday, and Jacksonville on Thursday and Friday.
The shots are available by appointment only, and by noon Friday all appointments were taken. 
Announced late last month, the mass-vaccination clinics seemed to be the beginning of a statewide push to ramp up the pace of COVID-19 shots — but Calhoun County health officials have long said that they were never guaranteed more than the initial 5,000 doses for the first week. 
Harris on Friday said that people who get their first shot at next week's clinics can expect a second shot in a few weeks — but there is no plan to continue the mass-vaccination sites beyond that. Harris cited the short supply of vaccine as the reason the clinics won't continue. 
As of Friday, 436,962 doses have been administered in the state, Harris said, with 78,276 people now completely vaccinated after two shots. More than 800,000 doses have been shipped to various providers in the state, according to ADPH numbers.
Harris said demographic information on vaccinations is spotty, but that around 4 vaccinations in 10 have gone to people age 75 and up. 
Walmart is expected to begin offering vaccines at about half its stores in Alabama in about 10 days, Harris said. The company announced earlier this week that it would begin offering shots, but Walmart's release offered little details.
Harris said the federal government would give the department store chain about 15,000 doses to distribute in Alabama.
Harris said the Alabama Department of Public Health is working with local health departments to again offer shots by appointment through those local agencies. ADPH earlier this week announced the release of a statewide scheduling website for vaccine appointments, though the site as of Friday shows no appointments in Calhoun County. Calhoun County's health department did offer shots by appointment last month. 
Officials warn against Super Bowl parties
Harris urged Alabama residents to avoid holding Super Bowl parties over the coming weekend. People together in a house or restaurant, cheering for a team, is a "prescription" for a new outbreak, he said.
"We're in the fourth quarter of this, and it isn't time to fumble away the ball," Harris said. 
Statewide and in Calhoun County, new cases of the virus and hospitalizations for COVID-19 have plummeted in recent weeks, a decline experts have attributed less to vaccination and more to the end of the post-holiday surge.
Even so, the toll of the virus has been grim, with 244 dead from the virus in Calhoun County and 8,449 dead statewide, according to Alabama Department of Public Health numbers. 
Harris said health officials remain concerned about the arrival of the UK variant of COVID-19, which is believed to spread faster than the current variant and is likely to become the dominant form of the virus. 
"It's normal biology," he said. "The one that's easier to transmit is the one you get more of."
Harris said he still expects the state to vaccinate most of the people in its highest-priority groups by the end of spring, with the average person likely to be eligible for a shot this summer. 
"I'm encouraged about where we are," he said. "The real challenge is managing the expectations of the public."