JACKSONVILLE — Family-owned restaurants want packed dining rooms, but state orders halting on-premise food service have forced business owners like Steven Katsinas to think outside the building. 
Read all The Anniston Star's coverage of the coronavirus COVID-19 and its impact on Alabama. (No subscription required.)
Saturday afternoon — just hours after Gov. Kay Ivey announced that the U.S. Small Business Administration had accepted Alabama's application for economic disaster loan eligibility that morning — Katsinas and his employees at the Effina's in Jacksonville were tossing chicken breast and hamburger patties on a grill beside the restaurant, the start of a curbside cookout the company announced on social media Friday. Serving food for on-site consumption was banned this week by Ivey's office and the Alabama Department of Public Health. Restaurants can still cook and sell food, however, if it's taken off-site by customers. 
Katsinas said at noon, when the cookout started, that he was grilling outside to try and grab attention. His employees' jobs were on the line, he said.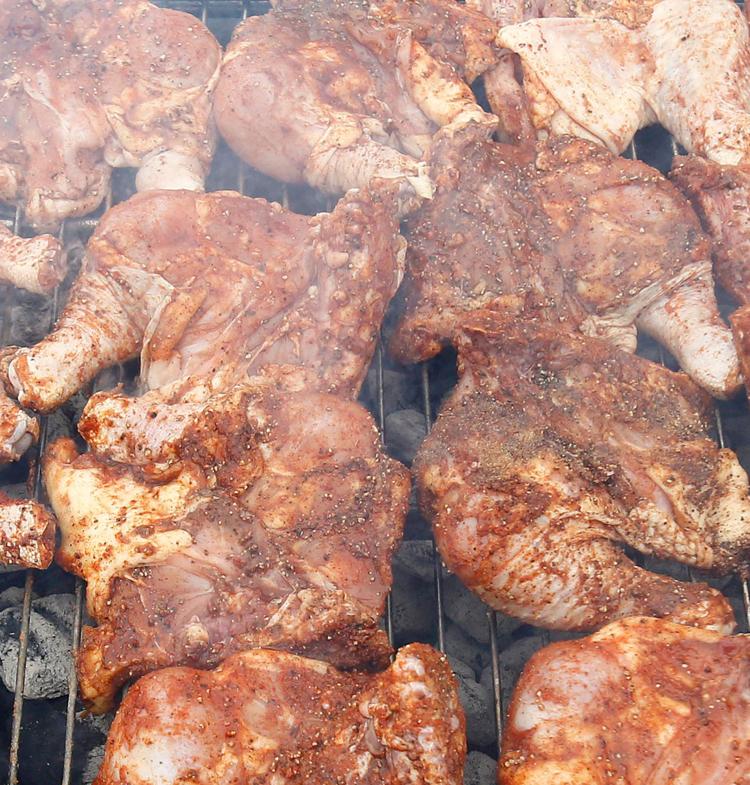 "This was only curb appeal; I wanted people to see us working," Katsinas, who owns both the Jacksonville and Anniston locations of Effina's, said while flipping chicken on the grill. "I have between 55 and 60 employees between here and Anniston. It's do this or shut my doors." 
By 12:30 p.m. about 15 customers had stopped to buy plates of meats and sides. Servers took orders inside the restaurant lobby and from cars parked outside. 
Katsinas said he had about 100 pounds of chicken on hand. The restaurant caters home games at Jacksonville State University, which is where the poultry would have gone. With events of all kinds cancelled, including sports, the extra food might have gone to waste, especially since the days leading up to the ban on in-restaurant dining had been hopelessly slow. 
"There were days this week we did $34 at lunch," Katsinas said. "That doesn't pay for anything." 
According to a release from Ivey's office, small business owners affected by COVID-19, the novel coronavirus, can apply for the Small Business Administration's Economic Injury Disaster Loan program, which will lend as much as $2 million for eligible small businesses at low interest rates. The money can be used to pay bills, payroll and debts, according to the release. 
Katsinas said he was aware of the program. The last he'd heard, though, relief might come far too late to save jobs. 
"Even if we get all the information to them, it's a minimum of 45 to 60 days before we see funding," Katsinas said. 
Workers on the front lines of the local labor force are likely to feel the effects of the COVID-19 shutdown sooner than anyone else, but a little help is available for them
Cheryl Roberts, a Jacksonville resident who stopped to buy food for her and her mother, said she'd heard about the cookout on Facebook and decided to stop by to help support small business. Besides, she said, it was her mother's birthday, and she wanted to do something nice for her. 
"I'm from this town and I don't want to see businesses closed down and people all of a sudden live in poverty," said Roberts, a banker. "It's kind of scary." 
Other local businesses had switched to curbside service. Heirloom Taco on Public Square announced on Facebook that it would be closed during lunch hours, but still serve pickup orders during dinner hours. Calhoun Steakhouse on Alabama 21 had also announced curbside service during its usual business hours. 
Hubbard's Off Main, in downtown Oxford, has cut down on labor, owner Charlotte Hubbard said Friday, as that restaurant also moved to curbside delivery. Downtown Anniston restaurants were doing likewise; Thai One On and the Peerless were among restaurants announcing curbside sales on social media, though Thai One On had closed for the weekend, with plans to reopen Monday, according to its Facebook page. 
Katsinas said he hoped locals would remember their neighbors who work at local restaurants when they dine out. 
"We have a lot of local families and people that work for us, and that's all I can really think about," Katsinas said. He added that local businesses are "the backbone of the community; we pay a lot of taxes here and we just hope people will come out and support us."