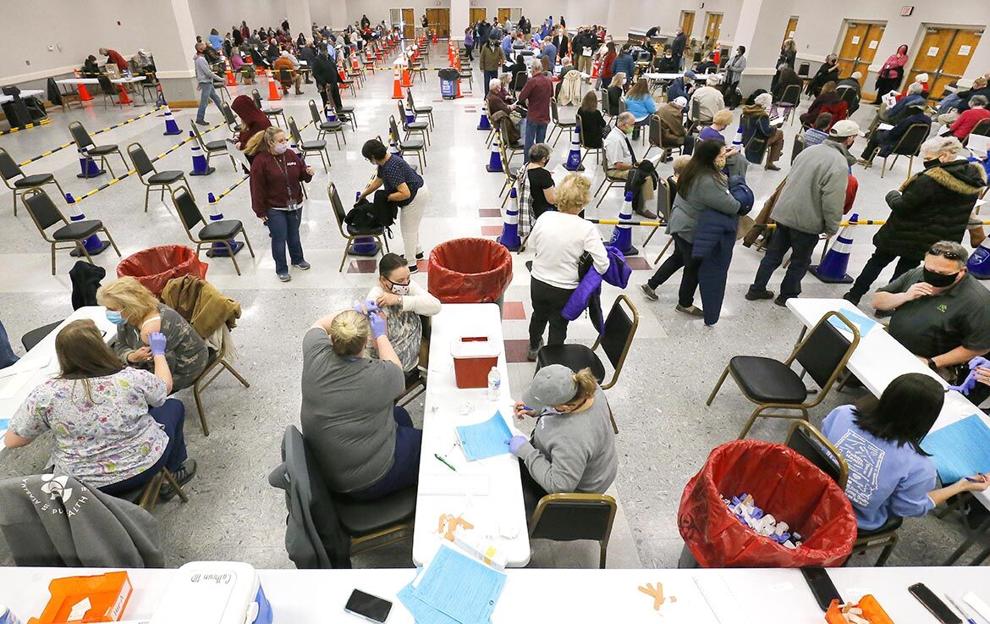 Monterie Lee of Anniston knows exactly what she wants to do once her vaccination against COVID-19 takes hold.
"I'm going to the beach," said Lee, 91, who lives in the Choccolocco area near Anniston.
Lee was among hundreds of people who showed up Tuesday at Anniston City Meeting Center to get a second COVID-19 shot — the last big step toward some immunity to the virus that has upended American life for nearly a year.
For three days this week, local health officials are offering shots at Anniston City Meeting Center. It's a follow-up to a shot clinic held in early January, when health workers gave a first dose of the Moderna COVID-19 vaccine to hundreds of first responders and people in the medical field — and then opened eligibility to people age 75 and up.
That January shot clinic drew an instant crowd, with people lining up for hours to get the vaccine. The scene on Tuesday was much more orderly.
At noon, the meeting center had no lines. Dozens of chairs sat widely spaced in two pre-shot waiting areas in the meeting center's main hall. Few actually waited in those chairs. Instead, a steady stream of people came in and out of the curtained vaccination area.
"It went a lot better than last time," Lee said. "I didn't have to wait. Last time I was in line for four hours."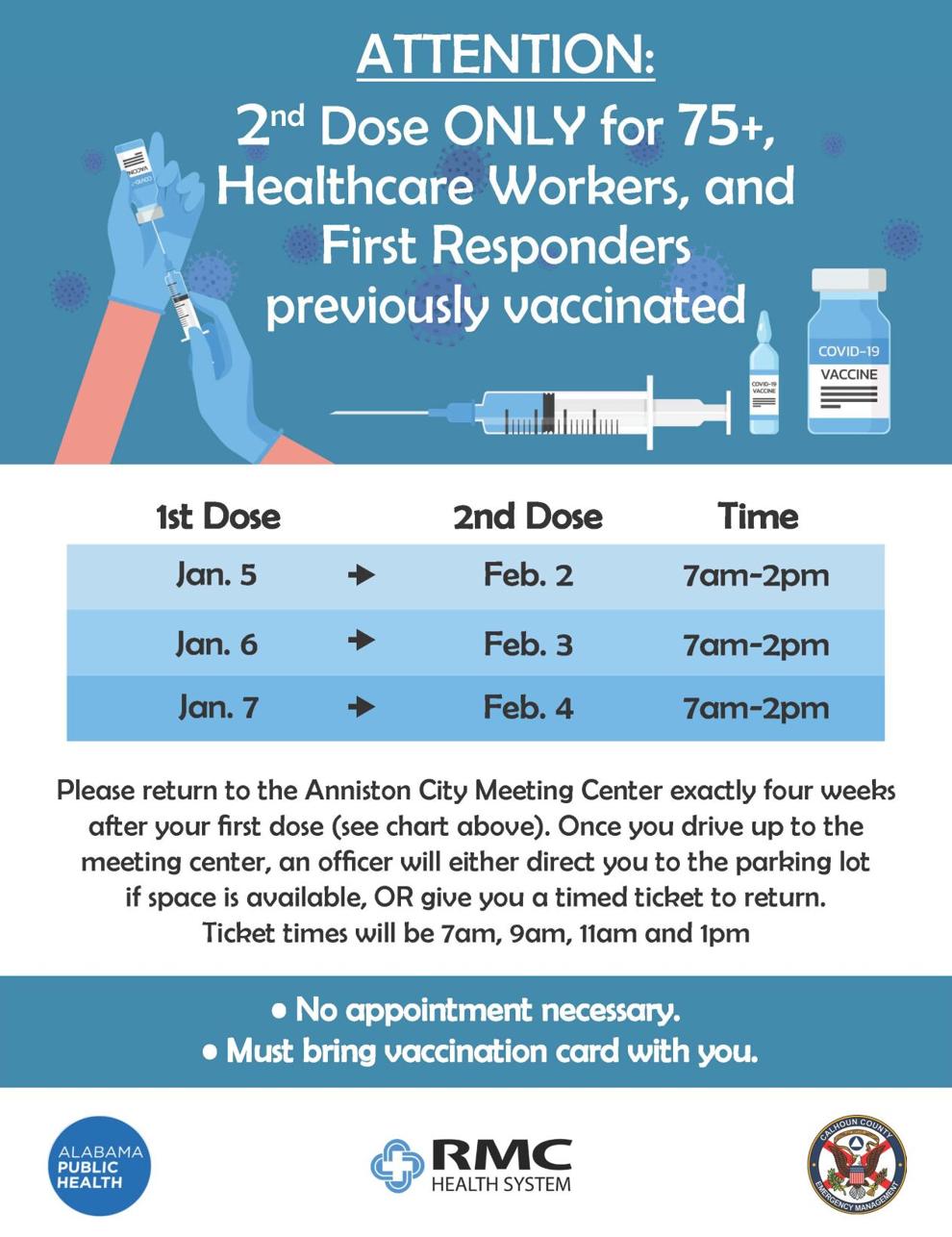 The scene was orderly in part because everyone there was indeed getting a second shot — and was in fact guaranteed one if they had the first one in January. There was no need to jockey for a position in line with limited supplies.
Local emergency management officials say they're learning how to better manage crowds at mass-vaccination events. That's something they'll need to know next week, when Alabama expands eligibility for the shots and ramps up their pace.
State health officer Scott Harris last week announced a plan to offer 1,000 shots a day at each of several drive-through sites around the state. Each of those sites is expected to serve a multi-county region, and Anniston was on the list as one of those sites, Harris said at the time.
Those sites would open Feb. 8, offering vaccinations to people age 65 and up and to teachers, postal workers, corrections officers and other people in essential professions, Harris said.
Local officials on Monday said they found out about the 1,000-shot sites the same day the public did. Calhoun County Emergency Management acting director Myles Chamblee said Monday that local officials are still working out a site for the vaccination drive that will begin Feb. 8.
"All the options are open," Chamblee said Monday. By Tuesday, local officials had yet to announce the location of the coming shot clinic, although an EMA official on Tuesday said the coming clinic would almost certainly be a walk-in site rather than a drive-through location, largely due to weather. Temperatures below freezing are expected this week, according to the National Weather Service.
Photos: Second Round of COVID-19 Vaccines
Photos of the second round of COVID-19 vaccines at the City Meeting Center in Anniston.
Regional Medical Center CEO Louis Bass said Monday that the hospital will be tasked with delivering 5,000 vaccine doses next week. A state vaccination website, launched Monday, stated that people need to bring ID to prove their age or their profession, depending on the reason they qualify for the shot.
EMA officials have said there will likely be no residency requirement for shots at the Feb. 8 clinic. Chamblee on Monday said that in January, people came from as far as Jefferson and Shelby counties to get shots in Anniston.
Most of Tuesday's crowd was local, though. Bertha Newburn, 85, of Anniston, said that after getting her second shot of the vaccine, she'd likely go back to a project she's been working on: writing a newsletter for her family members. Newburn says she has performed as a storyteller and clown professionally in the past, but hasn't seen as many storytelling opportunities since the pandemic began.
"Unless you go up to somebody and say, 'Hey, can I be a storyteller for your group,' you know, nobody's going to ask me," she said.
Kristina Blume was among the younger patients at the shot clinic Tuesday. She's a health care worker in an Anniston medical office and got her first shot in the January clinic.
Blume said she doesn't plan to change anything about her life once the immunity from the second shot kicks in. Not immediately. Not until more people have been vaccinated, including members of her family.
"I'll probably wait a while before I get out and do things," she said. "People in the community need to get their vaccines as well."