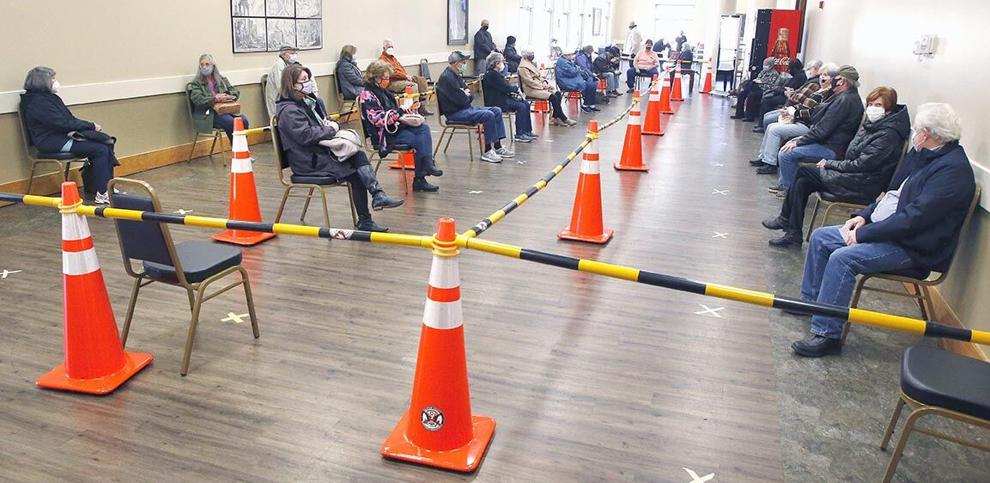 It took all of 75 minutes for Calhoun County residents to snap up more than 4,000 slots for COVID-19 vaccinations on Thursday morning. 
More chances to get the vaccine will be up for grabs Friday — but only because a telephone hotline crashed before health care workers could set all the appointments. 
"We're limited by the vaccine we have," said Louis Bass, CEO of Regional Medical Center in Anniston. "We have 5,000 doses. Clearly 5,000 doses is not enough."
State officials last week announced a plan to put 1,000 shots in 1,000 arms per day at eight mass-vaccination sites across the state — a plan that may be a response to criticism that Alabama's vaccine rollout has been slower than in most other states. 
In Anniston, one vaccination site quickly grew into three, with local officials planning to offer shots in Oxford at the beginning of the week, Anniston on Wednesday and Jacksonville later. 
Not everyone is eligible for a shot, but the field of candidates for vaccination will grow quite a bit on Monday. People 65 and up will be able to get a shot, where 75 and up has been the limit so far. And people in certain key professions — teachers, postal workers and judges among them — will be newly eligible for shots, no matter their age. 
RMC opened an online portal to set up vaccine appointments Thursday morning at 7 a.m.. Those appointments were all filled by 8:15 a.m. The hospital also opened a call-in line for people who don't have or don't use the internet. It crashed due to high call volume Thursday. 
"Our phone systems were overwhelmed," Bass said. He said the hospital had reserved some appointment times for call-in customers, and some remain open. 
RMC spokeswoman Kristin Fillingim said the remaining 652 unscheduled appointments will be available online at rmccares.org at 7 a.m. Friday.
Jockeying for a vaccine appointment has become just another part of pandemic life in recent weeks, as worried or cabin-feverish Alabamians hear mixed messages about vaccine availability. 
The Alabama Department of Public Health earlier this week launched a statewide website for people to set up vaccine appointments. It doesn't work for people in Calhoun County. 
Walmart, in a corporate press release, announced that vaccines will be available in "select" stores in Alabama at some point after Feb. 11 — with no detail on how many doses, or where they'll be. Call Walmart stores in Calhoun County, and you'll hear a recorded message that vaccine isn't available in Alabama yet.
"The system is screwed," wrote one reader in a Thursday email to The Anniston Star. That reader said he was over age 65, tried to apply for a health department appointment two weeks ago and got shut out on both the phone and online registration system at RMC Thursday.
Local officials say they're learning how to streamline the vaccination process. People lined up for hours at Anniston City Meeting Center in January when health workers first offered the COVID-19 vaccine to people 75 and older. When those people returned for a second shot this week, a steady stream of people came in and out of the meeting center, by appointment with no lines. 
But local officials are in some ways working in the dark. Among the things they don't know is how many doses of vaccine will be available after next week's 5,000-dose blitz. 
"I think the frustration, if there is frustration on behalf of the community, should really be frustration that there's not enough vaccine," Bass said.