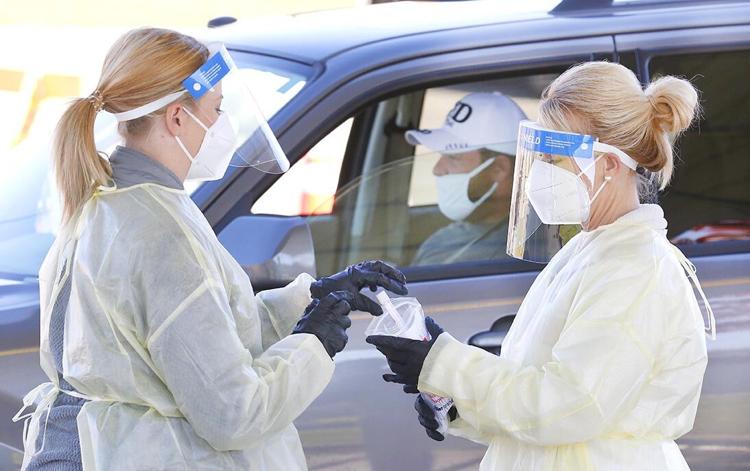 The statewide order requiring Alabama residents to wear masks in public to prevent the spread of coronavirus will be extended to Dec. 11, Gov. Kay Ivey announced Thursday.
The newly amended public health order will also ease some restrictions on businesses, which had been limited to 50 percent of their normal occupancy during much of the pandemic.
"The key to all this is that if you mask up and observe social distancing, you can increase occupancy," Ivey said in a press conference at the Alabama State Capitol, broadcast on Facebook Live.
The state has seen about 200,000 cases of COVID-19 since the virus arrived in Alabama in March, Dr. Scott Harris, the state's public health officer, said at the press conference. Those case numbers reflect individual patients, Harris said, meaning that about 4 percent of Alabama's population has been infected so far.
An initial stay-at-home order in April kept virus numbers relatively low, but cost hundreds of thousands of Alabamians their jobs. When that stay-at-home order expired in early summer, case counts skyrocketed, declining only after state health officials imposed a mandatory mask order in mid-summer.
The state for months has also been under an order requiring restaurants and retail businesses to maintain 50 percent occupancy rates, meaning the number of in-person customers cannot exceed 50 percent of the building's normal capacity.
Ivey's Thursday order lifts that restriction, and would also lift six-foot social distancing requirements when a business can put physical barriers, such as plexiglas, between individuals.
Ivey said she and public health officials are seeking balance between fighting the virus and keeping the economy healthy, with an eye toward the coming holiday shopping season.
"I understand that we're all dead tired of the mask," Ivey said. "I'm tired of it too."
Public health officials for weeks have warned of a surge in COVID cases in the winter months, which is typical in epidemics. Harris on Thursday said that 18 states are now seeing record high numbers of hospitalizations for COVID.
Alabama's numbers are harder to judge, largely because some labs in the state in recent weeks belatedly reported positive results on tests done on Alabama patients months ago. Even so, Harris said it is clear the daily number of new cases is rising, after staying flat in the weeks leading up to the middle of October.
There are now more than 1,000 people in the state hospitalized with the virus, Harris said. That's well below the peak the state hit in the summer, but it reflects an upward trend in serious cases in the past few weeks.
Harris said state officials not yet lifted occupancy requirements on high school athletic events.
The governor indicated that she hopes to one day lift the mask order and count on the public to practice safe social distancing without a mandate.
"I know you can't go on forever with a public mandate, especially if you don't have buy-in from the public we all serve," Ivey said.
From the beginning of the pandemic, law enforcement officials have expressed their reluctance to arrest or fine people for disobeying public health orders, and mask use isn't universal in many public places despite the order.
Public resistance to the orders was clear in real time on the governor's own Facebook page, with viewers posting comments urging a "mask revolt" and calling Ivey a socialist, along with some false medical claims about the pandemic.
In recent weeks, many of the new COVID cases have come from small get-togethers such as family gatherings or birthday parties, public health officials have said.
In the Thursday press conference, Harris urged people to find alternate approaches to the usual Thanksgiving dinner that will incorporate social distancing.
"If the weather permits, try to do things outdoors if you can," he said.