HEFLIN — Ronayne Rakestraw was grateful when she received packets of meals delivered to her van for her three kids on Wednesday at Cleburne County Elementary School.
The Cleburne County school system child nutrition program began curbside and mobile meal pickup for any child under the age of 18 after schools closed statewide this week due to the threat of coronavirus.
Rakestraw, who lives in Ranburne, said she was smiling because the schools were providing the meals to help out during what she said was "uncharted territory."
"Right now, we don't know what's going on and what's going to happen, so it's helping a lot so we can be more prepared," said Rakestraw.
One of Rakestraw's kids, Kayden, 10, was in the back seat next to one of his brothers, who was asleep.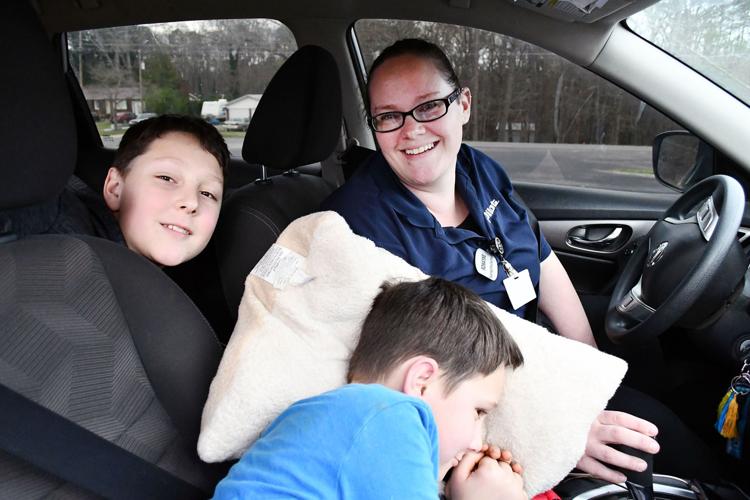 "It's actually pretty good, because at home we don't get much supplies but this actually helps a lot," he said of the meals.
Kellie Grubbs, the child nutrition program coordinator, said the meals will be available for the next two weeks until the school system's spring break on April 6.
Grubbs said that after spring break the school system will resume the meal pick-up system if needed upon getting guidance from the state. 
Grubbs and a handful of school employees gave out meals to a steady stream of vehicles  on Wednesday. Grubbs said hundreds of meals were given out.
"Nationwide this is unprecedented for us to see anything like this, and so anything we can do help the kids and our community is what we need to do," Grubbs said.
In addition to the curbside pick-up at the schools, a meal van will visit locations in Heflin and Fruithurst.