Health officials aren't entirely sure whether a seeming rise in Alabama cases of coronavirus over the last week can be traced back to the state's step-by-step reopening. 
They're sure of one thing, though: More people should be wearing masks when they go out in public. 
"What I think needs to happen is continued diligence in wearing our masks everywhere," said Dr. Rachael Lee, an epidemiologist at UAB, in a Wednesday teleconference with reporters. 
Alabama had 15,775 cases of COVID-19, with 581 virus-related deaths, as of Wednesday afternoon, according to numbers from the Alabama Department of Public Health. One-third of those cases emerged in the past 14 days, according to ADPH. The state also saw one of its biggest one-day jumps in new infections on Monday, with about 700 new cases reported. 
That news comes on the heels of a Memorial Day weekend that, in many places, seemed like something from the days before the pandemic. Last week, state health officials once again loosened pandemic-era restrictions, adding entertainment venues, public pools and youth sports training to the list of activities and establishments to the list of activities that were allowed to resume, with social distancing restrictions in place. 
Lee said it's far too early to tell whether increased activity on Memorial Day is increasing the spread of the disease. And the seeming Monday jump in cases, she said, might not be as troubling as it seems. It's possible that some hospitals shut down testing over the holiday, she said, leading to a surge in results afterward. 
Still, she said, the overall trend is upward, something that bothers Lee.
"This increase that we're seeing is concerning to me, and part of it may have to do with loosening restrictions," she said.
But part of the rise, she said, may have to do with the fact that so few people are wearing masks to prevent the spread of the virus. 
"We really need to take personal responsibility," she said.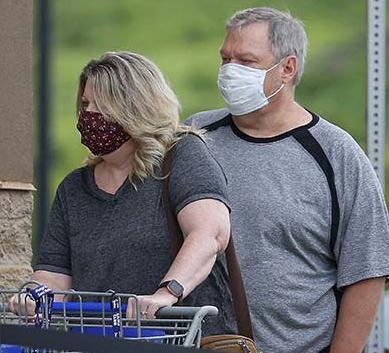 The wearing of masks in public has become a flashpoint in political circles, but there's little disagreement, among public officials in red or blue states, about their usefulness. Alabama's public health order doesn't require masks, but it does encourage their use. State health officials have said repeatedly that masks protect the public from the wearer, in case the wearer has coronavirus and doesn't know it. 
In St. Clair County, emergency management director Patrice Kurzejeski said there hasn't been a significant increase in new cases since the first stages of reopening in early May. New confirmed cases are coming in at a rate of about two per day, she said. 
She said the reopening does worry her, and not because of the way businesses are approaching it. She said most stores are following social distancing guidelines better than she would have expected.
"I'm just afraid that the public will not adhere to that warning, keeping your hands washed and wearing a mask," she said.
Calhoun County had 150 cases as of Wednesday, a jump of 13 cases since the same time last week. The week before, the county saw only nine new cases. There was also one coronavirus patient hospitalized at Regional Medical Center as of Wednesday afternoon. Last week, the COVID-19 unit at the hospital was empty. 
Local officials say that's not necessarily a sign of a post-reopening surge. The jump in cases over the weekend, RMC CEO Louis Bass said, may have been due to a free testing event held in Oxford last week.
That event turned up 12 coronavirus patients, Bass said. All of them were asymptomatic for the virus. Health officials said that underscores the reason why people should wear masks in public, even if they don't think they're sick.
"When I'm in large groups, I do try to wear the mask out of respect for people," said Calhoun County EMA Director Michael Barton. "I'm protecting them from me."
Bass, the hospital administrator, said he thinks there's a decline in the use of masks in recent weeks. 
"I look around at the restaurants and stores, and there are a lot of people who are not wearing them," he said. "It's almost as if some of them think this is over."