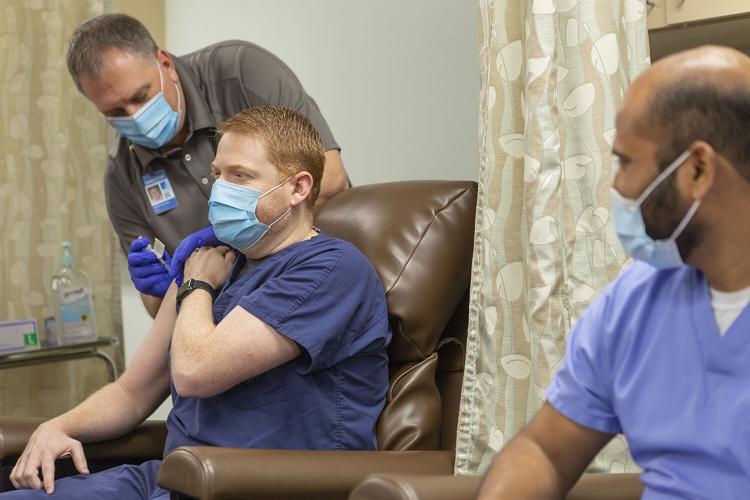 A physician in Dothan became the first person in Alabama to be immunized for COVID-19 Tuesday, state health officials announced Tuesday afternoon. Calhoun County, meanwhile, remains on a waiting list for vaccines.
"Obviously this has been a herculean effort on the part of many people," said Dr. Karen Landers, assistant state health officer at the Alabama Department of Public Health.
Federal officials during the weekend approved the first COVID-19 vaccine for use in the United States, a product by the drug company Pfizer that requires two shots in order to be fully effective. Alabama received around 41,000 doses in its first shipment of the vaccine this week.
For weeks, state health officials have been planning to give the first available doses to health care workers in close contact with COVID patents, then to other medical workers, nursing home residents and first responders.
Shots for the general public — healthy people unaffiliated with health care and without underlying conditions — are by most accounts at least a few months away. 
Dr. Walter Doty IV, a pulmonologist at Southeast Health Critical Care in Dothan, was the first Alabama resident to receive a dose from the new shipment Tuesday, according to the ADPH press release. The release also identified the 14 other hospitals around the state that received the vaccine this week.
None is in Calhoun or surrounding counties. The Pfizer vaccine requires low-temperature storage in special refrigeration units, health officials have said, and the first doses were set aside for hospitals with those refrigeration capabilities.
Regional Medical Center CEO Louis Bass said on Monday that the Anniston hospital has applied for a shipment of another vaccine, made by the drug company Moderna, that has less stringent cold-storage requirements.
Landers on Tuesday said that if the Moderna vaccine gets federal approval by the end of the week, the vaccine could arrive at Alabama hospitals as early as the middle of next week.
Landers said it's likely hospitals with vaccine doses will vaccinate their own staff and perhaps the staff of some nearby medical facilities.
"The desire is for people to be vaccinated by their own entities," she said.
Health officials have been quick to remind people that until vaccination is widespread, COVID-19 can still spread unchecked unless people wear masks and take other precautions.
The pandemic continues to strain hospitals in Calhoun County and across the state. COVID patients on Tuesday occupied more than 2,300 hospital beds statewide, the most the state has seen since the pandemic began, according to numbers from ADPH. Anniston's RMC on Monday began warning emergency services companies that the hospital's intensive care beds were full and ambulances should take new patients elsewhere.
Calhoun County logged its 130th death from the virus Tuesday. More than 4,100 Alabamians have died from COVID-19 since the pandemic began, according to ADPH numbers.