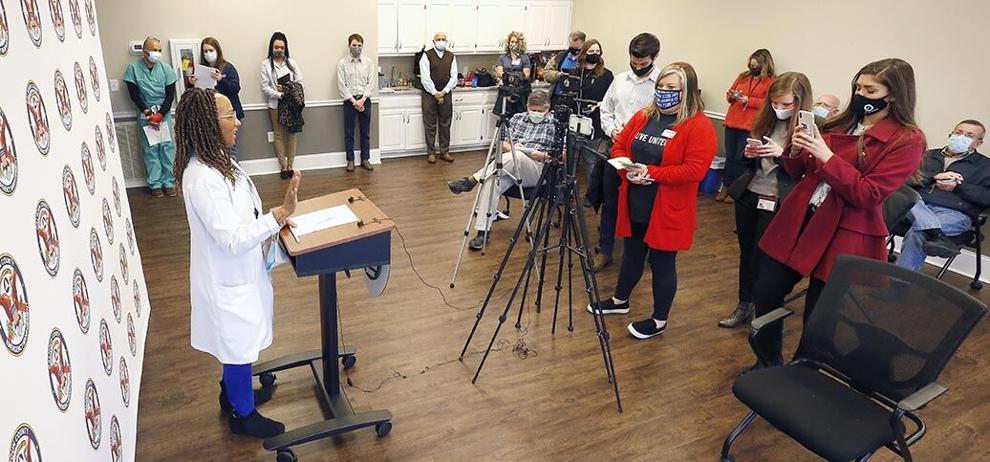 Local officials will hold COVID-19 vaccine clinics in three Calhoun County cities next week as Alabama expands eligibility for the vaccine to more professions and to people 65 and up, emergency management officials announced Wednesday.
Next Monday through Friday, health workers will offer 1,000 shots per day by appointment, beginning at Oxford Civic Center and later in the week at Anniston City Meeting Center and the Jacksonville Community Center.
"Our goal from the beginning has been to get every shot into an arm," said Regional Medical Center CEO Louis Bass, one of several local officials who spoke Wednesday at a press conference at the United Way in Anniston.
State health officials last week announced a plan to begin offering 1,000 shots per day at eight sites around the state beginning Feb. 8 — a stepped-up campaign that may have been a response to growing criticism that the state's vaccine rollout has been slow.
Anniston was on the list of proposed mass-vaccination sites, but officials in Calhoun County say they didn't know about the plan until the day it was announced. Wednesday's announcement was the first time the details of the local vaccine clinics were made public.
Instead of one site in Anniston, local officials chose to have three, rotating during the week between the county's biggest cities.
Instead of a drive-through clinic, as announced by the state, the local sites will be indoor clinics.
Instead of using the state vaccine appointment website launched earlier this week, local officials are urging people to go to a local online appointment portal that is expected to go live Thursday at 7 a.m. on Regional Medical Center's website (rmccares.org).
In addition to people over 65, people in various essential jobs such as education and public transit will be eligible for the shots, local officials said. At the Calhoun County sites, local officials said, members of the clergy will also be eligible.
When people show up at the clinic for the shot, they'll need to provide proof of their age or some sort of ID to verify their profession, depending on how they qualify for the shot, RMC infection specialist Kandi Williams said.
A 1,000-shot-per-day push would radically step up the pace of vaccination in Calhoun County, though Bass  and Williams were quick to point out Wednesday that the RMC has been assured only that 5,000 doses will be on hand next week — enough to carry the mass-vaccination clinics only through end of the work week.
Supply still short
State officials last year put together a plan to roll out the vaccine once it was in hand, but that plan has been dogged from the beginning by the short supply of vaccine.
Wednesday, nearly two months after the state's first COVID-19 shots were administered, health care workers in a clinic at Anniston City Meeting Center were still giving the second dose to the county's last few straggling health workers, while some of 75-and-up residents of the county were rolling up their sleeves for a second shot.
Fortunately, the spread of the virus is also slowing locally. At the Wednesday press conference, RMC chief of staff Dr. Almena Free said the Anniston hospital now has 43 patients in its COVID wing, about half the number the hospital saw during the post-holiday peak in January.
Doctors still worry about the potential for renewed spread, particularly as new, faster-spreading variants of the virus begin to emerge. Dr. Raul Magadia, an infectious disease specialist who works with RMC's COVID patients, said the new UK or B117 variant is expected to be the dominant variant in the U.S. by March.
Magadia said doctors haven't identified any cases of the UK variant at RMC, though he also said the hospital isn't equipped to test for that variant.
Magadia and Free were among the first people vaccinated in the county, and both said people shouldn't be reluctant to get the vaccine when it's available.
"No corners were cut," Magadia said. "It's safe. It's 94 to 95 percent efficacious."
Free said community outreach events are planned in coming weeks to help convince people who are reluctant to get the shot. She urged vaccine skeptics to do their own "homework" on the vaccine, using trustworthy sources.
"Go online," she said. "Don't go to Instagram. Don't go to Facebook. Go to the CDC guide about vaccinations. Learn for yourself."