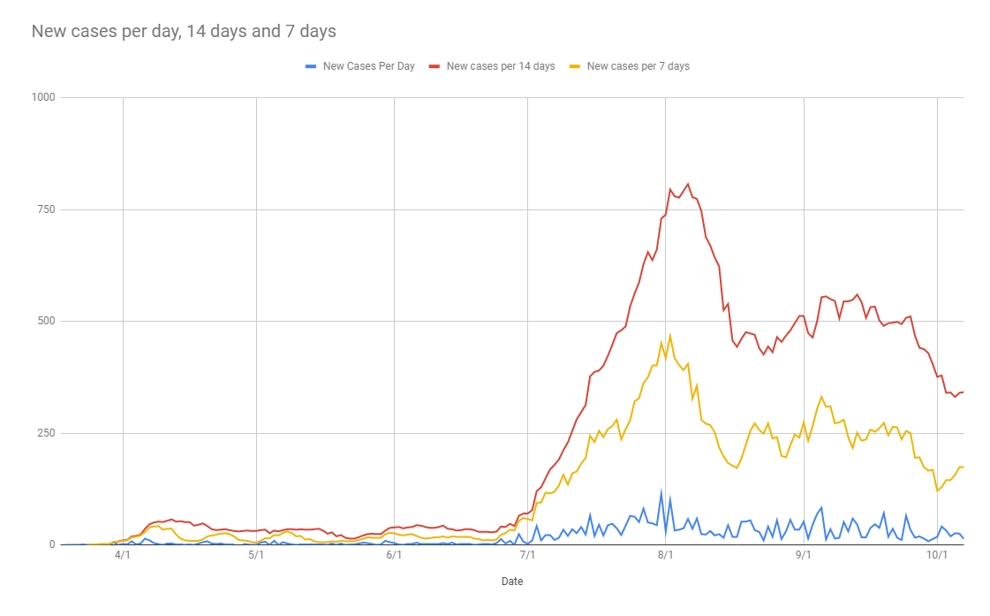 Calhoun County's COVID-19 case numbers are coming down, according to data from the Alabama Department of Public Health. 
The coronavirus pandemic has been stomping across the United States since March, leading to more than 200,000 deaths nationwide. But in Calhoun those thunderous footfalls are becoming stifled, with the bi-weekly average for new cases dropping to some of the lowest rates seen in months. ADPH shows the 14-day rolling count of new cases at 343 as of Wednesday — the last time the county saw a rate that low was July 14, with a total of 313 cases in the two weeks ending that day, a Tuesday. By the end of that week, the two-week count had already blown past 400 new cases. 
"Definitely we are slowing down," said Dr. Raul Magadia, chief of infectious disease at Regional Medical Center in Anniston. "We're seeing about one to two admissions per day for COVID-19 and it's considerably down from the five or six a day about two or three weeks ago." 
The 14-day count has slipped some for the state as well, though it hasn't fallen as far as in mid-September, when the rolling count was almost down to 800 cases. The numbers are floating just below 1,000 for now. 
Magadia said there have been a few advantages for Calhoun County. It's a small community made up of other small communities, and the dissemination of information was quick. More than arming people with the basic knowledge — wear a mask, keep your distance — close-knit families and groups of friends began to see their peers contract the virus. 
"If you have that experience, whether it's you or a family member or a friend," Magadia said, "you know what to do or not do." 
The COVID ward at RMC was down to 23 patients as of Wednesday afternoon, he said, about a third of the patient load at the height of the pandemic. There had been several COVID units during the hardest months, over the summer, but the hospital is down to a single unit now. 
The doctor urged caution when it comes to complacency. People are tired of the "new normal," wearing masks and keeping their distance, he said, but each of those precautions bumps down the odds of contracting the virus. 
"I always tell people the virus is not going to infect you if it does not meet you," Magadia said. "Our chances of not meeting the virus will be higher if you adhere to those things we constantly talk about."