HEFLIN — Crystal Cavender, Cleburne County's emergency manager, told the Cleburne County Commission Monday that she is being proactive in protecting the county's 911 employees against the COVID-19 virus.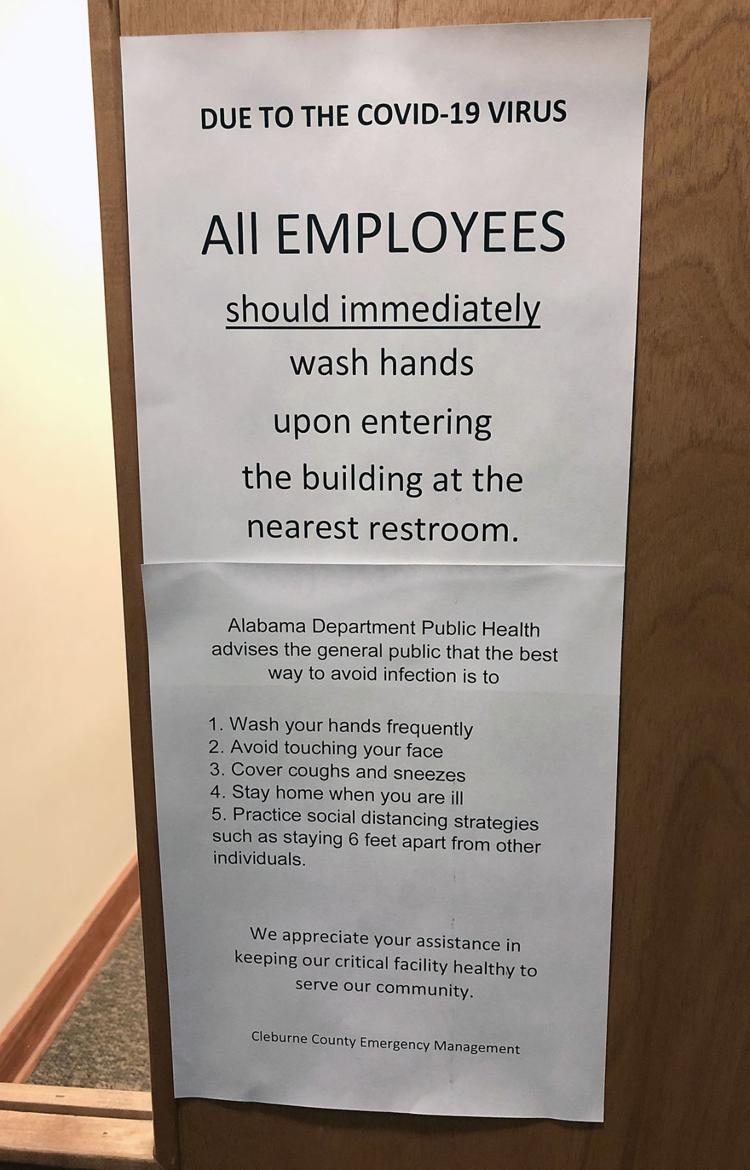 During an E911 board meeting followed by a Cleburne County Commission meeting Monday night, Cavender said that signs have been placed on doors at the Mountain Center reminding all employees that they must wash their hands before entering the building. 
"We're really having to watch our staff," she said. "We don't need our staff to get sick; it would be bad because we are just a small staff," Cavender said.
The Mountain Center houses county administrative offices and the E911 center.
Cavender said she has been in contact with other agencies including the Calhoun County Emergency Agency so that officials can all be on the same page if COVID-19 infects people in the area.
The signs on the doors at the Mountain Center include recommendations from the Alabama Department of Public Health to avoid infection, including:
— Wash your hands frequently
— Avoid touching your face
— Cover coughs and sneezes
— Stay home when you are ill
— Practice social distancing strategies such as staying 6 feet apart from other individuals.
During the commission meeting the commissioners voted unanimously to hold a special called meeting to address the damage to the county's roads from the logging industry during the recent rains.
Lee Estes, Cleburne County engineer, asked for the meeting to inform the logging industry of expectations and consequences and has invited the logging industry to attend.
"I just wanted everyone on the same page," He said. "It's because of the rain. They're getting hungry, and they're starting work when they don't need to be working," Estes said.
Commissioner Laura Cobb said that logging companies are coming into her district that have given no notice whatsoever.
"We need to reach out. We do have regulations, too," said Cobb.
Estes said there is a regulation that a logging truck can not track mud on the roads.
"If I start cracking down on it, it's going to be a pretty big crackdown, and I just want everyone on the same page ... I want everyone to know I'm fixing to stop it," said Estes.
Commissioner Emmett Owen said he does not want to run anybody out of business.
"But when you get out on some of these roads that are 50 and 60 years old since they've had any work, and they are all cracked and water has stayed on them for three months now, that big truck goes down through there, follow behind one of them, you can see the road go down and come up as they go down through down there," Owen said.
The special meeting will be at 10 a.m. March 18, a Wednesday, at the Mountain Center.
Estes told commissioners that County Road 60 at the bridge that spans the Tallapoosa River will be closed so new decking can be put on the bridge.  Estes said the road will be closed for three weeks and the damage to the bridge was caused by overweight trucks.
Estes said height restrictors will be installed to curb large trucks from crossing the bridge.
The commission voted unanimously on its consent agenda which included:
— Approving $2,500 from each commissioner's discretionary fund to assist the Cheaha Regional Public Library with the purchase of a new bookmobile.
— Approving $450 from Commissioner Terry Hendrix's discretionary fund to haul dirt for the Ranburne Recreation Department's baseball fields.
— Approved $3,000 from Cobb's discretionary fund to purchase breathing equipment for the Cane Creek Volunteer Fire Department.