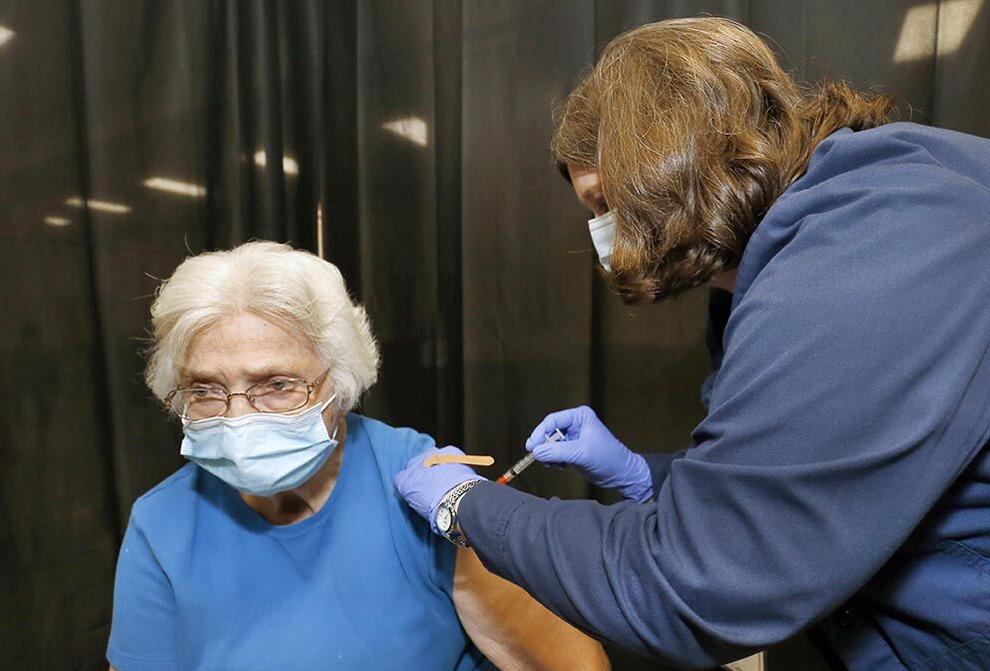 (Editor's Note: This story has been changed to correct an error regarding the time required to vaccinate all of Calhoun County.) 
Calhoun County emergency management officials say they expect to have enough vaccines on hand to give 1,000 COVID-19 vaccine shots per day to an expanded group of patients beginning Feb. 8. 
The where and how of that vaccine distribution plan, however, were still up in the air on Monday. 
"All the options are open," said Myles Chamblee, acting director of the Calhoun County Emergency Management Agency. "It could be a drive-through clinic. It could be a walk-in. We're currently in the planning stage."
State health officials announced last week that they'd expand eligibility for COVID-19 vaccine to new groups, including teachers and people 65 and up, beginning Feb. 8. 
State health officer Scott Harris on Friday announced that Alabama would set up several regional drive-through vaccination sites across the state, each tasked with delivering 1,000 shots per day, beginning Feb. 8. Anniston was among the cities he named as home to one of those sites.
Chamblee said Monday that local officials found out about that plan on the same day the public did. In a text message Monday, Regional Medical Center CEO Louis Bass said the hospital has been tasked with providing 5,000 doses next week, and expects to have them available. 
Both Chamblee and Bass said the details of the vaccination effort are still being decided. One thing that clearly may already be off the table is the promise of a drive-through site. Chamblee said local officials are looking at both drive-through and walk-in clinics as options. 
Attempts to reach Alabama Department of Public Health officials for comment Monday were unsuccessful, but the department did on Monday afternoon launch a website to help people determine their eligibility for the vaccine. 
Materials on that website suggest that both drive-through and walk-in sites may be opening soon. The site states that people seeking shots will need to bring proof of their age or their profession to show that they're in a qualifying group.
Separate shot clinic underway this week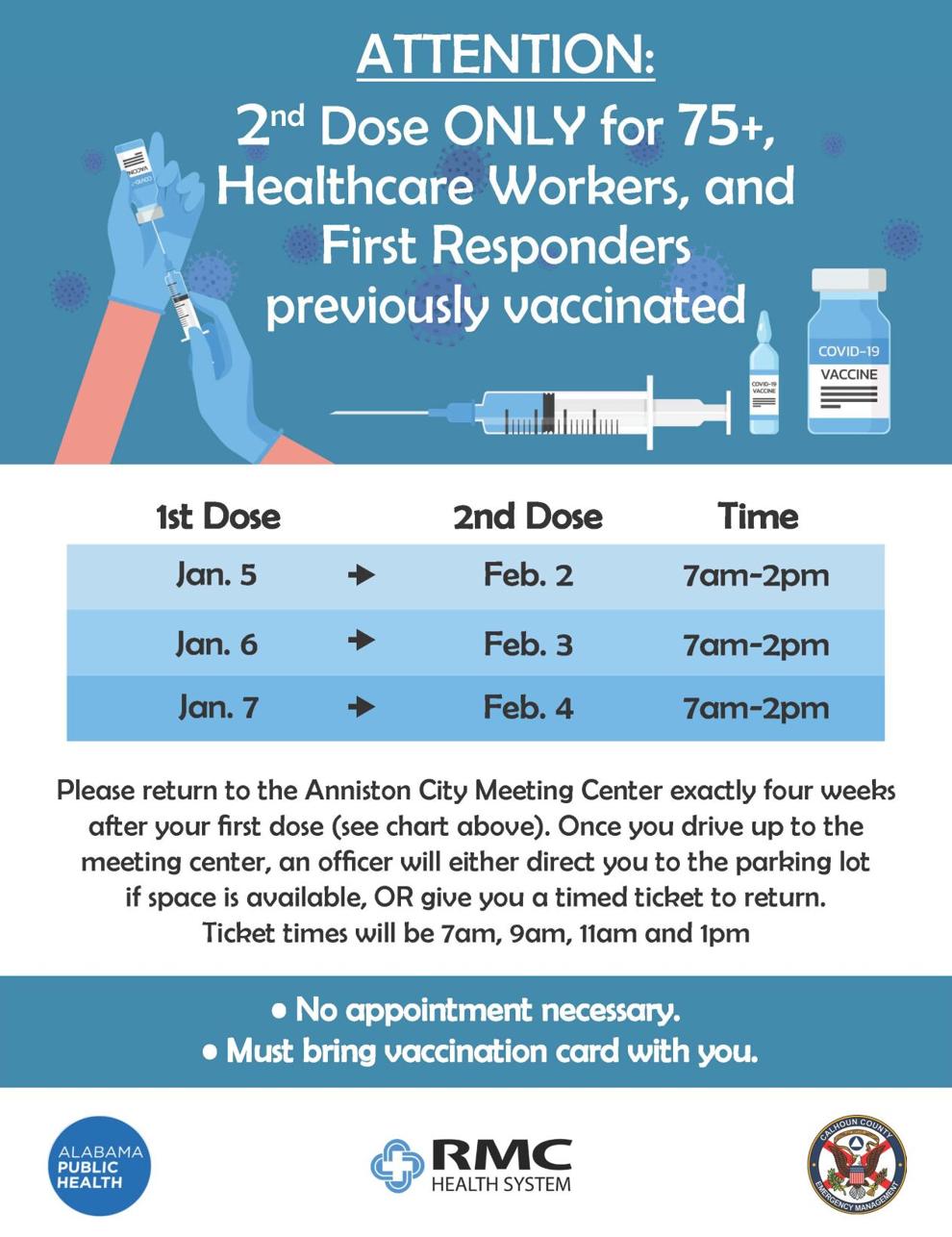 The Feb. 8 shot clinic plan comes as local officials are still working to finish up an earlier vaccination drive. In early January, health workers delivering shots to first responders at Anniston City Meeting Center unexpectedly announced that they would also give shots to people aged 75 and up. Hundreds showed up for the vaccinations. 
Those people are expected to return to the City Meeting Center beginning Tuesday for their second dose. Chamblee said that shot clinic is open only to people who've had their first shot, and who got it in the first City Meeting Center event. 
Those who got their first shots should return on the same day of the week for their second shots. People who were vaccinated on Jan. 5 should return on Tuesday. Those who were vaccinated on Jan. 6 should return on Wednesday. Those who were vaccinated on Jan. 7 should return Thursday. On all days, shots are available from 7 a.m. to 2 p.m. No appointment is needed.
Chamblee said the January shot clinic gave 970 injections on its busiest day — roughly equivalent to the amount the Feb. 8 clinics are expected to give every day. 
Residency requirement unlikely
It's unlikely the Feb. 8 shot clinic will include a residency requirement, Chamblee said. He said that in the earlier shot clinic in Anniston, people came from as far as Shelby and Jefferson counties for vaccinations. 
"If you drove from Montgomery and you were eligible to get the vaccine, you'd get the vaccine," he said. 
Both Chamblee and Bass said further details on the Feb. 8 clinic would be available soon. 
The new vaccine push comes as the state is seeing a rare positive trend in the spread of the virus. About 1,900 people were hospitalized with COVID-19 statewide over the weekend, a vast improvement over early January, when numbers peaked above 3,000.
The daily rate of new infection has seen a similar drop. Health officials have said the decline is likely due to a post-holiday surge burning itself out, and they don't expect the effect of vaccination to show in the numbers until mid-February. 
As of Monday, according to ADPH numbers, 12,000 people in Calhoun County have had the virus. Among them, 232 are dead.