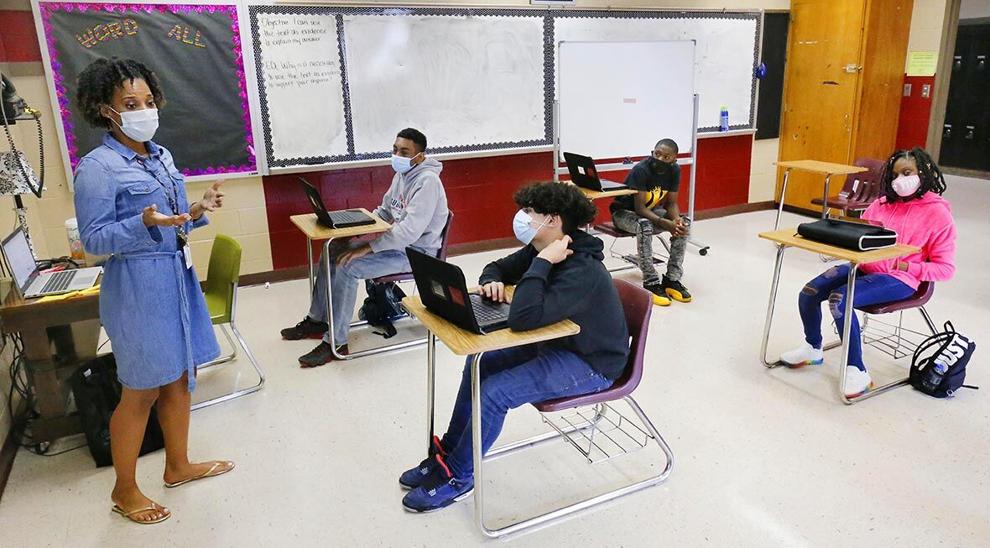 At 7 a.m. Thursday, hundreds and possibly thousands of people across Calhoun County waited eagerly in front of computer screens, hoping to schedule an appointment to get the COVID-19 vaccine.
But by 7 a.m., many of the area's teachers are already at work, standing watch as buses and cars arrive, supervising school hallways, or preparing lesson plans.
"Teachers are saying they can't get into the website," said Angela Morgan, a Calhoun County representative for the Alabama Education Association. "They're saying they don't have time to call. And they can't get a sick day to get the shot."
Alabama will expand eligibility for COVID-19 vaccination Monday, allowing people 65 and up and people in certain essential jobs to get their shots. Teachers and other school employees — who have long argued that they should be high-priority candidates — are among the newly eligible.
But there's growing concern that, even as local officials prepare to deliver 5,000 shots next week, school employees could be left behind. Regional Medical Center opened an online portal to set up vaccine appointments at 7 a.m. Thursday. By 8:15 a.m. more than 4,000 appointments were set up and the site was no longer taking newcomers. Many teachers were still in first-period classes.
There's also the challenge of getting to one of the three vaccination sites next week, at Oxford Civic Center, Anniston City Meeting Center and Jacksonville's Community Center. Those sites are set to be open 7 a.m. to 5 p.m., and RMC officials have urged people to leave the 3 p.m. to 5 p.m. slots for teachers and shift workers who need them.
Still, Morgan said, some teachers simply can't get away.
"Coaches really can't go in the afternoon," Morgan said. "They really need to be able to go Saturday."
Several Calhoun County mayors signed an open letter Thursday to the Alabama Department of Public Health asking them to extend hours at vaccination sites, set up Saturday vaccination events, or allow school nurses to administer vaccines in school.
"With this schedule, it becomes impossible for a teacher to put in a full day of school and set up a time to get the vaccine," said Weaver Mayor Wayne Willis, chairman of the Calhoun County Council of Mayors, who drafted the letter.
Morgan said vaccination by school nurses isn't likely to happen, because COVID-19 has already tasked nurses with more duties and because a nurse's office, with student patients being examined for COVID, isn't the best place for it. Lesa Cotton, health services director for Calhoun County Schools, said the school system asked RMC and the health department for nurses to deliver shots in school, only to be told there weren't enough personnel to do that.
Assistant state health officer Dr. Karen Landers said Thursday that health officials had heard similar concerns, but that the hours and other specifics of vaccination sites were largely in the hands of local officials.
Louis Bass, CEO of RMC, said he wasn't opposed to the idea of a Saturday vaccine clinic — something no one had mentioned to him before.
"It's a great idea for the next allocation of vaccine," he said. "All the vaccines we have now are going to be spoken for."
Underlying the entire dilemma is the short supply of vaccines. Local officials say they will have 5,000 doses on hand for the vaccine blitz next week, but state and federal officials haven't told them when the next shipment will be available.
The state continues to expand vaccine eligibility to new groups —  postal workers, judges and agricultural and manufacturing workers will be among the groups eligible Monday — but without proportional increases in vaccine shipments.
"The next group they have opened up is so large," said Cotton, the Calhoun County school health director. "It's such a large group and there's not enough vaccine for them all."
Cotton said county school officials have been keeping an eye out for pharmacies with vaccine available. But those shipments are small and not very regular, she said.
Jacksonville City Schools Superintendent Mike Newell expected the appointments for next week's vaccination blitz to go fast. He sent a message to the school system's 180 employees Wednesday, asking them if they wanted to get the vaccine, and asking them for the information they needed in order to register for the appointments.
"It was completely voluntary," he said.
Eighty-one people responded. While those teachers and staff went about their jobs Thursday morning, central office staff got on their computers and scheduled all 81 for appointments.
Newell said he doesn't know why more didn't volunteer for the shots.
"I haven't had anyone tell me that they're afraid of the vaccine," he said.
Newell said that where he has seen vaccine skepticism, that skepticism seems to be fading as new and potentially more harmful variants of the virus continue to spread.