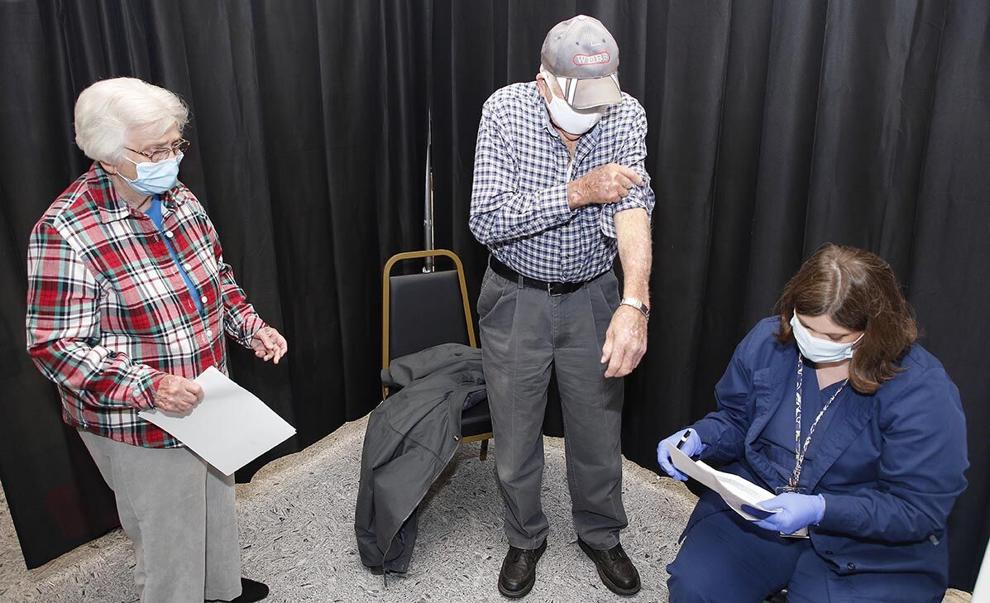 Every available appointment to get a COVID-19 vaccine through a county health department is now taken, Alabama Department of Public Health officials announced Wednesday.
"At present there are no more appointments available at county health departments," was the message on the state health department's website.
People can still call the state vaccine hotline and be put on a waiting list for a shot, Dr. Karen Landers, an assistant state health officer, said Thursday.
"We're taking names of people who want an appointment when we get a further allocation," Landers said.
State officials a week ago announced the creation of a hotline, 1-855-566-5333, for people wanting to schedule an appointment to get one of the 271,925 doses of COVID-19 vaccine currently available in the state.
Those appointments were supposed to be available only for health care workers, first responders and people over age 75, but in the days after the announcement, ADPH and various hospitals were flooded with calls, some from people who weren't in any of those groups, according to ADPH officials.
The vaccinations scheduled through that hotline are set to begin Monday, and Landers said the last scheduled appointment will be around the end of the month. People who call to get on a waiting list can expect an appointment in February at the earliest.
By the state's official count, Alabama residents have received 87,138 doses of COVID-19 vaccine — about one-third of the doses that have been distributed to the state. That has led to complaints of a slow rollout, although Landers said the official numbers are an underestimate.
Organizations that administer the vaccine are supposed to report back to ADPH and let them know how many doses are administered. Landers said it's likely that not every organization is doing this consistently, leading to an undercount.
"It's important, because it leads to administered doses that aren't recorded, and that affects our allocation," Landers said.
ADPH last year released a plan for a vaccination campaign that identified health care workers, older people and people with underlying conditions as top-priority vaccine recipients, followed by other groups.
For average consumers, though, distribution of the vaccine often seems haphazard. In Cleburne County earlier this month, health workers offered shots to all comers after finding that they had leftover doses during a vaccination event for health case workers.
In Calhoun County last week, health workers unexpectedly announced that they would offer shots to people 75 and up, after discovering a similar surplus at a shot clinic for health care workers.
Earlier this week, Martin's Pharmacy in Oxford gave out 300 doses of the vaccine in two days after applying for and receiving a shipment.
"We're not sure when we're going to have more," said Joshua Wilson, a pharmacy technician at Martin's. Wilson said workers at the pharmacy are hoping another shipment will come in time to give the needed second dose in a few weeks.
Landers said Thursday that ADPH is indeed working with pharmacies, including pharmacy chains, to begin distributing the vaccine. She said a list of participating pharmacies may be released soon.
At least one grocery store chain with a pharmacy is in talks with the state to provide vaccines.
"Publix is in communication with all remaining six states in our operating area to provide COVID-19 vaccinations as part of our distribution efforts," Jared Glover, a Publix spokesman, stated in an email Thursday. 
So far, only health care workers, first responders and people age 75 and older have been cleared to get the vaccine in Alabama. According to ADPH, there are more than 600,000 Alabamians in those categories, far outnumbering the available doses.
Landers said that when pharmacies get the vaccine, they will be expected to follow the state's plan for priority groups.
"Entities do need to follow the allocation plan," she said.