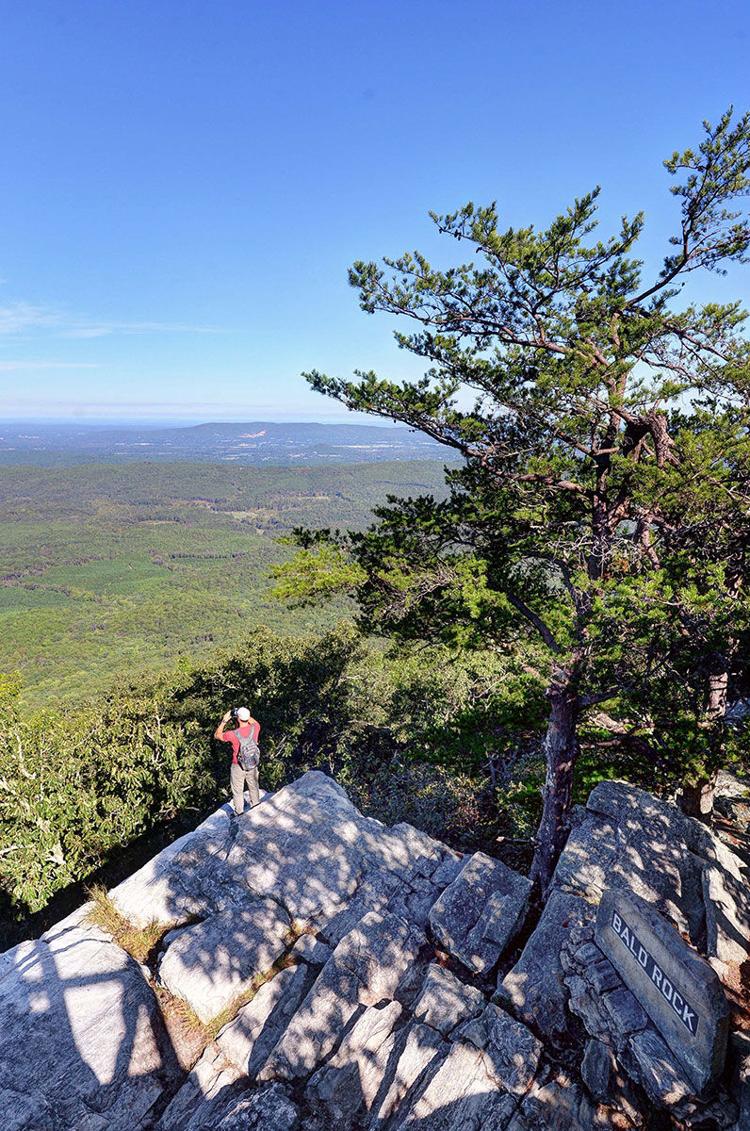 MOUNT CHEAHA — Mount Cheaha was a busy place Saturday morning as visitors flocked to Alabama's highest point to enjoy the first weekend of fall-like temperatures.
The grandeur of the mountains and the crisp autumn air was something that Kaylyn Stacy, 23, from Augusta, Ga. said she just had to experience.
Stacy was at one of the many overlooks that dot Alabama 281 on her way to the park.
"Oh, it is so nice. I am so glad it's finally starting to get colder, so glad," Stacy said as she adjusted a long telescoping pole that her camera phone was mounted to capture selfies against the rolling mountains.
"I love the mountains, so everytime I'm up here I go to the mountains," Stacy said.
Stacy said it was a long and hot summer.
"It's definitely refreshing. It's cool, it's crisp today and quite nice," Stacy said.
Justin Whiddon, 32, and his family from Smiths Station were taking in the view at Bald Rock — an exposed rock face in the park offering a dramatic view of Talladega and Calhoun counties.  Whiddon's two kids scrambled around the large elevated rock — which consists of Cheaha quartzite — as Whiddon and his wife Julie embraced.
"Good and chilly," Whiddon said as he and his wife gazed out at the vista.
"Good fresh air and peaceful. That's what I like about it," Whiddon said.
Vanessa Seydel, 18, from Germany was hiking with her three friends, also from Germany, on their way to Bald Rock. The foursome are all living in Atlanta for one year.
"The weather is nice, like cool, fresh. It feels better than last week because it was very humid," Seydel said with a German accent.
Seydel said that back home in Germany the temperatures are already freezing and said that the fall here is much later.
"It's beautiful. Lots of nature, wildlife. We just saw wild deers, so it's pretty," Seydel said.
Renee Raney, park superintendent of Mount Cheaha, was busy Saturday to help accommodate the extra visitors.
"This is one of our most popular weekends of the year. It is Talladega race weekend; we have a lot of visitors from probably about 10 different states coming into the park," Raney said.
Raney said that the park is the best October destination.
"Not only do we have the altitude and the leaf color but we've also got the wonderful cool temperatures, the perfect campfire weather," Raney said.
"This is a perfect October day on Cheaha and I'm seeing people hiking and biking. I've seen folks already stopping to take pictures of leaves along the byways, it's very exciting," Raney said.
Raney said the staff is also getting ready for next weekend's annual Appalachian fall folk festival, Chilloween, which drew thousands of visitors last year.
"So we're preparing for thousands and will have plenty of chili for everybody and I anticipate the leaves will move from — on a scale of one to 10 — to about a two," Raney said.
Raney said the peak color this year will be at the end of this month and early November.
Tom Cook from Prattville and his family were also hiking to Bald Rock along the road near the Bald Rock Lodge. Under a canopy of hardwoods and dappled sunlight, Cook looked up at blue sky, took a deep breath and said,"This is just unexplainable".
Cook was glad the cooler weather finally arrived.
"We got into October and it was still 92 and 96 degrees and just thought it was never going to get here," Cook said.
Cook and his family had never visited Mount Cheaha.
"It's gorgeous. We love it. We've been waiting for this weather for a long time," said Tom's wife, Michele.
For more information about next weekend's Chilloween festival: