HEFLIN — Wednesday afternoon found hundreds of socially distanced kids enjoying all of the autumnal themed attractions at Bennett Farms under a warm October sun.
This year landowner Jim Bennett expanded the farm to better spread out the fall revelers, and to help them stay clean he installed large containers of hand sanitizer at every corner. A new large pavilion and a huge pumpkin tent were added since last year to help keep attendees at arm's length. 
Tyler Ponder from Chulafinnee brought his family to enjoy the newly expanded areas.
Ponder said he likes the various activities for the kids including the hay bale maze, pumpkin picking, hayrides and slides.
"I think they are doing a very good job with the social distancing due to the hours that they're open and the way they have the thing set up. We normally come out here 4-5 times every year," Ponder said.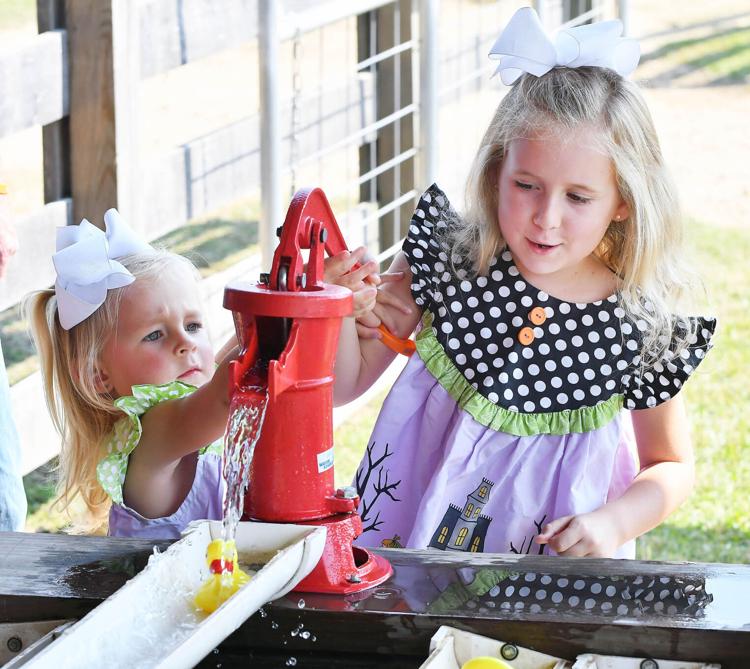 Ponder's two kids, Willow and Evie, amused themselves with hand-pumped water to propel toy ducks in a race along half-pipes. 
Ashton Purser from Bremen, Ga., was standing in the Rat Run line where kids would get inside a large wheel and race against each other by using their arms and legs.
"We love it because it's just somewhere fun to go for our kids, there tons of things they offer so we alway try to hit them when it's fall," said Purser.
Purser was not bothered by the protocols to keep people spread out. 
"I love that, that's a great idea, they always have great things and great ideas — so they've just taken it further this year with the social distancing," said Purser.
A tractor rumbled continuously around the perimeter of the farm pulling a large trailer full of people who got to see fields of sunflowers, zinnias and of course, pumpkins.
Amanda Camp, from Bremen, Ga., said they visit each year.
"We love the family atmosphere, it's open, not crowded and spread out, we feel safe," said Camp.