Jackie Stovall: A fighting spirit in a tortured body
Heflin police officer remembers the chase for a killer in December 2012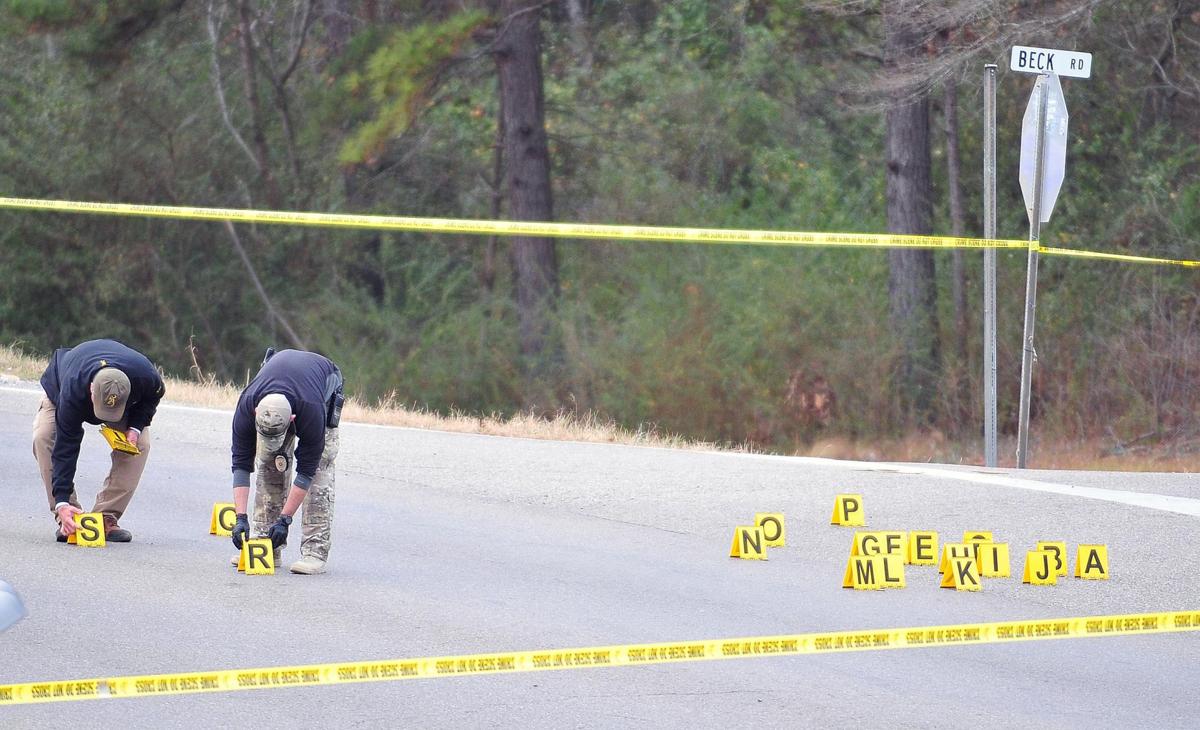 It's been over five years since Heflin police Officer Jackie Stovall was seriously injured in a gunfight trying to apprehend a suspect who was on a deadly shooting spree. Stovall reflected on that day, his life and his future on New Year's Day while visiting friends in Anniston. Stovall's crutches lie next to him — a constant reminder of Dec. 15, 2012.
Stovall has had 14 surgeries in the last five years and had to learn how to walk again. Stovall said the entire ordeal was "painful and a lot of bad memories."
"I have bad dreams still — I think about it a thousand times — wonder what I could do different" Stovall said.
Stovall put his plate of black-eyed peas and greens to the side to tell his story.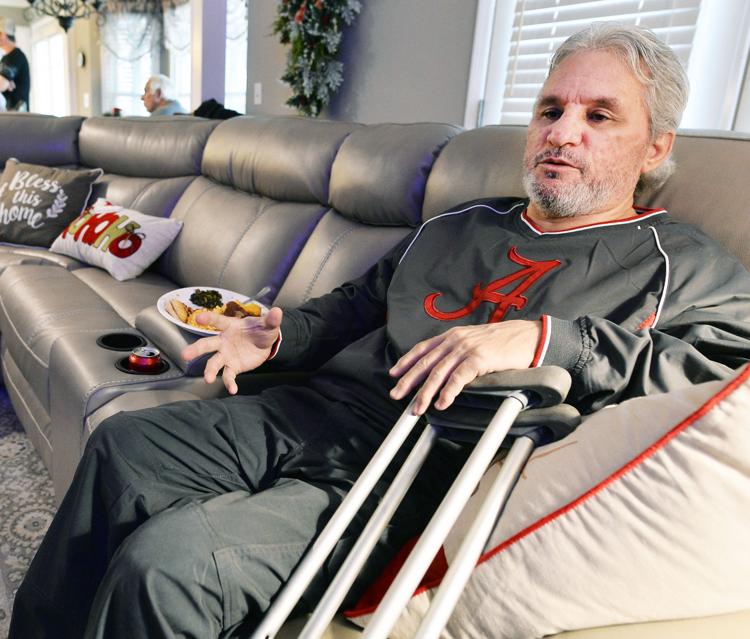 "I remember sitting in Jack's — it was me and officer Scott Winslet — we were watching the massacre that happened at the elementary school in Lowden, N.H. They were talking about all the kids that got killed up there," Stovall said.
"As soon as we got out we got the call — it was for the county, we back the county up — especially anything like that — he was by himself, so we decided to back him up," Stovall said. Cleburne County Deputy Jamie Cofield was the lone responding officer.
Romero Roberto Moya, 33, had just killed his three brothers and injured his infant son at a mobile home on Alabama 9 and wanted to kill his wife. According to Heflin police Chief A.J. Benefield, Moya's wife tried to run away from Moya during the shooting with their infant son. Moya snatched the infant from her arms but his wife got away and flagged down a good samaritan on Alabama 9 and escaped.
"She's Hispanic — she can't speak good English — but they could understand her enough to understand something is going on. 'Someone is chasing me, trying to hurt me'," Benefield said.
Winslet was the first one to see Moya when he passed his car on Alabama 9 because his gun was visible, according to Stovall.
The officers and Moya's wife all converged at a parking lot at Millworks Sales and Surplus on Alabama 9. Officers were surprised when Moya pulled in too.
"I think he's not going to pull in here with three police cars — he did — he circled around and I saw him setting the gun up between the door and the mirror and he was turning real slow, just didn't have a care in the world — he wanted to kill her so bad that he did not care if he died," Stovall said. Then the shots rang out from Moya's AK-47.
"The shots just started firing and you could feel the heat blowing your hair back," Stovall said.
Stovall said Moya was a bad shot, not able to hit anyone.
Winslet took Moya's wife to the county jail for her safety and Stovall and Cofield chased Moya, eventually to Oxford.
Moya took Alabama 9 down to Hollis.
"He is stopping in the road engaging them — shooting at them going down the road," Benefield said.
A state trooper was waiting for them at the top of a hill on U.S. 78 near the tanks of an oil refinery. Stovall said he could see the trooper shooting as Moya flew by, despite the road being halfway blocked.
"He went around it," Stovall said.
Moya took a left and was suddenly in a congested area at a red light of U.S. 431 and Jimmie Hinton Drive.
"That's when Jackie Stovall decides 'Hey, we got to put a stop to this — This is congested — we've got Christmas traffic here.' If this goes any further he's going to end up killing tons of people," Benefield said.
Benefield said Stovall used a pit maneuver to ram Moya's car which stalled his car. At this point Moya was desperate and tried to carjack a vehicle with a young mother and a child inside.
"Jackie realizes he is about to murder this woman and he steps out and engages him," Benefield said.
Cofield and Stovall pursued Moya while he tried to carjack a second getaway vehicle.
Said Stovall, "So I jump out and take off running to make sure he's not going to get there — and I slowed down because I thought he's going to turn around."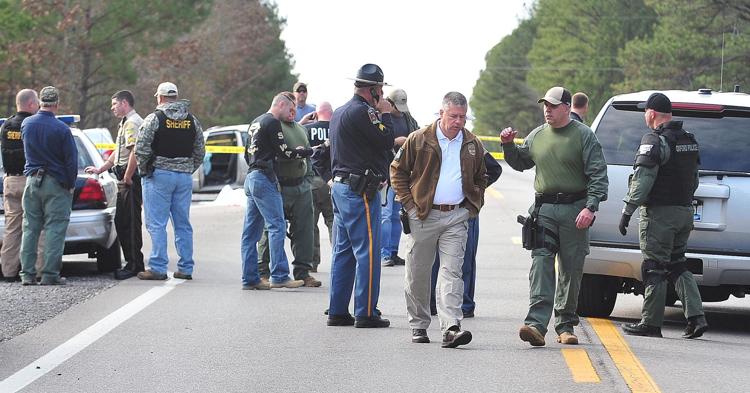 Next, said Stovall, "I saw him come around the front of the car and he shot and hit me in the leg and I looked down and said oh he got me."
The police officer had been hit in the groin and the bullet hit his femoral artery.
"I could see the blood just gushing out with every pulse," Stovall said.
"I'm going to die today — I knew that was it — you don't have long to bleed out," Stovall said.
State Trooper John Lewis was on the scene and came to his aid.
"For whatever reason I started praying to God and he saved me that day; he had Trooper Lewis," Stovall said.
Lewis applied pressure to the wound, which Stovall described as excruciating.
"I don't care — do whatever you have to do to save my life," Stovall said to Lewis.
Meanwhile, Moya stole a nearby car and continued his run.
"As he came by he pointed the gun at me and Trooper Lewis — he pointed at us and just looked at us but he never shot — he just pointed and pulled it back up and kept going," Stovall said.
Oxford police Chief Bill Partridge had planned to go Christmas shopping with his daughter until he got word that Heflin police were chasing a vehicle involved in the shooting of several people in Cleburne County.
"They were reporting an officer was down at the intersection of Jimmie Hinton and Leon Smith Parkway," Partridge said.
Partridge did not know if it was an Oxford officer or one from another agency.
"So I immediately called dispatch on the radio and told them to send a medic unit that way just in case," Partridge said.
The officers arrived and could not find anything until they went around the corner and saw the crash and people standing around.
"I remember pulling up and running up to where the officer was and when I got between the two vehicles I saw my friend and neighbor laying on the ground — Jackie Stovall," Partridge said.
"I remember seeing Chief Partridge — talking to him, when I saw him I felt a calmness over me," Stovall said. "I reached up to shake his hand, had blood all over my hand."
Partridge mobilized Oxford's emergency service unit and told the leader "I want this guy in custody by dark." The U.S. Marshals task force was also enroute to help apprehend Moya at the request of Partridge.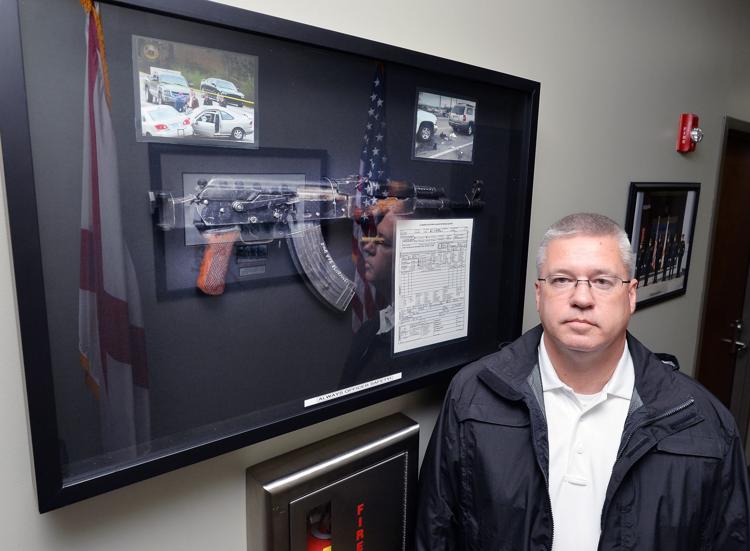 Partridge heard on his radio that Moya was headed south on Bynum Leatherwood Road. The Oxford SWAT team mobilized at each intersection on U.S. 78 West because at some point he would have to come out at one of them, according to Partridge.
Moya did — he crashed into a civilian vehicle at a stop sign at Beck Road and U.S. 78. That's where Oxford's SWAT team found him — "killing him at the scene," Partridge said.
The AK-47 used by Moya is now framed in a shadow box with photographs from that day outside Partridge's office as a reminder that someone is "willing to take your life at a moment's notice."  
Stovall lives with constant pain in his foot, knee and calf. Stovall has to wear a special shoe on his right foot as it's shorter than the other one.
Stovall hopes to get his job back at the Heflin Police Department.
"My goal is to get back, whether they allow that I don't know, I'm fighting to get back," Stovall said.
"Heflin is a great place to work — I couldn't ask for a better place," Stovall said. 
Staff writer and photographer Bill Wilson: 256-235-3544. On Twitter: @BWilson_Star