Renee Sparks was driving through Heflin, on her way to her home in Douglasville, Ga., when she and her daughter saw a group of people standing near Heflin City Hall holding signs.
Her daughter, Sierra, wanted to join them. When Sparks parked the car and got out, she said, she was met with "a sweet spirit."
The mother and daughter were two of nearly 100 people who marched Wednesday afternoon along Ross Street in Heflin chanting "I can't breathe" and "no justice, no peace."
Photos: Heflin BLM Protest
Photos of the Heflin BLM protest gathering and march.
Alisha Twyman, who had gathered everyone there, said she was glad to see so many people, but she hopes to never organize anything like it again.
The demonstration was partially in response to the May 25 death of George Floyd, according to Twyman.
Floyd, a young black man, was killed during an arrest by Minneapolis police. Footage of the incident shows former officer Derick Chauvin pressing his knee into Floyd's neck for several minutes as two other officers pinned Floyd to the ground and one stood by.
All four officers have since been charged with a crime.
"I would never have imagined in 2020 we'd be doing this again," Twyman said.
Twyman, a Heflin native who recently moved to Talladega, said she wanted to foster peace and unity through the demonstration.
"There's a lot that's going on in the world," Twyman said. "We can come together as one instead of being divided."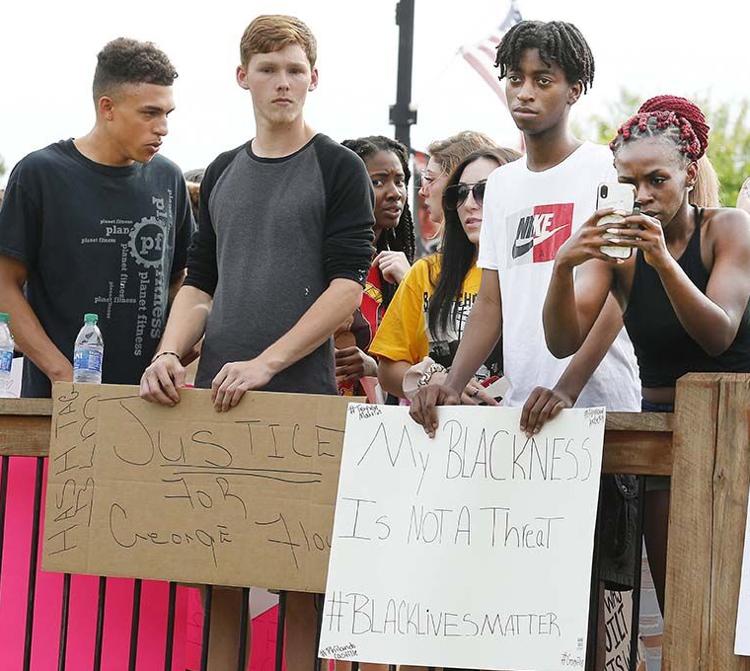 The demonstration began at the city's amphitheater with prayers and words from a few speakers.
One of the speakers, Anthony Parker, spoke about the county's history.
Parker said he'd seen social media posts beforehand from people who'd threatened violence against the protesters or who expected violence from them.
"They were saying we were going to set buildings on fire," Parker said. "If you look around, do you see a fire today? They're wrong."
Stacey Hill, the pastor of Mt. Olive Baptist Church in Heflin, said he came to the demonstration in support of the community.
"I'm just looking at the different faces and the peace that I feel," Hill said. "I don't feel any threats, I feel the love radiating."
Heflin police Chief A.J. Benefield led protesters down the street and other officers blocked the road so they could walk safely.
"I'm proud of everyone that showed up today and the love they showed to their fellow man," Benefield said.
Sparks said she didn't believe in rioting and looting, but she believed in the message behind it.
Sparks was only a child during the 16th Street Baptist Church bombing. She said she remembers wanting to march during the Civil Rights movement, but she wasn't allowed to.
After seeing the news of Floyd's death, Sparks said, she was troubled. She needed to think, so she and her daughter began the drive that ultimately led them to Heflin.
"It just opened the floodgates of tears," she said. "I'm a grandmother and it's still happening."