A Heflin man remained in the Cleburne County Jail on Thursday after he allegedly attacked two victims earlier this week.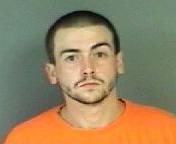 Authorities charged Jack Floyd Clay, 25, on Sunday with domestic violence by strangulation and harassment.
Court documents allege Clay grabbed a man by the throat that day, choking him, and punched another man in the face.
Attempts Thursday to reach authorities for more information were unsuccessful.
Clay was booked into jail with bond set at $15,800. Clay is set to appear in court Aug. 17 for a preliminary hearing.