HEFLIN — More than 40 residents who live near a septic disposal site attended the Cleburne County Commission meeting Monday night seeking answers, solutions and help from the commission.  
Victor Cooley, who lives next to the disposal area, said he came to the commission meeting for support and to educate people about the residents' concerns.
"We didn't come here to slander anybody, we didn't come here to fight, we came here for solutions to help get this problem solved. We all have to live in this county," Cooley said.
Cooley handed out various maps of the land around the property with the location of nearby wells and houses.
"Can anyone guarantee there will be no water contamination?" Cooley asked.
Cooley, like the others in the meeting, was dismayed that the county health department issued a permit in the first place.
"The health department doesn't live around here ... so they don't have to smell it. If the water gets contaminated they don't have to drink it," Cooley said.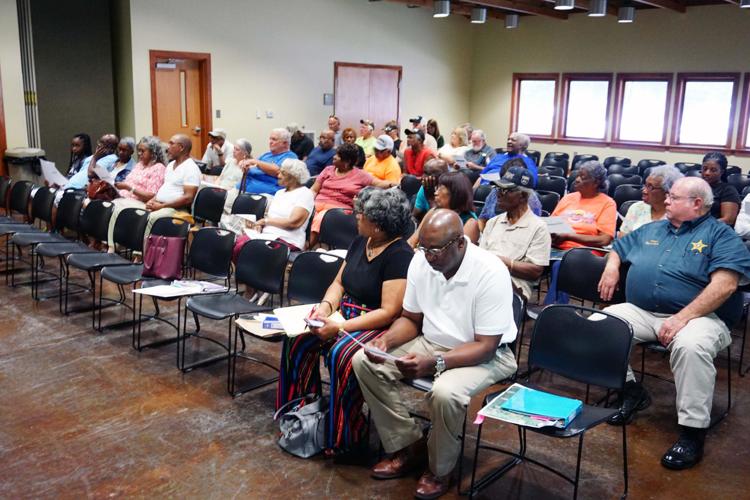 Cooley said no one notified him that a sewage disposal site was going to locate next to his property and the other 60 residents who live nearby.
"I've noticed that when a business comes into a place, most times they make an announcement, ribbon cutting, celebrating that business coming in, nobody ever said anything about this, it was just like snow fell and woke up one day and it's in our community," said Cooley.
Cooley said there is no grass on the property to absorb the treated sewage. In a previous interview, Joey Sprayberry, owner of JDS Septic Service, said that grass has been planted on the field but it has not come up yet. Grass planted earlier was not the right kind, according to Sprayberry.
"We're not going to quit, we're going to continue until something happens," Cooley said.
Larry Bell, Cleburne County resident, was direct in his comments about the dump site and the odor neighbors are experiencing. 
"Y'all wrote somebody a permit to dump good Georgia garbage and Georgia septic tanks in our backyard down here. That's not right. You can't take a wrong and make it a right," Bell said as he stared down at the commissioners from a podium.
"You're supposed to have grass growing, you're supposed to have sprinkler systems going. That's a bunch of crap man," Bell said to the applause of the crowd.
Ryan Robertson, county commision ex-officio Chairman, urged the people to call state legislators for help because Cleburne County has no home rule to enforce any public nuisances, and the county health department issued the permit.
Robertson gave out phone numbers of state Sen. Randy Price and state Rep. Ginny Shaver. 
Robertson said he and the commission were unaware of the dump site until residents started complaining about the smell.
Robertson asked Cleburne County Sheriff Dennis Green what he thought about the dump site after visiting it.
"This can't be healthy, and that's in the air. I don't know what's all in the soil," Green said. 
County commissioners listened to the residents pleas to help.
"We are not happy about this," Commissioner Emmett Owen said. 
After the meeting Commissioner Laura Cobb said she will discuss the matter with Shaver this week. 
In other business, the commission unanimously voted to approve an environmental management position at the new county trash convenience center.