HEFLIN — At Cleburne County High School, L. E. Bell Field was waterlogged Tuesday from a day of torrential downpours but the skies cleared in time for the 113th graduation ceremony for the 100 or so seniors.
"We are the pandemic class, we are the class of 2020," said Whitley Dasinger, the class president, as she welcomed faculty, parents and her fellow classmates to the delayed graduation.
Cleburne County High was to have had its graduation last month but due to the COVID-19 pandemic and social distancing the school was shut down and the students had to huddle around glowing computer screens to finish their course work.
John Russell Reaves, the class salutatorian, told the socially distanced crowd that it was hard to believe that the graduation was actually taking place.
"After these last few months of sheer chaos of coronavirus, the murder hornets, now you have the graduating class of 2020.
Reaves spoke of lofty virtues that he hoped his fellow classmates would take to heart.
"Acceptance and compassion can solve a lot of problems that might have at one time seemed insurmountable," he said. 
Reaves' message was one of hope in a world that he said is filled with chaos.
"We will not be destroyed by the coronavirus or the murder hornets or most importantly ourselves, we will survive, we will thrive and most importantly we will be the heroes that you taught us how," Reaves said.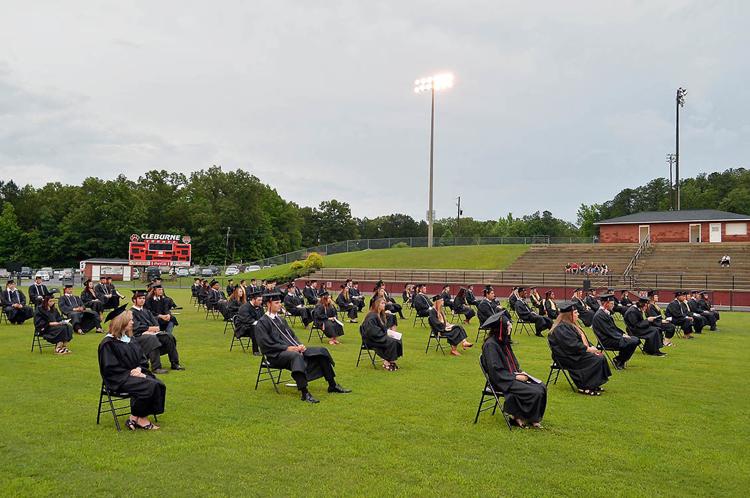 Jia Jun Weng, the valedictorian, was glad the school was able to have a graduation to put closure on the year to say goodbye to fellow classmates and teachers.
"That left a deeply unsatisfying void in my heart," said Weng.
Weng ended his speech with a reminder to be positive even though that phrase itself is an overused cliche.
"If there is one thing you can take away from this speech I hope it will be a smiley face, this is a happy occasion,"said Weng.
Donya Beam, whose son Brody Beam was graduating, said the kids deserved the graduation rain or shine. 
"Brody told me last week, 'Let's just do it in the rain, what else could go wrong,' so that's our philosophy, let's just do it," Beam said. 
After all the diplomas were quickly handed out the class sang the school's alma mater and Principal Jeffery Bryant congratulated the class for its efforts.
 "We love you and we're proud of you," said Bryant as he asked the class to stand and move their tassels from right to the left.
"You are now alumni of Cleburne County High School," said Bryant as the students cheered.
A large group of students gathered around the 50-yard line and celebrated by tossing their caps, throwing confetti, hugging, laughing and shooting pressurized string at each other before walking off the soggy field of dreams.