MOUNT CHEAHA — A dozen bird enthusiasts flocked to Mount Cheaha on Thursday morning to listen to Cheaha State Park operations supervisor Renee Raney talk about birds.
Raney is the co-coordinator of the Appalachian Highland Birding Trail — one of several regional birding trails — and her workshop focused on winter birds' habits and their habitats. Birding is the identification and observation of birds in their natural environment, according to Raney.
"One reason I'm doing this is Cheaha State Park is a gateway between the Appalachian Highland Birding Trail and the Piedmont Plateau Birding Trail," Raney said.
Raney said even apartment dwellers — to whom backyard bird-watching may be unknown — can come to the state park.  
Raney kept the workshop focused on local birds that frequent feeders during the winter months. Raney passed around several eggs from several species, including hummingbird, ostrich, bald eagle and robin, plus a variety of feathers and talons.
"If you find baby birds, leave them alone. When I was little I was told that if you pick up a baby bird and get your scent on it the mother won't come back. Birds have a horrible sense of smell; that is not true. You can actually put cayenne pepper in your bird feeders to keep the squirrels away and the birds will still eat the seeds," Raney said.
"Leave them alone, observe, if you notice that the cat had killed the mother or if something has happened then you can step in and rescue," Raney said.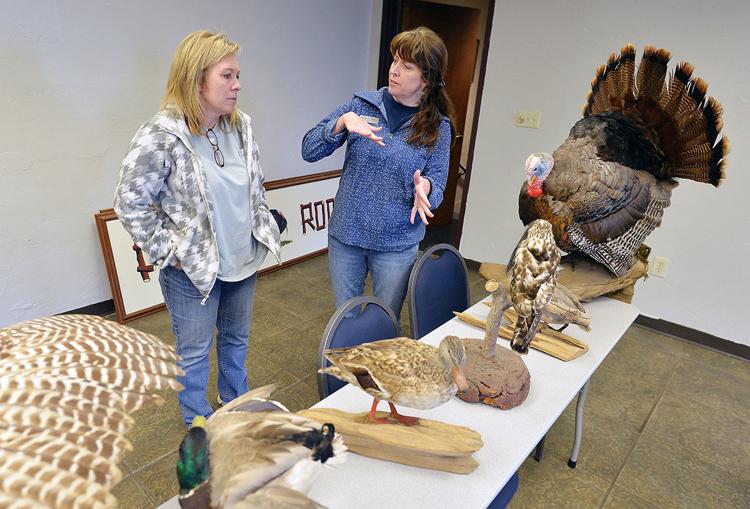 Raney said orphaned baby birds can be taken to the Alabama Wildlife Center in Pelham. Raney said there are also online resources available to raise baby birds and release them into the wild when they're ready.
Raney talked about the various birds that are seen in northeastern Alabama this time of year including:
— white breasted nuthatch
Raney recommended the following feed for the various types of birds:
— black oil sunflower seeds, which attract the most birds
— shelled peanuts for jays, titmice and woodpeckers.
— thistle seeds for siskins
— white proso millet for finches and sparrows
— chick scratch for quails and doves
— fruit like raisins, bananas and oranges (no grapes) for mockingbirds, siskins and finches.  
— suet for woodpeckers, nuthatches and chickadees.
Raney said that more than 100 million songbirds are killed every year from collisions with windows. Raney said that to deter this, homeowners can place decals, screens and netting on windows.
Raney recommends sheltering bird feeders from wind and the sun. Other options for feeding birds include nut wreaths and pine cones covered with lard and seeds. To keep squirrels away, squirrel-proof feeders are available for about $75, according to Raney.
To protect birds from cats, Raney recommends collars with bells. Raney said feral cats kill one third of all birds.
If prayingmantises are seen around hummingbird feeders, they should be removed because the insects can kill hummingbirds, she said.
Sharee Rentz came to the workshop from Roanoke and said she learned quite a bit.
"I thought it was very informative. Good information. I've really learned a lot from this that I'm going to take home to use with my bird feeders and to make more places for them to come back," Rentz said.
Rentz said she sees cardinals, finches, some sparrows, doves and hawks in her yard.
Amanda Collins from Munford said she also learned things she did not know.
"She brought a lot of items and gave us a lot of details on what we needed to do to have our birds in our yard safe and everything," Collins said.
After the workshop was over Raney gave everyone in attendance items to take home ranging from suet, wreaths to affix food to, bird feeders and a poster of Alabama birds.