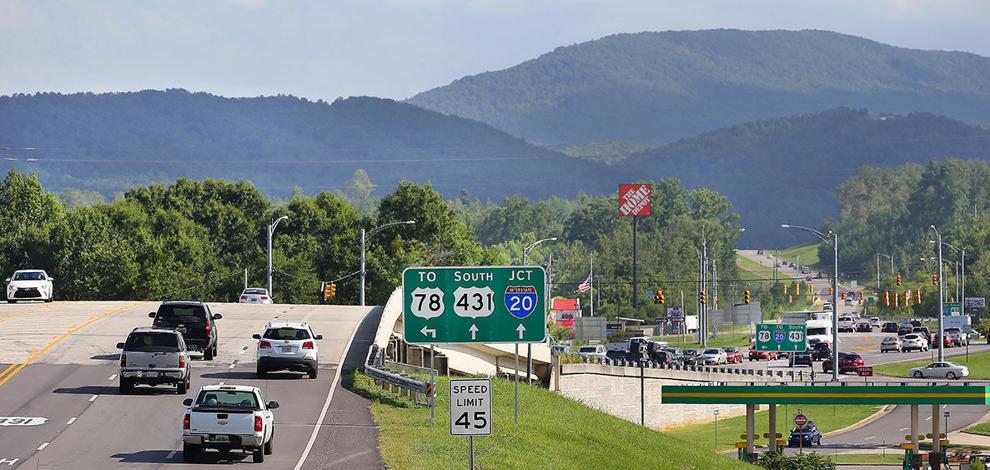 Calhoun County's politicians and planners often describe this region's future as if it were enveloped in Southern charms, outdoor destinations, burgeoning industrial opportunities and Oxford's ability to mimic Alabama's suburban pacesetters.
But to see the county's future — not in amenities, but in people — go to the Leon Smith Parkway overpass just north of Interstate 20.
From there, high above U.S. 78, one can figuratively view four census tracts that illustrate the county's changing racial demographics. Three of those tracts fall largely within Oxford's city limits; the fourth includes most of Golden Springs, Anniston's over-the-mountain suburb.
Over the last 30 years, according to recently released U.S. Census Bureau data and Washington Post research, those four tracts have undergone a stark demographic metamorphosis. Described broadly, racially they are much less white and much more Black and Hispanic than they were in 1990.
A majority of the county's census tracts display similar demographic changes that mirror the changing face of America's population, which the Census Bureau predicts will be less than 50 percent white by 2045. But no part of the county has seen a demographic and statistical change as noticeable as those tracts in southeast Anniston and northeast Oxford.
The impetus for those changes doesn't come from a single explanation. The long-term ramifications are harder to predict, though they will present challenges in upcoming elections and redistricting efforts throughout Alabama.
"In areas like Montgomery, for example, with the Hyundai plant, I noticed that there is an increase in the Asian population there. In areas like Huntsville, there is an increase in Hispanic and Asian populations there. Diversity is a marker of good economic change and growth."
— In Anniston, the census tract between South Quintard Avenue and Kelly Lynn Drive just north of Oxford is home to 3,503 white residents. But this isn't a story of whole numbers. Since 1990, the share of white residents in that tract has fallen 32 percentage points (to 61 percent), while Black residents now comprise 25 percent of that area's residents — a 20 percent increase. 
— The Oxford tract just below the previous tract shows similar changes. Bounded on the west by Leon Smith Parkway and on the east by Sunny Eve Road, that tract has seen its share of white residents fall 24 percentage points since 1990. Black, Asian, Hispanic and residents who identify as multiracial remain in the minority but now make up 26 percent of that tract's population. 
— To the west, the Oxford tract that surrounds Oxford Lake and sits atop I-20 has seen its share of white residents drop so precipitously that racial-minority residents are now the statistical norm. The percentage of white residents in that tract has fallen 38 percent (to 47 percent) in the last 30 years, while the share of Black residents has risen 21 percent.
— Directly south, the Oxford tract below I-20 and west of Leon Smith Parkway remains overwhelmingly white, but white residents' share of that tract's population has dropped 26 percent. It's one of the many Calhoun County tracts in which Black residents have seen their population shares post double-digit percentage increases.
"There are two things happening," Black said. "There is increased diversity across the country, just because younger generations are more diverse than older ones."
Just as important, if not more so, she said, is the Census Bureau's decision to allow respondents to select more than one racial identification with the 2020 form. That change empowered multiracial Americans by allowing them to more specifically identify themselves. Most Calhoun County census tracts did see noticeable increases in multiracial residents among the recent data.
"One thing I've found is that with the white population, the group that is declining the most is the younger population," Frey said. "The white population is older than the rest of the population. There are proportionately fewer white women of child-bearing age than there used to be. And those women are having (fewer children) than they did before."
Young people and the search for better jobs
None of these statistics or demographic trends alters the chyrons of the 2020 Census results: That Oxford's population has eclipsed Anniston's; that Calhoun County's population has dropped slightly; and that Jacksonville's resident count is trending toward 15,000. 
Additionally, an examination of census-tract diversity figures doesn't change a common narrative — that Oxford, Jacksonville and the county as a whole remain overwhelmingly white, and the numerical gap between Anniston's Black and white residents is increasing.
Nationally, 13 percent of U.S. counties — more than 400 — are no longer majority white. Calhoun County's share of white residents remains above 70 percent. 
But the percentage of white, non-Hispanic Americans in the United States fell below demographers' predictions in the 2020 census to just 58 percent. That national trend is affecting Oxford, Jacksonville and portions of Calhoun County in moderate ways in certain census tracts. In Anniston, however, the change is anything but moderate.
Anniston Mayor Jack Draper admits the recent census returns are a lot to chew on. But he's adamant about this thought: "We need to recognize that our diversity should be beneficial for us in economic development."
In fact, Anniston has three census tracts that have become less diverse, which bucks the countywide trend. Those three tracts include the Oxanna-centered tract; the downtown tract immediately west of Quintard Avenue; and the eastern Anniston tract that covers the medical centers and runs north toward the city's museum complex.
Since 1990, those tracts have become less diverse by becoming more predominately Black, census data show.
Through mobility or death, the western Anniston tract has lost 18 percent of its white population in that time. The Oxanna-centered tract has lost 8 percent of its white population. And the sizable eastern Anniston tract that includes the city's hospitals and its public high school has experienced a dramatic racial demographic shift. Black residents now represent 54 percent of that tract's population — a 40 percent increase. White residents' share has dropped 49 percent.
Black, the University of Alabama demographer, points to a host of possible causes that aren't necessarily specific to Anniston. One, the aforementioned aging of the white population. Two, the flight of residents to other census tracts. And three, the proven concept that residents often relocate not only for academic reasons, but for better job opportunities.
Frey, the Brookings analyst, is blunt. "People who move are younger, they're not older," he said. "And the younger population is more racially diverse in general."
Just as important, he said, "Any place that is going to attract people for whatever the reason — because of jobs, because of housing that's available, for whatever it is —  if you are attracting people in the United States, you're going to be bringing in non-whites. They may be Latinos, they may be Blacks, they may be Asians, because those are the younger populations that are growing."
That stance may resonate with Oxford's politicians and urban planners. Oxford, in fact, has long been home to the county's largest concentration of Hispanic residents. Draper, whose city is already home to the Freedom Riders national monument and features several civil rights trail stops, sees a chance to celebrate Anniston's embrace of the nation's trending diversification.
"We need to figure out how best to position ourselves in light that we are becoming more diverse," Draper said. One area that piques his interest is the opportunities for state and federal grants that come more readily to diverse communities. 
"It does pretty clearly signal to us that our task should be directing a lot more attention to figuring out how to promote our diversity and use it," he said.
Frey goes a step farther. 
"Politicians need to be concerned about (the growing diversity and youth) because those are the people who are going to be voting in a few years," he said.