Students at Wellborn Elementary School lined up for tuberculosis tests Wednesday morning, part of the state's response to a case of the illness at nearby Wellborn high last week.
"It's hard to explain tuberculosis to a kindergartner," said principal Jeanna Chandler.
The Alabama Department of Public Health announced Tuesday that all students at the elementary and high school would have to be tested for TB, a lung disease that can be dangerous if not treated.
TB is more common in developing countries than in America, though it does happen here. Alabama officials treated 120 cases last year. ADPH and school officials say there's little risk of transmission at the school on Friday – the student with the illness is home being treated – but they're testing students just to be safe.
The problem for Chandler: the test involves an injection of fluid in the forearm. And she had to sell the idea, on short notice, to hundreds of pre-adolescent kids.
"There weren't any kid-friendly videos to explain this type of test," she said.
Instead, Chandler called on the school's counselor to explain the shots, using a teddy bear to point out the injection site. Teachers described the injection as "putting a bubble under your skin." And the school declared Wednesday to be Pajama Day, to put kids at ease.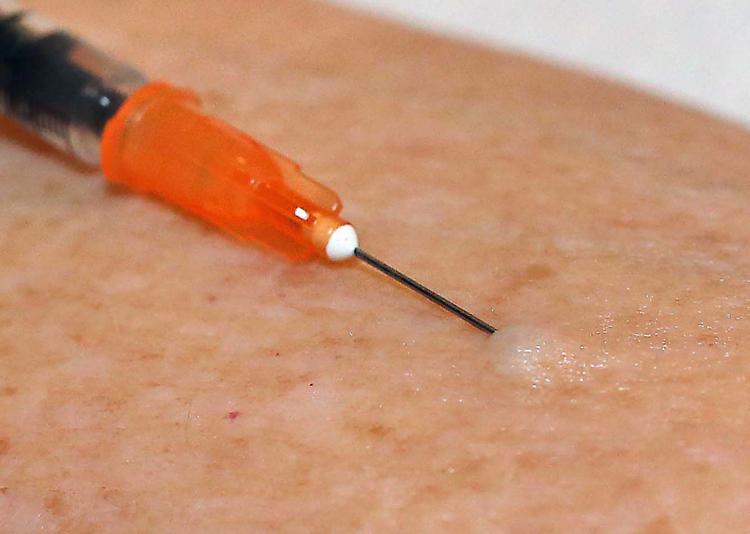 Reba Ingram was among the parents who showed up at 8 a.m. to walk their kids through the test. She said her first-grader, Kaden Ingram, didn't want a shot, but did understand that it was something he'd have to do. She said he understood that he didn't want tuberculosis.
"He understands that what it is could be dangerous," she said.
The tuberculosis test is indeed an injection that produces a bubble under the skin. ADPH officials say patients infected with tuberculosis will see raised or hardened skin at the injection site.
State officials will return Friday to check the injection sites again.