Nov. 6 amendment is latest battle in feud over police jurisdiction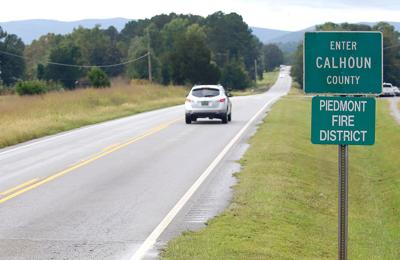 Local lawmakers and some Calhoun County residents are sure of one thing: They don't want cities from outside the county exercising authority within it. 
What's harder to nail down is just which cities are outside the county.
A proposed constitutional amendment on Calhoun County voters' ballots this November would bar most cities that aren't entirely within the bounds of Calhoun County from operating in their police jurisdictions here — namely Southside and Glencoe.
It's the second time voters have been asked to weigh in on the issue, after a similar measure in 2016 failed to settle the matter. Now, it seems, even this year's amendment may do things its advocates didn't intend if voters approve it, potentially prohibiting Piedmont's Police Department from patrolling its police jurisdiction.
What may be confusing matters are two wrinkles of state law: One, that cities don't have to stop growing at the county line; and two, that cities' power often doesn't even stop at the city limits.
Alabama law allows cities to provide services and collect some taxes past their corporate limits. For cities of more than 6,000 people, what's known as the police jurisdiction reaches 3 miles past the city limits; for those with fewer than 6,000 residents, the zone extends a mile and a half.
State Rep. K.L. Brown, R-Jacksonville, sponsored the bills that led to both the 2016 amendment and this year's vote. In an interview earlier this month, Brown said he didn't understand why the 2016 amendment didn't stop the city of Southside from enforcing its police jurisdiction in Calhoun County.
"I went back to LRS and said, 'Whatever you did, did not work last year,'" Brown said, meaning the Legislative Reference Service, which often handles the drafting of bills for lawmakers.
The answer: The 2016 amendment barred cities outside Calhoun County from enforcing police jurisdiction here, but Southside is in Calhoun County, or at least a sliver of it is.
The proposed amendment would stop any city that isn't entirely within Calhoun County from exercising its police jurisdiction power here. Another wrinkle: Oxford has sprawled over the line into Talladega County for years, and in 2013 annexed some land in Cleburne County. So, Brown's bill added a specific exclusion for Oxford.
Black-and-gold-marked patrol cars will keep cruising in the 3-mile zone around Oxford no matter what happens.
Simple enough, right? Now the amendment, if voters say yes, will affect Southside and Glencoe ... and maybe Piedmont.
Yes, almost all of Piedmont is in Calhoun County, but a tiny slice — just a couple of parcels — of the city is across the line in Cherokee County, according to a 2010 promotional map of Piedmont.
But even city leaders have been unsure whether Piedmont extends across the county line. Asked about that fact for this story, Piedmont Mayor Bill Baker initially said yes, his town is partially in Cherokee County. Then he and the city's police chief said no, it isn't. Asked again, the mayor provided copies of the map, which shows Piedmont slipping just past the county line into Cherokee County, just west of Alabama 9.
Despite the amendment's weight, Baker said a yes vote could be "a win-win situation" in light of a shorthanded fleet of police officers. Baker said response times to homes just outside Piedmont's city limits have long been slow. If the city stopped serving those areas, response times for the sheriff's deputies who'd take full responsibility for the area would likely not be any faster.
"I know response times would be jeopardized, but because we've been shorthanded, we haven't been able to show the attention they've needed," he said. "I have mixed feelings on it."
Baker said he knew nothing about the proposed amendment until a reporter contacted him earlier this month. Brown says he didn't realize when he had the legislative reference service draft the bill late last year that it could affect Piedmont.
"Probably not," Brown said when asked if Piedmont had been considered. "The main culprit we wanted to confront is Southside."
If voters approve the amendment Nov. 6, Piedmont police will have to stop at the city limits. Ironically, they'll still be able to enforce the jurisdiction in Cherokee County.
"There are areas in Cherokee that are used to seeing us and that call us when they need to," Piedmont police Chief Freddie Norton said.
Calhoun County Sheriff Matthew Wade said on Facebook he supports the amendment. Earlier this month, he said municipal police from surrounding counties have on multiple occasions set up checkpoints within Calhoun County limits. He declined to specify which city had done so, but Brown said it was Southside.
Southside Mayor Wally Burns said earlier this month he hadn't heard about the amendment until contacted by a reporter, but said his city wouldn't be affected by its passing. He said Southside police don't operate in Calhoun County's police jurisdiction aside from answering calls.
"We don't do that much over there, so I really don't see how it's going to affect us much any," he said. "I do wish they would've notified us, though."
Wade said the issue is twofold, taking money from Calhoun County residents through traffic tickets and utility taxes. The sheriff said he's received multiple complaints from residents who said they were ticketed by out-of-county police and others who were charged additional taxes on utility bills by municipalities outside Calhoun County.
"In its essence, it's taxation without representation," Wade said. "That doesn't sit well with people."
Wade said the fault doesn't rest on one municipality, but that the amendment would help stop the issue. The sheriff said he had heard complaints against at least three different cities surrounding Calhoun County.
"I'm not at war with any individual city," he said. "The people of our county just don't like it."
Wade said the taxes and citations could be justified if the cities offered services such as police patrolling and firefighting to nearby Calhoun County residents. The sheriff said the cities taxing residents in police jurisdictions often refuse to answer calls in the same areas.
"If they're taxing residents, they should patrol and fight fires," he said. "But the folks I've talked to would rather them not."
Staff Writer Danie Waddell: 256-235-3563. On Twitter @DanieeW.
Staff Writer Danie Waddell: 256-235-3563. On Twitter @DanieeW.