As state Sen. Del Marsh, R-Anniston, walked among the trees on his 570-acre property between Weaver and Jacksonville, he pointed out a recent discovery amid colorful fall leaves and exquisite sounds of silence.
The Alabama Senate president pro tem had found a cemetery with six graves, four unmarked and one with a headstone of a woman who was born in 1799 and died in 1904, as he was exploring the land he purchased northeast of Anniston over the last two decades. The marker identified the woman as Mary Polly Fite, daughter of Col. John Armstrong of Lincoln County, N.C. 
An outdoors enthusiast, Marsh soaked in the sight, marveled that the woman lived more than 100 years and explained how the property thrills him as much as any political triumph during his 22 years representing District 12 in Montgomery. Marsh hopes to build a lodge and 25-acre lake on the property and plant longleaf and loblolly pines.
"She was the daughter of a colonel who served in the Revolutionary War," said Marsh, who used a mulching machine to clear an entrance to the cemetery. "Once I cleaned it up, I found headstones and footstones. There was once a home on this site. It's remarkable and very interesting. 
"If we put a lake in, the graveyard will be in an even more beautiful setting," he added. "We're going to make sure we maintain it. There's nothing like getting into the woods. It's soothing. It's therapeutic." 
After 2022, politics will take a backseat in Marsh's life. The 64-year-old developer told The Anniston Star this week that he will not run for re-election to the state Senate. He will not run for governor or the U.S. Senate in 2022 or in the future. The departure will bring down the curtain on his political career and allow him to focus on his real estate.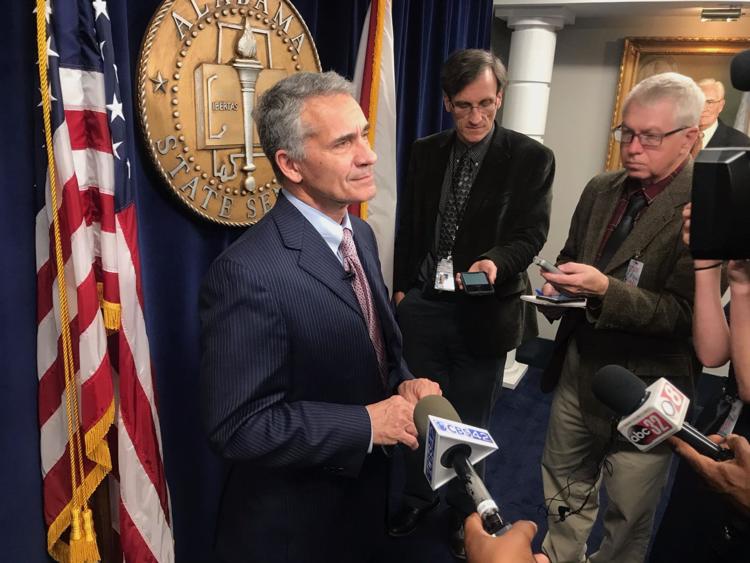 The most powerful man in Alabama, the GOP's master strategist and fundraiser when Republicans took over the legislature in 2010 and built an airtight supermajority, Marsh said he prefers being with his family and exploring his properties. He owns five properties, including one 3,200-acre site on the Mississippi River north of Memphis, Tenn. He recently sold his house in Anniston.
"I bought my first property when I was 28," Marsh said. "I've been acquiring properties ever since. I just enjoy managing them.
"I like getting out, walking the land and seeing it," added Marsh, who sold in 2011 his aerospace repair company that had 160 employees. "When I was a kid, I loved hunting arrowheads. Even now, when I am walking through the woods or on a dirt road after a fresh rain, I still find myself looking for arrowheads. It's like a little treasure when you find one." 
Marsh said he thought about a U.S. Senate campaign in 2017 or 2020, and considered a run for governor earlier in his career. But no more.
"I truly was looking at running for the U.S. Senate," Marsh said. "I took three trips to Washington and came away convinced they do not want to work together. I came home and told my wife, Ginger, I've never seen anything like it.
"I'll be darned if I want to go up there and fight all of the time," he added. "I don't know what it's going to take to end the animosity. I blame [President] Trump for part of this. What happens on the national level — the fighting and name-calling — filters down to the state. This 'drain the swamp,' anti-incumbent stuff is brutal."
Three factors allowed the GOP to take control of the legislature, Marsh said. The party recruited pro-business candidates, was successful in fundraising and benefited from "great timing." Republican candidates were swept into office in 2010 during the Tea Party uprising and backlash toward Democratic President Barack Obama. The Alabama Senate went from 12 Republican members to 25, and Marsh was elected president pro tem. 
"When the election is over, it's over," Marsh said. "It's our job to run it for the people in the most efficient way we can. I have a great relationship with the Minority Leader (Bobby Singleton). We talk a lot and have a lot of respect. 
"Even though the Republicans have a super majority and we can pass whatever we want to pass, I've had a saying that I've had for a long time that I go by: True strength is the ability to be fair when you have total control, and we've done that as long as I have been pro tem. I pride myself in making the chamber run as efficiently as possible for whoever is in there."
With two years to go in his legislative career, the clock is ticking on Marsh's priorites of education reform and expansion of high-speed internet.
"Parents absolutely need options when it comes to education," Marsh said. "If we were higher in the education ratings among states, we would not have to give half the tax breaks to companies to bring them here. Young people would be better prepared to join the workforce."
The COVID-19 outbreak has forced the school system to turn to virtual learning. Without high-speed internet available to aid families, many students will fall further behind.
"Education is critical for so many aspects of a healthy state and healthy families," Marsh said. 
No matter what happens during Tuesday's election — whether Trump returns to the White House or if Democrats take charge in Washington — Marsh said he will not change his mind about another campaign.
"I am ready to spend more time with my family," said Marsh, who has five grandchildren. "I want to enjoy the fruits of my labor. I want to come out here, to this property, whenever I want to and stay as long as I want to."