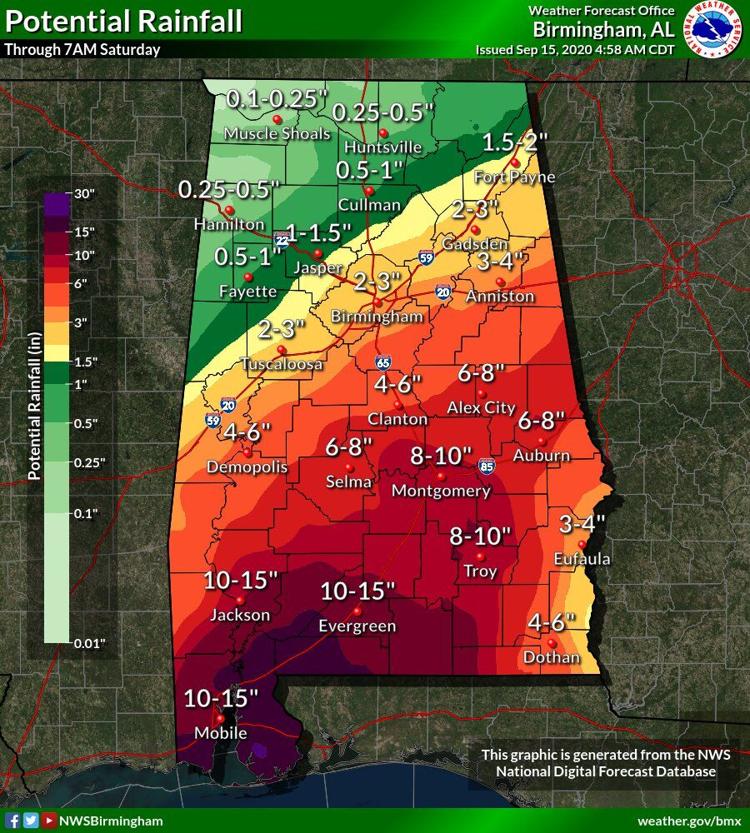 Calhoun County and surrounding areas could see flash flooding from the remnants of Hurricane Sally Wednesday and Thursday. Or the area could simply see a lot of rain. 
Much depends on the path of storm that, as of Tuesday morning, was meandering off the Gulf Coast without a lot of clear direction. 
"It's not in any hurry, I can tell you that," said Kevin Laws, a forecaster at the National Weather Service office in Calera. 
The Gulf Coast has been on alert since this weekend for Sally, a Category 1 storm that is expected to land somewhere between the Florida Panhandle and eastern Louisiana. 
Most forecasts say landfall is likely on the Mississippi or Alabama coasts, with the storm then curving upward through central Alabama and into Georgia. But the storm has proven difficult to predict. Sally has slowed almost to a stop, Laws said, and landfall may not happen until Wednesday afternoon.
"We're struggling with it a little bit," Laws said. "It doesn't really have anything in the way of steering currents."
Gov. Kay Ivey, in a live-streamed press conference Tuesday morning, noted the major changes in the Sally forecast over the past two days. The storm had been expected to hit New Orleans at one point, had grown to a Category 2 storm and was expected to become a Category 3, but by Tuesday morning was a Category 1 still in the Gulf. 
"Folks, with any tropical storm, the only thing you can predict is that things will change hour by hour," Ivey said. 
Forecasters know the storm will bring heavy rain to Alabama and they have issued a flash flood watch through Thursday for much of the state, including Calhoun and surrounding counties. But while the weather service has warned of "historic" flooding in the southernmost parts of the state, current forecasts show the Anniston area getting three to four inches of rain. 
That's enough to cause flooding, but far less than some parts of the state could see. 
"There's a really sharp gradient from the Troy area to where you are," Laws said. "Down there, they could see 8 to 10 inches, while you're expected to see three or four. "
Much depends on the path of the storm. The current forecast, Laws said, has the center of the system passing through the state parallel to I-20 but two counties south of the interstate. If Sally's track shifts northward, he said, the rainfall forecast could change. 
The forecast currently shows a 40 percent chance of rain Tuesday, with heavy rain arriving in the area Wednesday and continuing through Thursday. Laws said the center of the storm will pass closest to Anniston early Thursday afternoon.