The Star's Phillip Tutor is posting updates from the Calhoun County Honor Flight's trip to Washington, D.C. Check back for updates throughout the day. (All times are Central Daylight Time.)
---
Honor flight visits Arlington National Cemetery
WASHINGTON (4:20 p.m.) — The young soldier in the 3rd U.S. Infantry Regiment took 21 steps, to the east, and stopped before turning around for the return trip. In front of him, held back by ceremonial ropes, were veterans from Calhoun County's Honor Flight.
Around 4:30 p.m. local time on Tuesday, the veterans ended their remarkable time in Washington with the day's most moving event - attending the Changing of the Guard ceremony at the Tomb of the Unknowns, which honors unknown casualties from World Wars I and II, Korea and Vietnam.
As it usually does, it lived up to its billing.
The veterans from Alabama and Georgia who partnered on this trip were given front-row access to accommodate the veterans who used wheelchairs. Likewise, Arlington National Cemetery gave special permission to the bus drivers to park about a hundred yards from the tombs to make it easy on the aging men and women.
Silence filled the public areas around the tombs. The soldier on march was met by his sergeant and his replacement, three members of The Old Guard's Tomb Guards that change throughout the day. The Tomb Guards carried M14 rifles, bayonets affixed.
The ceremony over, the Alabama veterans boarded their bus - their home for the last 10 hours or so - and headed back to Reagan National. They were sunburnt and tired and ready to return to the Oxford Civic Center. Home beckoned.
Vet labels Korean War memorial 'magnificent'
WASHINGTON (2:40 p.m.) — The day Mouse Waldrep nearly lost his arm in Korea started out like most others. With breakfast.
Waldrep, the longtime principal at Wellborn High School, was a sergeant in charge of a platoon with seven machine guns. Three men manned each position. They needed to eat.
The Army delivered food to Waldrep's platoon via helicopter.
"I was going around and checking," he said, "so they could go behind the hill and eat."
An enemy mortar landed on the position Waldrep had taken over from his hungry men. Shrapnel mangled the tendons in his right arm. It also sent him home and led to his college sports career moving from the Southeastern Conference to Jacksonville State University and, later, to administration in Calhoun County schools.
His arm healed, but it was never completely the same.
Tuesday afternoon, Waldrep and his daughter, Martha O'Dell, toured the Korean War Memorial during the Calhoun County Honor Flight. Waldrep, a Purple Heart recipient, had never seen his war's memorial. He is one of 16 Korean War vets on this trip.
"It's the most magnificent thing I've ever seen," Waldrep said. The statues "are beautiful and thoughtful and they captured the looks of the military. They even have rain coats on, because it rained over there about all the time."
Said O'Dell, "It's very touching because my dad was wounded in Korea and it changed his life path. It's a great time for us to share together." 
A long postwar drive from Arkansas
WASHINGTON (12:45 p.m.) — Around 1 o'clock Tuesday afternoon, Paul Kelley, 87, found himself standing in a shady spot at the National World War II Memorial and told a story.
After the Korean War, the U.S. Army sent Kelley home to Weaver. A boat took him from Tokyo to the United States. Once in Washington, he hopped a plane with 15 to 20 others to Fort Chaffee in Arkansas.
It was a "two-bit aircraft," he said, and he wasn't being nice.
At least twice they had to stop to repair the plane. In Arkansas, the landing didn't go well -- not a crash, but close -- and then he was Alabama bound with three other soldiers.
So they bought a car, a 1939 Buick. Dark green, about $300.
Kelley and a soldier from Hokes Bluff paid for the car. They drove all night from Arkansas. The Hokes Bluff man kept it because Kelley already had a car.
That was but one of the countless stories told Tuesday here at the WWII memorial. The Calhoun County Honor Flight vets milled around the sun-drenched memorial, posing for pictures and telling tales. Many of them had never seen the site. And then they planned for the next leg of their trip.
A warm welcome to Washington
WASHINGTON (10:45 a.m.) — Now, that's a reception.
Calhoun County's Honor Flight veterans arrived here at Reagan National as their charter plane was honored by the airport fire department's water-cannon salute. Just as had been the case in Atlanta, airport employees waved U.S. flags down on the tarmac.
Finally, after months of planning and expectation, the vets disembarked and were met by a barrage of cheers and applause. Revelers were lined up three and four deep at the gate. A jazz band blared off to the side. "Thank you for your service" placards were ubiquitous, hand-painted and held by schoolchildren.
The veterans' reaction was priceless. Some teared up. One veteran stuck both arms in the air in jubilation, his smile ear-to-ear. People leaned out of the receiving line and shook veterans' hands.
One lady kissed more than a few veterans. No one turned her down.
Down the stairs and out the door, the veterans boarded three buses — their third bus ride of the young day — and set off for their first stop here in Washington, the National World War II Memorial.
---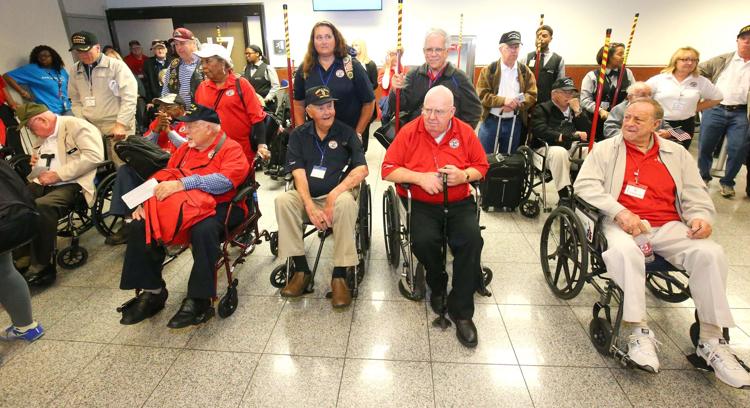 An airport salute for honor flight vets
ATLANTA (7:48 a.m.) - Airport security, considering its purpose, is generally a slog to endure. Lines, lines, lines. Unless you're on the Calhoun County Honor Flight to Washington, D.C..
Here's how much security the veterans went through this morning just before sunrise -- zero.
Once off the bus at the Atlanta airport, the veterans and their guardians were given their boarding passes and sent straight to a specific TSA line. No waiting. It was that simple.
Agents ushered the group through, one by one, without a pat-down or scan. Or bag checks. Instead, there were handshakes for all.
Once inside the terminal, the veterans were greeted by USO personnel and other travelers who waved flags, gave them hugs, saluted them and thanked them for their service. Gate T12 was decorated for the occasion.
The American Airlines pilot sent them on their way just before takeoff. "It is our pleasure and honor to have each of you who served our country on board," he said.
Next stop, the nation's capital.
---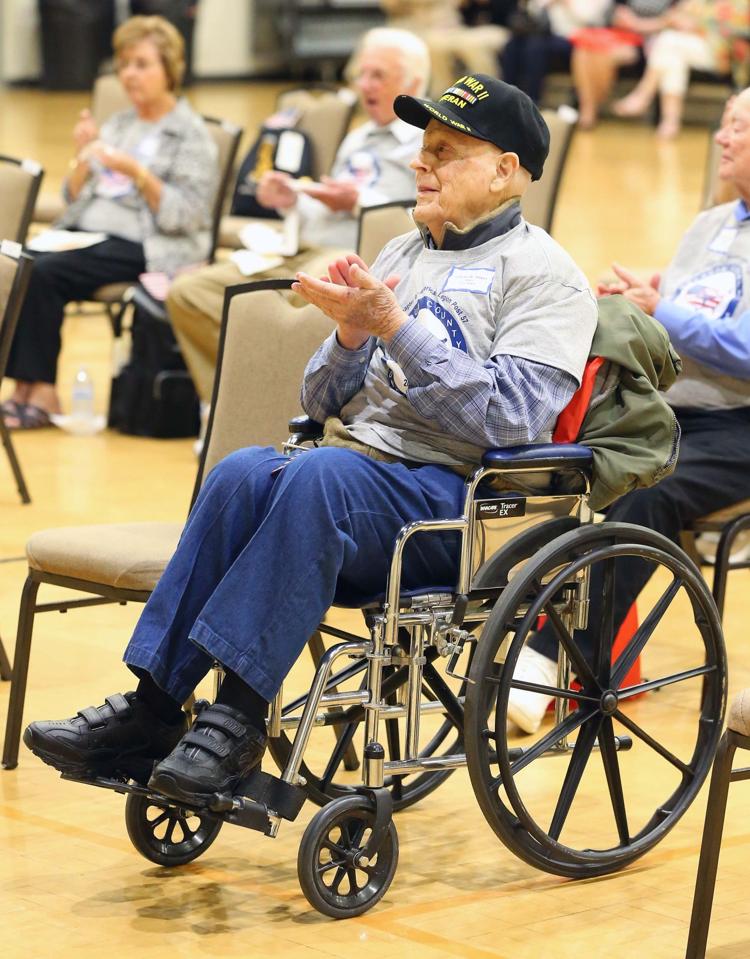 Honor flight starts with early wake-up call
ATLANTA (7:34 a.m.) - How does a hotel full of veterans from World War II, the Korean War and the Vietnam War start the day?
With a 4 a.m. wake-up call, that's how.
Their chartered American Airlines flight was scheduled for a 9 a.m. takeoff, and getting from the Roswell hotel to the airport was a bear of a bus trip. The Interstate 85 bridge collapse just made it worse. An hour, it took.
So up the veterans rose, those from Alabama and those from Georgia who are coming on this trip. Calhoun County veterans in blue shirts, Georgia veterans in red or white.