Seyram Selase thinks young people would think twice about leaving Calhoun County if they saw younger political leaders in office.
"They don't feel represented," said Selase, who's running as a Democrat for the state House District 32 seat.
Incumbent Rep. Barbara Boyd, D-Anniston, believes the area's population will stop shrinking when businesses and schools work together to train a workforce.
"We've got to start training them for welding and other jobs that are actually out there," Boyd said.
Democratic candidate Angela Fears believes the area won't attract people until there's more shopping, more concerts and more sporting events.
"People need something to do," she said. "They need somewhere to spend their money."
And Republican candidate James Lloyd thinks the area needs to fix its reputation as site of pollution.
"We need to change the perception, so people don't think they need to bring a gas mask," he said.
The prospect of a declining local population, long predicted by demographers, is fast becoming a topic of discussion on the 2018 campaign trail.
Selase has made Anniston's shrinking numbers a main talking point in public appearances in his campaign. Mallory Hagan, a Democratic candidate for Congress, told a crowd in Jacksonville last month that the area needed economic development to keep young people from leaving the district. And incumbent Republican school board member Cynthia McCarty told The Anniston Star last month she's concerned about the decline of K-12 school enrollment in her seven-county district, which she said has experienced some of the state's steepest school population declines.
It's a problem worth worrying about, say people who study statewide population shifts.
"It's not just numbers," said Rhonda Mann, deputy director of the child advocacy group Voices for Alabama's Children. "The question is, will our skilled workforce stay in the state?"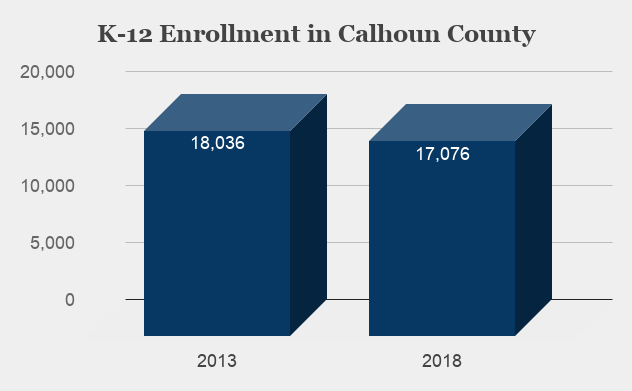 Mann's group releases yearly statistics on child wellbeing, and in the last year, she's been calling attention to the drop in K-12 enrollment across the state. According to State Department of Education statistics, Alabama has 726,924 students in K-12 classes today, down about 9,000 from the number five years ago.
State school officials have said it's a symptom of a greying America. With large numbers of baby boomers entering retirement and younger adults waiting longer to have kids, the nationwide population is getting older on average, experts say.
"It doesn't look like a pyramid anymore, with lots of young people on the bottom and fewer older people on the top," said Viktoria Riiman, a researcher at the University of Alabama's Center for Business and Economic Research.
There's evidence that Alabama, and the Anniston area in particular, have problems that go beyond that broader demographic shift. The National Center for Education Statistics projects that Alabama's school population will drop by 3 percent by 2026. Mississippi's projected drop is 6 percent. But the two states are a doughnut hole in an otherwise growing South: Enrollment in Georgia's schools is projected to grow by 10 percent over the same period.
And county-by-county projections by Riiman and her colleagues show Calhoun, Etowah and Talladega counties each declining by thousands of residents between now and 2040 – even as the state as a whole grows by another half-million people.
That decline, if it happens, will likely be due to people moving away, rather than a shift in numbers of  deaths and births.
From 2010 to 2016, Census records show, Calhoun County saw 456 more deaths than births. But the real cause of decline during that time was outmigration, with 3,373 more people moving away than moved in. Only Jefferson, Mobile, Montgomery and Dallas counties saw larger outmigration numbers than Calhoun County.
Some of the reasons for the decline are obvious, said Frank Humber, director of planning and economic development for the East Alabama Regional Planning and Development Commission. The 1990s closure of Fort McClellan in Anniston was a shock to the county's system, he said.
Still, it doesn't fully explain more recent declines, or projected declines in neighboring Etowah and Talladega counties.
"If you look at the larger trends, a lot of people are moving to larger metropolitan areas across the country," Humber said. "They want the lifestyle and the choices those areas provide."
Most government agencies consider Calhoun an urban county, not a rural one. It may seem different to young couples who want to catch a movie or take their kids to the zoo.
Riiman's projections show bigger metropolitan areas in the state growing by 2040, with continued population booms in suburban Shelby and St.Clair counties. Humber said it's not a given that the suburban spread will reach Calhoun County by 2040, though rising cost of living in bigger cities could make it happen.
"What we can offer is lower housing prices and less traffic," he said. "If those become appealing again, people will come back."
Talk about population decline and many local residents will mention Anniston, which had more than 30,000 residents a half-century ago and now has about 22,000. The city is in House District 32, where Boyd, Fears and Selase will face off in a Democratic primary in June. The winner in that race will face Lloyd, the Republican, candidate, on November.
All of the candidates agree on the basic contours of the issue. People are leaving because of too little opportunity, they say.
Lloyd said past stories of PCB pollution and chemical weapons storage in Anniston, the county's largest city, are keeping some potential residents away. His solution: a grassroots effort to mow lawns and paint houses. Shaping up the look of the city could help convince people to take a second look at the city.
"The first time I went to Canada, I remember how bright the colors were and you didn't see any trash on the roads," he said.
Boyd said the answer is to get industry and school leaders together to figure out what jobs K-12 students should be trained for. Ideally, she said, new industries will come because of the trained labor force and young people will stay because there's work.
"Education and opportunity will keep them here," she said.
Fears said people need both jobs and a place to spend their money and time when they're not working.
Selase said the city also needs to consider working with the state to create "certified industrial sites" that have infrastructure in place for immediate development.
"It's a shame the fort didn't get something like Honda," he said. "We have to be ready for those opportunities."