Alabama will loosen its unemployment compensation rules to help people who are out of work due to the spread of the new coronavirus, the state Department of Labor announced in a press release Monday.
"Many changes are happening rapidly with regards to Alabama's workforce, and it's important to ensure that we are offering ... many available options to those who find themselves in difficult employment situations," Gov. Kay Ivey was quoted as saying in the release. 
The department is modifying existing rules to allow people to claim unemployment compensation if they are:
— Quarantined by a medical professional or government agency.
— Laid off or sent home for an extended period by their employer due to COVID-19 concerns.
— Diagnosed with COVID-19, or;
— Caring for someone with COVID-19.
According to the release, claimants will not have to search for work while on unemployment, something that is typically a requirement. That provision would apply only to people who get unemployment that is COVID-19 related.
Labor Department spokeswoman Tara Hutchison said coronavirus-related unemployment would be treated as a temporary layoff, good for three weeks of benefits, after which time the unemployment claim would be up for review.
Hutchison said the department was keeping an eye on federal proposals for worker relief. If Congress passes a paid-leave bill connected to COVID-19, she said, people who accept that assistance won't be able to claim state unemployment until their benefits run out.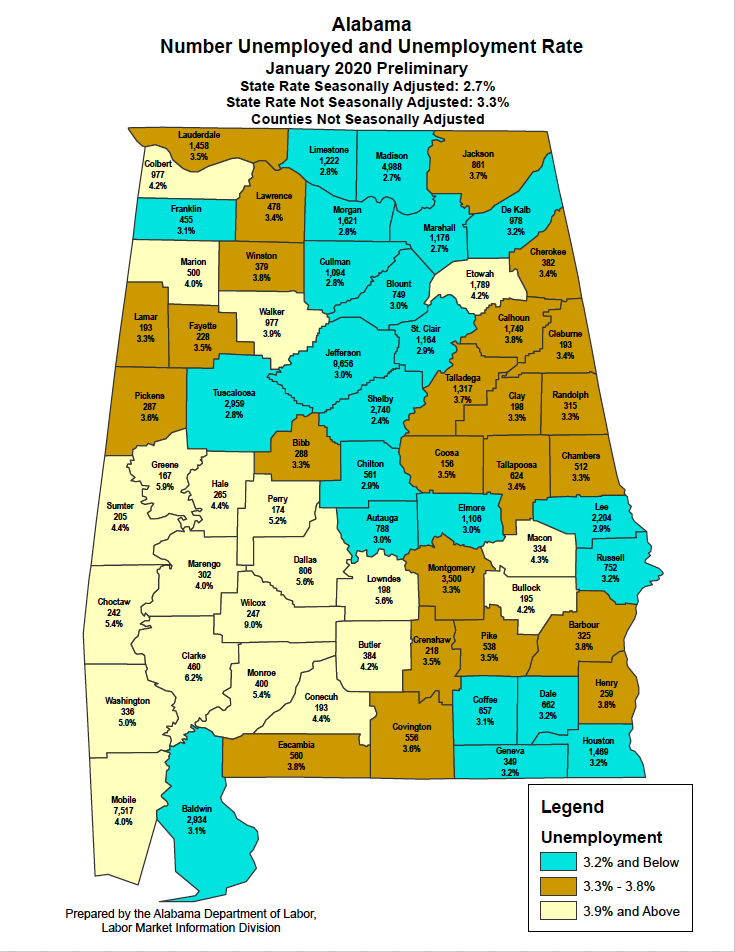 The announcement came just hours after the state posted its lowest unemployment rate in history. Alabama saw just 2.7 percent unemployment in January, when COVID-19 was mostly confined to China and the U.S. stock market was nearing record highs. The January numbers were released Monday.
The optimism of January now seems worlds away. The Dow Jones Industrial Average lost 3,000 points Monday. State health officials urged people to avoid crowds of 50 or more, and urged businesses such as stores and restaurants to limit their patronage to half of their normal capacity, all in hopes of stemming the spread of the illness. 
"Obviously, the pain is real and immediate, but the question is how long will it last?" said Don Hopper, director of the Calhoun County Economic Development Council.
He said he was concerned about the challenges social distancing poses for manufacturers.
"You can work from home in some jobs, but it's hard to assemble something from home," he said.
Alabama reported its first case of the illness Friday morning. By 1 p.m. Monday, there were 28 cases.