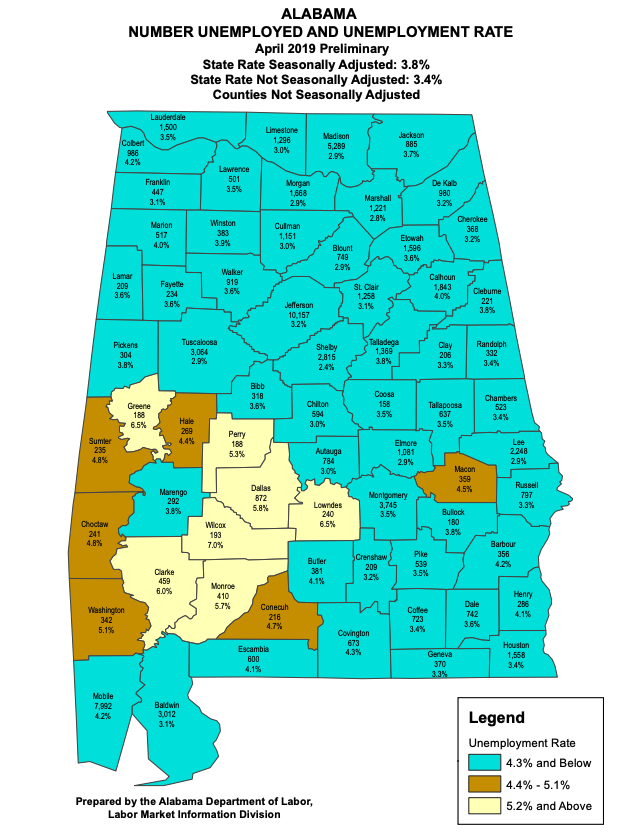 The unemployment rate in Calhoun Country dropped to 4 percent in April, down from 4.2 percent in the same time last year, according to a report released Friday by the Alabama Department of Labor.
The number of employed workers in the county rose by 486 to 44,558 in April from 44,072 in April 2018.
Don Hopper, the executive director of the Calhoun County Economic Development Council, said local industries and business overall tell the council that they are looking for employees, which Hopper said he sees as a sign of growth.
"That's always a good thing when we hear that there's jobs out there that people are trying to fill," he said.  
According to the report, Anniston as a city saw its unemployment rate drop from 5.3 percent to 5.1 percent.
Across the state, unemployment dropped from 3.5 percent in April 2018 to 3.4 percent in April 2019 with the number of unemployed workers falling to 75,476 in April from 75,763 the year before.
"We had a significant increase in our civilian labor force, but the majority of those that increase that labor force were able to find employment," said Tara Hutchison, the communications director for the Alabama Department of Labor.
According to the department's survey of employers, goods-producing jobs in the manufacturing and mining, logging and construction sectors in Calhoun County fell by 100 while service-sector jobs rose by 100, leading to no change in total jobs provided from this April to last year.
Within the service sector,jobs in education and health services fell by 200 compared to last April while jobs in trade, transportation and utilities rose by 200.
Hutchison said the numbers for this time of year can fluctuate as teachers and students look for summer jobs and as new graduates enter the workforce.
While that could make the unemployment rate go in either direction, she said, it's not necessarily a bad thing because the unemployment rate is calculated using the number of workers actively looking for a job as compared to the total workforce size.
"When people are entering the labor force at a higher rate that means that they have a confidence in the job market that they will get that they will get a position," she said.  
Calhoun County ranked 21 out of 67 Alabama counties in unemployment for April. Wilcox County had the highest unemployment rate at 7 percent and Shelby County had the lowest at 2.4 percent.
Ahmad Ijaz, the executive director of the Center for Business and Economic Research at the University of Alabama said if the economy remains the way it is now, he expects the statewide unemployment rate could drop as low as 3.5 percent by the end of the year.
However, statewide, the rate at which unemployment has been falling is slowing, he said.
"It'll probably slow down because the job growth will probably slow down," Ijaz said. "The state is still adding jobs, but not at the same pace as it was say second half of last year or earlier this year."
Nationwide, unemployment fell from 3.7 percent in April 2018 to 3.3 percent last month.