Christopher Albert said he was happy to see workers recently installing 12 new Tesla superchargers at the Oxford Exchange.
Albert, an Anniston attorney, said those 12 new electric vehicle chargers will mean he can drive his 2013 Tesla Model S, which he calls Annie, to Birmingham and Atlanta and back home in a day with a short stop in Oxford to charge.
On Oct. 3 Tesla installed its 1,000th supercharger station in the U.S., giving it a total of just more than 7,000 individual superchargers.
Tesla's push to install more chargers nationwide follows a stellar month for electric and hybrid vehicle sales in the U.S.
In September an estimated 21,325 electric and hybrid vehicles were sold in the U.S., 24 percent more than were sold the same month last year and the second-best month of plug-in vehicle sales ever, according to Inside EV's, a news website focused on electric vehicles. The sales figures were based on state rebate data and manufacturer sales figures.
Tesla has sold more electric vehicles since January than any other manufacturer, with Chevrolet's electric Bolt and hybrid Volt coming in second, followed by the Toyota Prius and Nissan Leaf, according to Inside EV's estimates.   
Dale Benton, who owns four Nissan auto sales locations, including one in Anniston, said his company's charger, which supports the electric Nissan Leaf, will also charge all other electric vehicles.
"I was surprised when I saw the Tesla charging station put in the other day. That's pretty expensive infrastructure," Benton said. He said that heavy traffic on I-20 might justify the expense.
"It just shows how much Tesla is investing in future," Benton said. Nissan is doing the same, he said, and has a new Leaf body style coming out early next year that will get up to 150 miles of driving range per charge.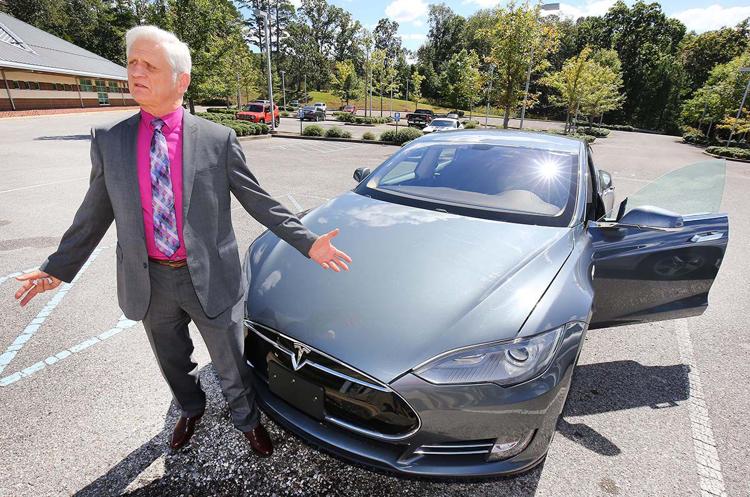 "We've sold some," Benton said of the Leaf. He thinks the Leaf's range of about 100 miles has limited sales, but said the increased mileage in the new model will help sales. "If gas goes back up to like it was a few years ago, we'll see an increase."
Cooper Chevrolet in Anniston doesn't sell the car maker's electric Bolt or hybrid Volt, according to an employee who answered the phone there Friday.
Albert thinks Annie, which he bought used in 2015, was the first Tesla in Anniston, a town named for Annie Scott Taylor, daughter-in-law of Daniel Tyler, a founder of the city. Since then, though, he's spotted more Teslas in town.
Attempts to reach a Tesla spokesperson this week were unsuccessful, but Albert said the company pays for its superchargerstations, which give drivers an extra 170 miles or so of range after about 30 minutes of charging.
"I'm a driver," Albert said. He's taken the car on a 2,300-mile multi-state trip and regularly drives it out of town.
"Birmingham and back is no problem, but going from Anniston to Birmingham and then to Atlanta is a stretch," Albert said of his car's range of around 255 miles, before he needs a recharge. "So the Oxford supercharger, I'm very thrilled with that."
Albert said he's spoken to Tesla drivers in Birmingham who were excited to learn a supercharger station was being installed halfway between that city and Atlanta.  
Alabama has 6 supercharger stations statewide, according to the company's website, and 4 more are under construction, including those in Oxford.  
Tesla's Model 3, which began production in July, has a starting price of $35,000 and a range of 220 miles, according to the company.
Tesla isn't the only company investing heavily in plug-in vehicles and infrastructure.
In September, Mercedes announced plans to invest $1 billion at the company's Tuscaloosa plant and to start building electric SUV's there.
Albert said he's been interested in buying an electric vehicle for years, but their range was just too limited until battery technology began to improve.
Albert said unlike the price of gasoline at times, "power rates don't go up overnight."