The complex will be spread over two buildings on five acres, the former site of the Blue Spring cotton mill, just off Interstate 20's Exit 185, across from Wal-Mart and Chick-fil-A on Alabama 21. According to Stan Bush and Greg Morrow, two principal investors in Big Time Entertainment, along with Mickey Shadrix, the idea came to them only a year and a half ago. Now the project is set to be completed later this year, offering Oxford residents and visitors from the region the chance to bowl, play laser tag, drive go-karts and even get something to eat. 
"For us it seems like it's been a long time," said Bush, who is also a local real estate agent, just after city leaders shoveled soil to commence construction. "We pitched the idea to each other; it was just a thought, but here we are today and it's materialized." 
Bush said the buildings should be finished by late October or early November, barring any construction delays, just in time to host holiday parties and corporate events in the space's conference rooms. He said pricing options will vary, with per-activity admission and possible day passes. 
"I don't think you'll be able to do everything unless you stay all day long," he said. "We're going to try and make it where it's feasible where each person can come on a regular basis."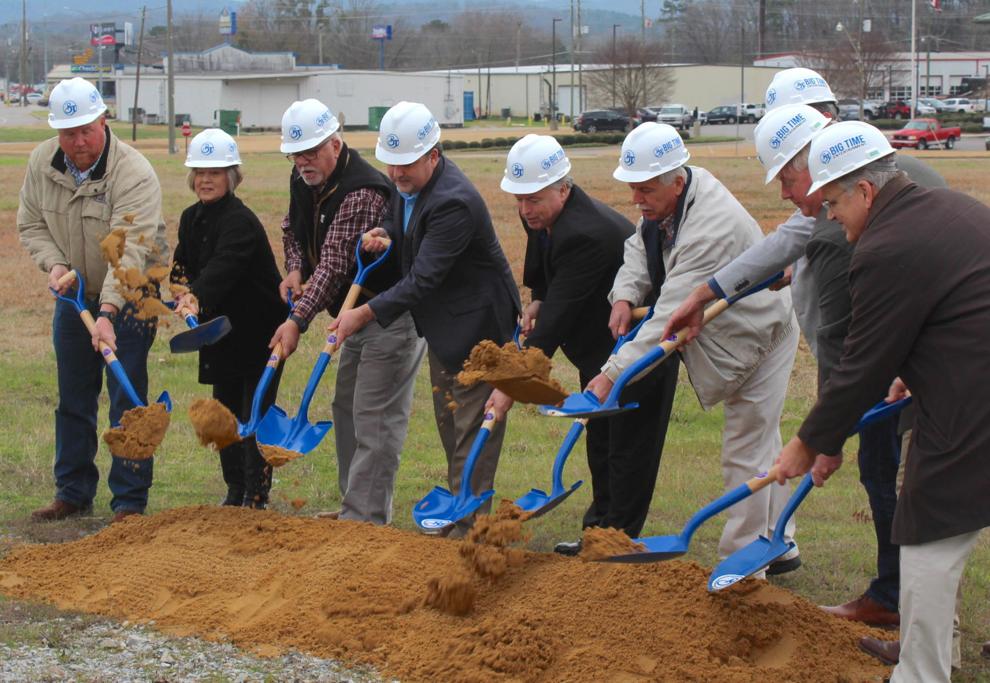 The quick concept-to-construction process is due to a few advantages; one, Bush acknowledged, was that infrastructure already exists at the site. Morrow said Cornerstone Architecture, the Oklahoma-based firm that designed the buildings, specializes in entertainment complexes, which also helped the process go from trot to gallop. 
According to Morrow, who owns Anniston-based Southern Custom Exhibits, the business is likely to be packed when it opens. 
"We're getting rental requests already," he said. 
Morrow said that tournaments at Choccolocco Park draw in hundreds of thousands of people from around the state. Oxford will benefit from hotel stays and sales tax, while the region gets a quality-of-life boost. 
"Over 200,000 people are coming to town for these tournaments, and short of going to a movie, going to eat or going to a park, there's really nothing for a kid to do to unwind, cool off and have safe fun in between games," Morrow said. 
Don Hopper, executive director of the Calhoun County Economic Development Council, attended the groundbreaking. Hopper also mentioned quality of life, but as a way to drive interest in the area for business recruiting. 
"It's a big deal for quality of life," Hopper said after the groundbreaking. "This is just another arrow in our quiver as we shoot to get those industries here." 
It's an indicator of a good economy, he said, and that the area is a good place to live, with things to do. 
"What's good for Oxford is good for this whole area, and what's good for this area is good for Oxford," he said. "We're all in." 
He pointed out Northeast Alabama's geographic advantages; it sits almost equidistant between Atlanta, Birmingham and Chattanooga. Oxford's Christmas light program at Choccolocco Park drew in people from Georgia and Birmingham, he said, and with the right investors, he thinks, the city and region around it will continue to grow. 
"This should be the biggest place in Alabama," Craft said.