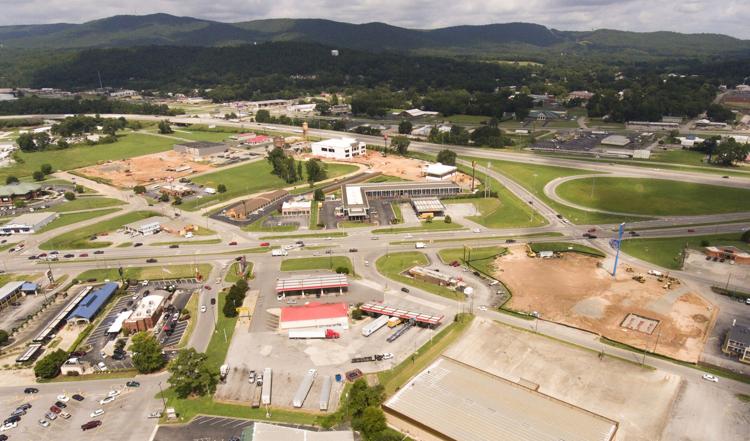 New commercial developments continue to sprout in Oxford at Interstate 20's Exit 185, and the state government is watering the city with grant money to spend on plumbing and road infrastructure. 
State and federal organizations will contribute $300,000 to the creation of water, sewer and road development projects to support the growing area of city commerce, according to a Thursday announcement from Alabama Department of Economic and Community Affairs spokesman Jim Plott.
That total includes $150,000 in Community Development Block Grant money awarded by the office of Gov. Kay Ivey and another $150,000 from the Appalachian Regional Commission, a federal organization that fosters economic development in 13 southeastern states.
Several buildings are under construction at the exit, stretching up from dirt plots at the intersection of Alabama 21 and Interstate 20, across the highway from Chick-Fil-A and Walmart. 
New developments include the family-friendly Big Time Entertainment activity complex, a Planet Fitness gym and strip mall with accompanying health-oriented retailers, and a new gas station owned by RaceTrac, which will replace the now-demolished RaceWay and Valero stations on Alabama 21.
Mangos Cantina and Grill, a Mexican restaurant, has already opened near Jefferson's. Big Time, Mangos and Planet Fitness will account for 71 new jobs in the area, according to ADECA.
Construction has already begun on the site of the old Blue Spring cotton mill, including Big Time's big building — which happens to be the smaller of two planned structures.
"The best is yet to come," said Greg Morrow, one of Big Time's principal investors, Thursday afternoon. "The indoor go-kart track is the one that is actually up right now in front of Mangos. Our really big building is still about to come out of the ground."
Despite construction delays caused by rain, the entertainment complex — which will feature bowling lanes, arcades, go-karts and a dozen other attractions — is still on track to open early next year, Morrow said.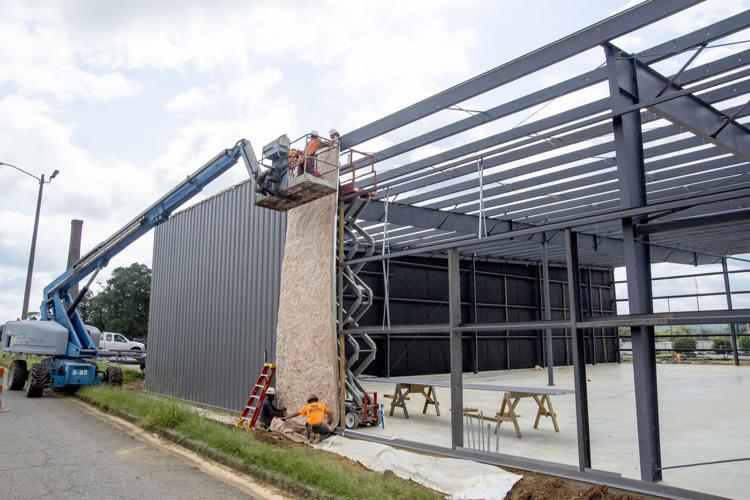 The COVID-19 pandemic has slowed work with attraction vendors from around the nation, he said, mostly in terms of communication. The products are still available, and acquisition shouldn't cause any issues. 
As of Tuesday, both of the gas stations and the Motel 6 beside them had been demolished, leaving the land clear for development. The station will open in 2021, according to a RaceTrac spokeswoman. 
Meanwhile, just across the road from Big Time Entertainment, a two-story, 32,000-square-foot Planet Fitness is under construction, quietly approved earlier this year, that promises dozens of activities. 
Fit bodies, full stomachs, fancy soaps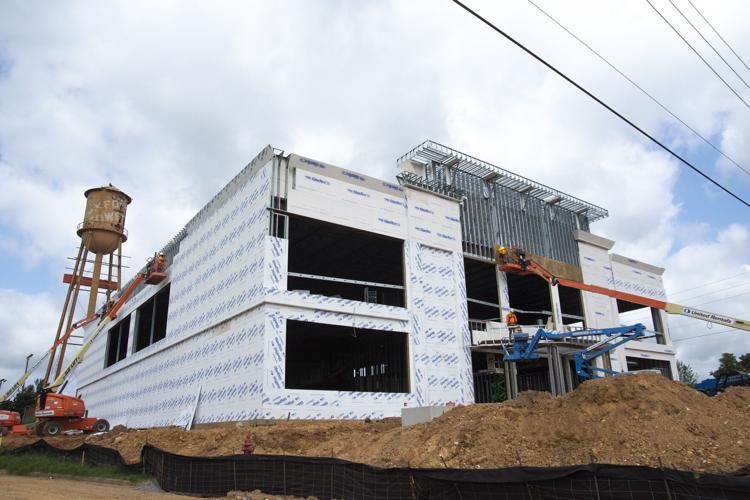 The facility will have space for 120 pieces of cardio equipment, weights and dumbbells, fitness training, tanning and hydro massage therapy units, a spa area and a litany of other options, according to John Clancy, chief executive officer of development companies Planet Fitness Midwest and Cornerstone Properties.
"We do a lot of demographic analysis, and we believe through our due diligence process that Oxford is a great fit for one of our flagship Planet Fitness gyms," Clancy said, "not just a regular one." 
Across what will become the gym's parking lot, a new strip mall will house three businesses: a Smoothie King franchise, where visitors can get veggie, fruit and dessert smoothie meal replacements; a restaurant that has yet to be chosen but will likely cater to healthy eaters; and a Buff City Soap store, where soaps created from natural ingredients will be made and sold on-site.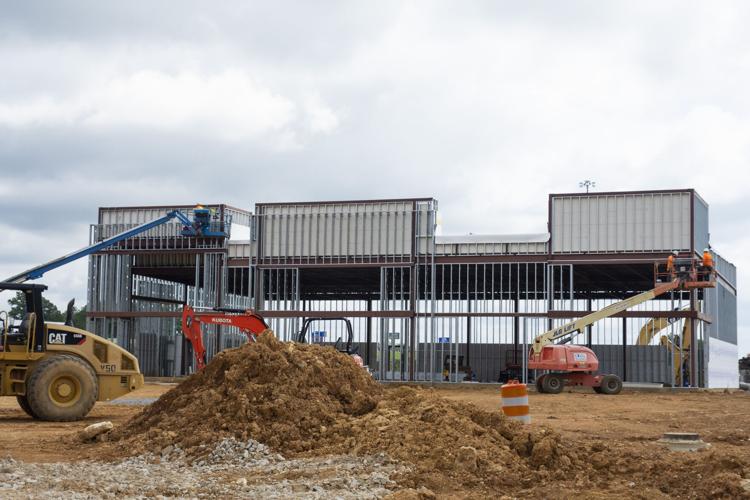 "Clients who come in can see their soap being made, along with bath bombs and other products," said Clancy. "It's all-natural, and mostly made of coconut oil." 
Planet Fitness and Smoothie King will open by the end of the year, holding to a schedule that the pandemic didn't manage to disrupt, Clancy said. 
Asked which smoothie is the one to try if you've never been to a Smoothie King, Clancy said his favorite is the chocolate Peanut Power Plus. 
"If you like Reese's peanut butter cups, it's like that," Clancy said, "but healthy." 
Snowballing business development
Morrow, from Big Time Entertainment, said the influx of new businesses at Exit 185 will spur economic growth, and may also encourage more new development nearby, especially businesses that can support large enterprises like the activity complex and Planet Fitness. 
Growth at Exit 185 might mirror advancements at Exit 188, where the Oxford Exchange area has grown over the last 15 years to include a Target, Publix, Best Buy and a dozen other big-name restaurants and retail stores. 
"Exit 188 had kind of blown up pretty fast," Morrow said. "I think when people look and see all the new businesses and the new gas station and exercise spot, all the big developments over there, they'll want to pull off and check it out."