The parking lot at Dr. Mike Tucker Park at the southern terminus of the Chief Ladiga Trail in Anniston was almost filled to capacity Saturday morning as bikers and walkers set out in droves to soak up some sunshine.
Terrence Fields, 55, from Anniston, had just finished a 23-mile ride with friends as he wiped the sweat from his brow and lifted his new grey Trek mountain bike into the back of his truck — a bike he had to wait for.
The COVID-19 pandemic — which has shut down bicycle factories in China — combined with the stay-at-home order issued by state officials last month has created a bicycle shortage. Bike shops are churning uphill to keep up with an increased demand from consumers who want to get out and exercise during the pandemic.
"It was a long line, I had to actually wait, it wasn't a long wait but I had to wait a week or so and then I had some upgrades so I had to wait another week," said Fields.
Fields changed over to cycling because jogging would make his back ache: "Riding a bike takes the pressure off of your back," he said.
Abby Parks, who was pumping up her tire on her bike before spinning northward on the asphalt trail, said she had heard of the shortage, "and that men were even having to buy pink bikes, pink girl bicycles."
Like Fields, Parks said she enjoys cycling as an alternative to walking.
"I like the fact that you are not in close proximity with people, you're getting a lot of vitamin D from the sun and getting fresh air, working out my heart, I really like it," said Parks as she wheeled her bike to the trail.
Patrick Wigley, who owns Wig's Wheels, a bicycle shop in downtown Anniston, knows firsthand how the COVID-19 pandemic created a bike boom, then shortage. When the stay-at-home order was issued — coincidentally, during the shop's regular busy season — he was inundated with customers.
"Two days into the self isolation, people started coming in looking for the least expensive bikes that they could find," said Wigley.
The customers kept coming.
Wigley's inventory of used bikes was quickly depleted and then the least expensive bikes, including kids bikes, in the $600 range were sold out. From there on the rest of the bikes priced from $800 to $1,300 sold out quickly.
At Fun Wheels in Oxford, owner Marcus Pettus noticed an increase in customers as soon as the stay-at-home order was issued.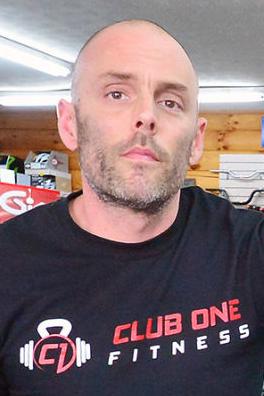 "Bicycles are like toilet paper, the new thing that there's a shortage of," Pettus said.
Pettus said the local authorities left the various trails open, which gave people something to do outside.
"They closed down the gyms so there wasn't really any place to work out. People started riding bikes and haven't stopped yet," Pettus said.
It was like cabin fever — folks just wanted to do something, observed Wigley.
"Everything was selling out, the biggest reason being what else are you going to do once you've watched 40 movies on Netflix or you've won every video game that you own, the kids are on your nerves, yard work is done or whatever ... the outdoors never closes, so people bought bikes," Wigley said.
A side effect of the bike shortage was the sudden influx of repairs sought by people scrambling to make use of older bikes whenever they could.
"In most cases, these are bikes that have been under the house or in a barn, in the basement or wherever. 'I haven't seen this thing in 10 years, it's got to still work, let's put some tubes in it, let's get rolling again,'" Wigley said. 
At Fun Wheels, sales have risen 50 percent above normal, according to Pettus, and he's had to hire two more employees — added to the two he already had — to handle the increase in repairs.
"Part of my sales floor is just used for repair storage now and the repair side is full," Pettus said. 
"It's a boom as far as cycling goes, sometimes it gets a little overwhelming because we're not used to this much volume," he said. 
Because so many bike factories are in China, when the pandemic shut down commerce there it caused a "hiccup in the supply chain" according to Wigley. He said the last time he got a shipment of bikes — sub-$600 bikes, including mountain, road and kids bikes — was about a month ago; by next week, he believes, those bikes will all be sold. Wigley fears he won't be able to get another shipment of bikes until late summer or early fall.
Wigley said that it's not just his shop suffering from a shortage of bikes.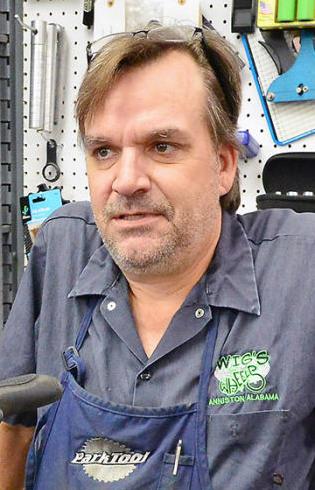 "From what I'm hearing it's Wal-Mart, it's Target, it's Dick's, it's Academy, it's Wig's Wheels, every bike shop across the country is experiencing the same problem," said Wigley. He noted he's taken calls from customers in New Orleans, Nashville, Chattanooga and Memphis, all searching for the bikes they want.
On Friday at the Lenlock Wal-Mart in Anniston the bike shortage was obvious as the normally full racks were empty except for a couple of kids bikes.
Wigley sees the vast influx of new bike riders as "awesome," as they have an abundance of local biking trails to choose from.
"We preach and sound weird because of how good the riding is around ... everybody has a bike, practically, so everybody is like, 'let's go see what these weirdos have been talking about all these years,'" Wigley said. Bicycle trails and routes can be found at the Chief Ladiga Trail, the former Fort McClellan, Mount Cheaha, Choccolocco Park, Coldwater Mountain and Henry Farm in Jacksonville, he said.
In the meantime Wigley is busy toiling away, listening to Pearl Jam and Primus as he builds new bikes and repairs the hefty backlog of bikes in the back of the store.
According to a press release from NPD group, a market research company, for the month of March adult leisure bike sales rose 121 percent and children's/BMX sales were up 56 percent. 
"Deemed essential businesses in many states during this period of shelter-in-place, independent bike shops saw a 20 percent increase in bike service/repair sales," according to the release. 
That leap in sales has Fun Wheels' Pettus optimistic. He said he hopes the newcomers to cycling will continue riding.
"I think a lot of the people will continue to ride because they've fallen in love with the sport," he said.