JACKSONVILLE — A local trailer manufacturer broke ground Tuesday on an expansion that should lead to 25 new jobs next year.
Company and elected officials stood in a wet and muddy construction site to participate in the ceremonial groundbreaking at Stryker Trailer, formerly Baggett's Trailer Connection, on Alabama 21 north of Jacksonville. The expansion is needed to meet growing demand, company officials say.
Construction on the $250,000 project is set to start early next year and finish in March. The plan is to build a 9,600 square-foot building addition and a 480 square-foot shed.
The company will hire the 25 new employees over the coming months. Stryker currently has 36 workers.
The new building will house six painting stalls, while three current paint rooms will be converted into new welding stations for trailers. Since 1996, the company has manufactured all-purpose trailers and haulers.
Billy Prickett, CEO of Stryker, said the plan is to at least double the company's business over the next five years.
"The product is very good ... it's just a matter of getting it out faster," Prickett said.
The company currently produces around 75 trailers a week. The goal after the expansion is to produce 150 trailers a week, Prickett said.
Planning for the expansion began months ago after Montgomery investment firm Wiregrass Equity Partners took interest in the company. The firm bought majority control of the company from its founder, Jake Baggett, in October.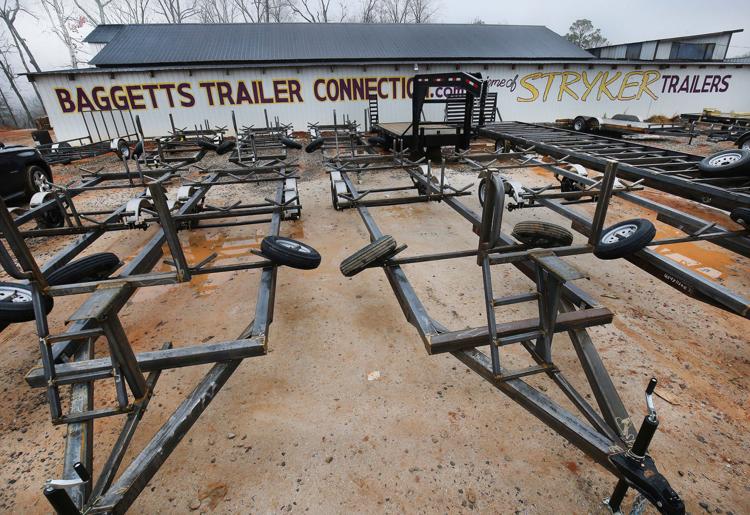 "Jake had been a one-man show for years, but everything had just gotten to the size that he needed some help to make it bigger," Prickett said.
Darin Phillips, one of the partners of Wiregrass, said his company was already looking ahead to even tripling the Stryker's business. The company also plans to expand its sales team and improve branding and advertising to increase its dealer base.
"The demand is already there to double the business ... but it looks like we can triple the business in five years," Phillips said.
Jamie Ethredge, chairman of the Jacksonville Industrial Development Board, who attended the groundbreaking, said teamwork between the city of Jacksonville and the Calhoun County Economic Development Council helped make the expansion a reality. Last month, with guidance from the Economic Development Council, the Jacksonville City Council approved an abatement of sales taxes on the manufacturing materials and equipment Stryker plans to buy for the expansion.
"None of this would happen without cooperation," Ethredge said.