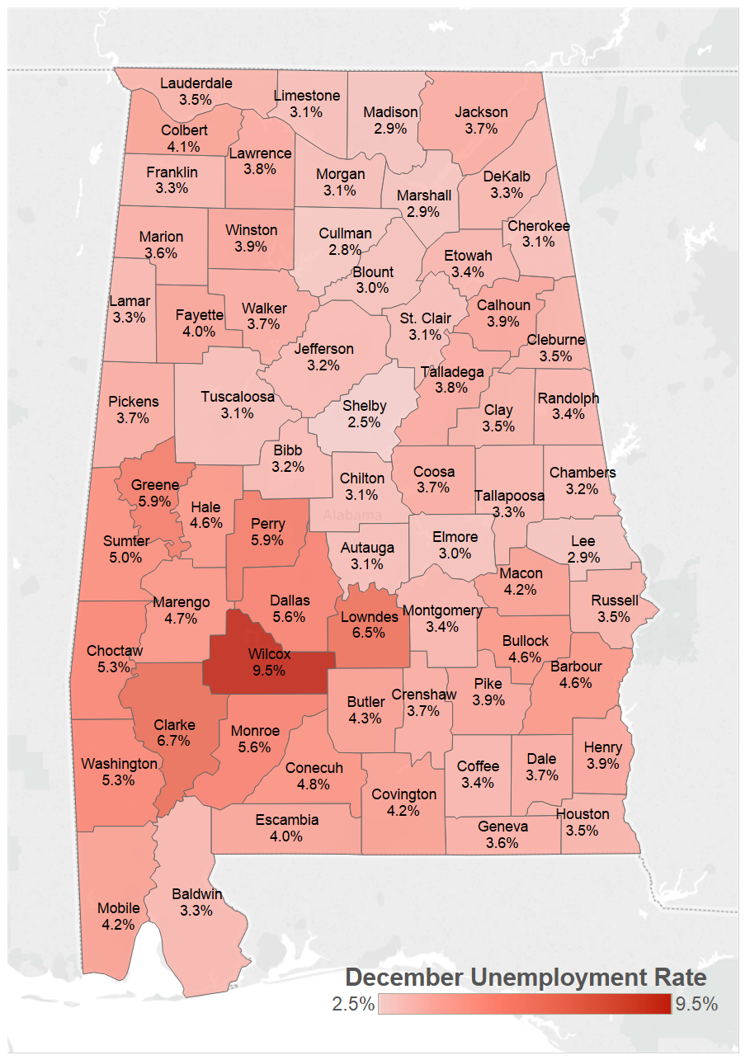 Last year was all about growth for Bill Newman.
The president of Oxford Lumber saw his business grow considerably in 2017, from the addition of a live garden center and expanded product offerings to a 15 percent jump in total employees.
"2017 was a better year, it was steady growth," Newman said.
A Friday report from the Alabama Department of Labor shows Calhoun County ended 2017 with a 3.9 percent jobless rate in December — nearly half as low as the 6.7 percent rate it had a year prior, because of a gain of more than 800 jobs. The county's economic improvement is in keeping with the state's, which hit record low unemployment multiple times last year.
Newman said unemployment has shrunk so much that some of his construction customers have struggled to find enough skilled labor.
"I think a lot of the kids today ought to consider going into trade school for masonry or carpentry," Newman said. "A lot of our builders are coming up short … labor will be an issue going forward."
Don Hopper, executive director of the Calhoun County Economic Development Council, said the manufacturing sector invested about $50 million in the county last year for expansions. Hopper said the county saw continued employment growth from expanding Oxford companies like Kobay Enstel-South, a Canada-based automotive supplier and Kronospan, a fiberboard producer. Also, Canadian-based transit bus manufacturer New Flyer last year announced a $25 million expansion at its Anniston plant that will result in more than 60 new hires this year.
"And I think we're still seeing a lot of activity now," Hopper said of the manufacturing sector. "There's a lot of positive attitudes out there right now."
According to the report, the state overall had significant gains in labor in 2017, with 2.09 million people employed in December, the most ever reported. Alabama gained a total of 32,500 jobs in 2017, which helped lead to the state's record low 3.5 percent unemployment rate for December.
Ahmad Ijaz, economist for the Center for Business and Economic Research at the University of Alabama, said growth in 2017 was bolstered mainly by gains in the automotive manufacturing and construction sectors.
"I think it was a very good year compared to the last two or three years," Ijaz said.
Ijaz added that he expected bigger gains for the state economy this year.
"I think we'll continue to see improvement … I think we may see 35,000 new jobs for this year."
Phil Webb, owner of Webb Concrete and Building Materials in Oxford, said he added new employees and saw business growth in 2017 and expects similar improvement this year.
"It looks very promising for 2018 … here in Alabama, residential building is trending up," Webb said. "Commercial work seems to be showing more promise."
Canadian telecommunications company Viiz, which opened a call center in Anniston late last year, is still expanding and hiring, said Charles Anderson, senior vice president of marketing. The company hired around 75 workers last year.
"We're adding about 54 more call center agent jobs … that's underway as we speak," Anderson said. "And within the next several months, once we get more customers signed on, I expect the center to start growing and hiring again."